Mixed-Income Housing Transforms Former Torin Manufacturing Site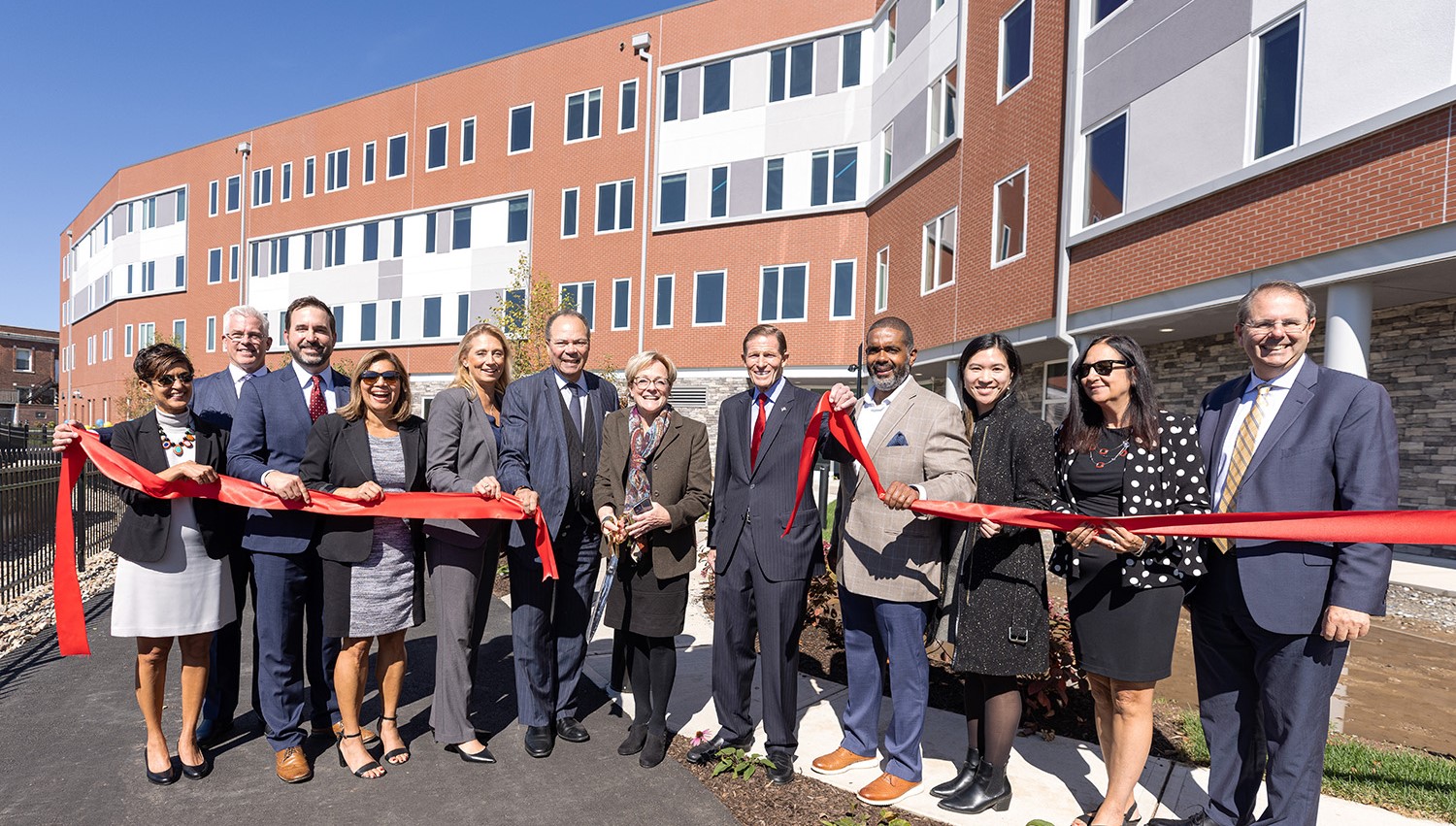 The Riverfront adds high-quality, mixed-income apartments and retail space to pedestrian-friendly downtown
Pennrose, The Cloud Company, and the City of Torrington celebrated the grand opening of Riverfront, a new mixed-income, mixed-use community at the site of the former Torrington Manufacturing Company (Torin). Located along the Naugatuck River at 100 Franklin Street in downtown Torrington, the brand new community fosters a vibrant, pedestrian-friendly downtown with 60 family apartments,1,200 SF of retail space, and an extension of the Naugatuck Greenway Trail for the public.
Speakers at the grand opening celebration included Ned Lamont, Governor, State of Connecticut; Elinor Carbone, Mayor of City of Torrington; Charlie Adams, Regional Vice President, Pennrose, LLC; Sanford Cloud, Jr., Chairman & CEO, The Cloud Company, LLC; Richard Blumenthal, U.S. Senate; Jahana Hayes, US. House of Representatives, District 5; Seila Mosquera-Bruno, Commissioner, CT Department of Housing; Nandini Natarajan, CEO, Connecticut Housing Finance Authority; Alexandra Daum, Deputy Commissioner, CT Dept. of Economic and Community Development; Elisa Velardo, Deputy Commissioner, CT Department of Developmental Services; Michelle L. Cook, Deputy Speaker, CT House of Representatives, District 65; and Marc Boucher, Senior Management Analyst, U.S. Department of Housing and Urban Development.
Riverfront includes one-, two-, and three-bedroom apartments. Of the total apartments, 45 are available to households earning up to 70% of the area median income (AMI), and the remaining 15 units are unrestricted. Residents will enjoy ample, state-of-the-art amenities, including a rooftop deck; inviting resident lounge; fitness center; outdoor seating and playground; secured access entry; professionally landscaped grounds; on-site maintenance and management; and more.
In addition to on-site amenities, the development also adds 1,200 SF of ground floor retail space adjacent to the city's recently completed Franklin Street Plaza improvements. The retail space includes outdoor seating for customers on the retail plaza and connects to the Naugatuck Greenway extension, further activating the vibrant riverfront district.
"This property, that is strategically located along the Naugatuck River, in downtown Torrington has always played a role in the subsistence of the residents of Torrington," said Mayor Elinor Carbone, City of Torrington. "To see this site environmentally restored and providing healthy, modern, attractive housing for our citizens is critical to the revitalization of our city. The Riverfront is a welcome addition to the renaissance of downtown Torrington."
The brand new homes include modern kitchens with electric range and dishwasher; in-unit washer/dryer; open floor plans with Central A/C; spacious closets; and more. The energy-efficient building was designed to meet Passive House and Energy Star standards and utilizes best practices for on-site stormwater management and roof-mounted solar photovoltaic systems.
"The Riverfront is a prime example of how high-quality, mixed income housing can be an asset when creating vibrant, walkable local neighborhoods," said Charlie Adams, regional vice president at Pennrose. "The City had a master plan vision – to transform this underutilized, industrial site into modern, mixed income housing for families in the heart of Torrington and we are proud to help them realize that vision."
"We are delighted to be a co-developer partner along with the City of Torrington and our long-time joint venture partner, Pennrose," said Sanford Cloud, Jr., Chairman & CEO of The Cloud Company. "Riverfront is transformational for downtown Torrington, sitting alongside the Naugatuck River and the Greenway Trail. We know that the families who will have the opportunity to live here will enjoy it very much and to be a part of this transformational mixed-income, mixed-use community development."
Financing for the project included equity from tax credits allocated by the Connecticut Housing Finance Authority and syndicated by Redstone Equity Partners working with JP Morgan Chase, FLEX funds from Connecticut Department of Housing (DOH), a construction loan from Citibank, permanent loan from local Torrington Savings Bank, Federal Home Loan Bank of Boston (FHLB-B) AHP funds, Federal Home Loan Bank of New York (FHLB-NY) AHP funds, Connecticut Urban Act Funds, services funding from Connecticut Department of Development Services (DDS), rental subsidies from the Torrington Housing Authority/HUD, and Eversource Energy Rebates.
Pennrose is active throughout the New England region with a regional office in Boston. Most recently, Pennrose celebrated the groundbreaking of The Pryde, Boston's first designated LGBTQ-friendly housing development for seniors, and the grand opening of Mary D. Stone, the transformation of a historic school into high-quality, affordable senior housing in Auburn, Massachusetts.
Project partners include WRT, QA+M Architecture, Haynes Construction, Bohler Engineering, DeMarco Management Corporation, and The Arc of Litchfield County (LARC).
Pre-leasing for Riverfront has started at 100 Franklin Street, Torrington, CT 06790. Additional information can also be found at www.RiverfrontCT.com.