Grand Opening of Bensalem Veterans Residences in Bucks County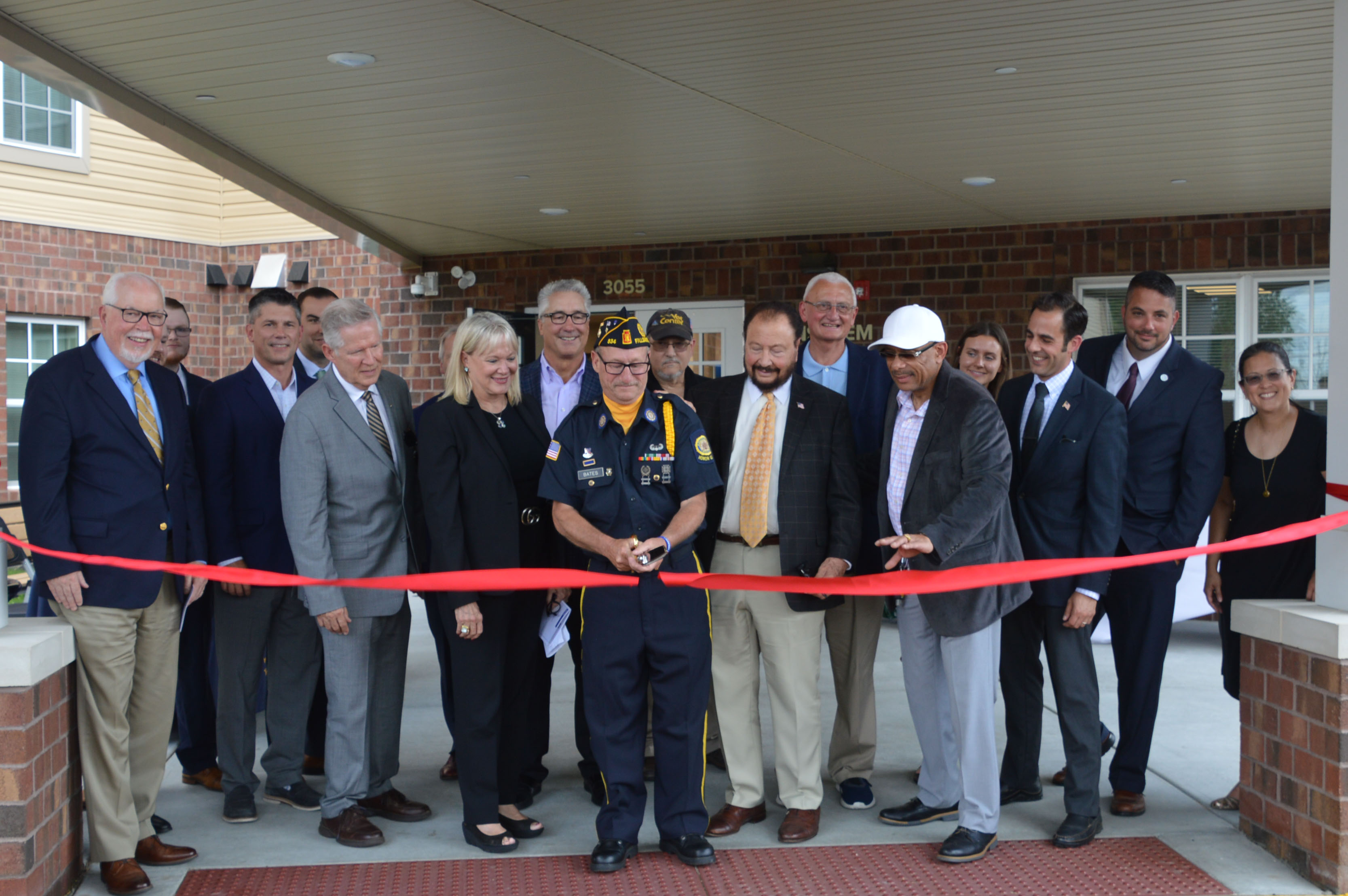 Development provides affordable housing for veterans and seniors
Pennrose, Pennsylvania Housing Finance Agency, Bucks County, the Bucks County Housing Authority, and Bensalem Township celebrated the grand opening of Bensalem Veterans Residences, a 40-unit affordable residential community for seniors and senior veterans 62 years and older. Local service providers, including the Bucks County Department of Veteran Affairs. Bucks County Vet Center, and Salute 2 Service, will provide on-site supportive services to residents.
Speakers at the grand opening ceremony included: Mayor Joseph DiGirolamo; County Commissioner Gene DiGirolamo; Robert Loughery, Chair of Bucks County Housing Authority; Robin Wiessmann, PHFA; Representative Brian Fitzpatrick; State Senator Robert Tomlinson; State Representative Kathleen "KC" Tomlinson; Ray Skip Bates, Bensalem Veterans Advisory Board; Joseph Pilieri, President, Bensalem Township Council; Dan Fraley, Bucks County Department of Veteran Affairs; Steven Roll, Bucks County Vet Center; Rodney Wyatt, Salute 2 Service, Inc.; Tricia Yarger, Citi Community Capital; Kimmel Cameron, Hudson Housing Capital LLC; and Mark H. Dambly, President of Pennrose.
Located at 3055 Mechanicsville Rd, the 39,673-square-foot apartment community offers 40 one-bedroom units in a three-story building. All units feature modern kitchens and central heating and air. In addition, residents have access to robust on-site resident amenities, including a resident lounge with exterior patio, laundry facilities on each floor, a fully equipped fitness room, and a community service office with conference space where local veteran organizations can meet.
"Bensalem Veterans Residences is a fine example of a public and private partnership supporting veterans," said Mayor Joseph DiGirolamo.  "Bensalem Council and I are extremely proud to have been a part of another Bensalem first, giving back to the men and women who have sacrificed so much serving our country."
Bensalem Veterans Residences is also conveniently located near major highways and public transportation, including the 130 SEPTA bus line and the 50 SEPTA bus line, allowing residents to easily travel to Frankford Transportation Center and Center City Philadelphia. The high-quality apartments are within walking distance to grocery stores, banks, retail, restaurants, and more.
"It is a great privilege to work with the Mayor, Township, and project partners as we welcome veterans and seniors in Bucks County into their brand-new homes," said Mark H. Dambly, President at Pennrose. "Between the site's convenient location, on-site amenities and tailored supportive services, we're confident Bensalem Veterans Residences will be a transformative living experience and serve as an asset to the entire community."
This project was financed with Low Income Housing Tax Credits awarded by the Pennsylvania Housing Finance Agency.  Hudson Housing Capital was the syndicator of these credits and Santander Bank is the investor.  Citi Bank provided construction and permanent financing. The County of Bucks Department of Housing & Community Development provided HOME funds and the Bucks County Housing Authority provided funding and Project-Based Vouchers.
Pennrose is committed to developing affordable housing options for veterans across the country, including Residence at Roosevelt Park and Truman Square in Edison, New Jersey and Gateway Pointe in Warner Robins, Georgia. Most recently, Pennrose and the Town of Dover began construction on Dover Veterans Housing, a 70-unit affordable family and veterans housing community in Morris County, New Jersey.