FOP Senior Community in Northeast Philadelphia Awarded Housing Tax Credits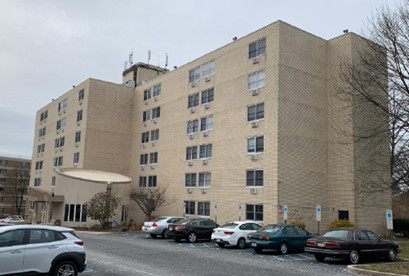 Pennrose and FOP Senior Citizens Inc, a non-profit affiliated with the Philadelphia Fraternal Order of Police, have been awarded $1.181 million in LIHTC's from the Pennsylvania Housing Finance Agency (PHFA) and $1.161 million in PHARE Housing Trust Funds for the revitalization of the FOP senior residence in Northeast Philadelphia, a residential community for retired Philadelphia police officers and their immediate family aged 62 and older. Construction is slated to begin by the middle of 2022.
"This project will be a much-welcomed improvement to the Far Northeast community. The renovations will benefit both current and future residents, all of whom are senior citizens and many of whom are retired members of law enforcement", said Philadelphia City Councilman Brian O'Neill.
Built in 1969, the six-story, 62,468 sf building includes 106 residential units, a community room, community kitchen, game room, and on-site management office. The proposed rehabilitation will stabilize the core building systems and improve energy efficiency, ensuring the property's physical and financial stability for decades to come. Key building systems will be upgraded or replaced, including elevator modernization, energy efficient lighting, a new building-wide sprinkler system, and fire alarm panel, and new interconnected smoke and CO2 detectors.
"Our partnership with Pennrose and the award of the  Low Income Housing Tax Credits will provide the much needed capital improvements that will enhance the safety and living conditions of our senior residents for many years to come," said Tom Macartney, President FOP Senior Citizens Inc.
Residents will benefit from top-to-bottom apartment upgrades, including brand new kitchen fixtures, cabinetry, sinks, and appliances; new floor tiles, carpeting, and painting; new windows and mini-split air conditioners; and new interior doors. Following the renovation, 11 apartments will also be accessible to residents with physical disabilities and five units will be outfitted for residents with hearing or visual impairments.
Coinciding with in-unit upgrades, the property's lobby and community areas will be completely renovated and reconfigured, with new management offices and accessible bathrooms along with external enhancements, including sidewalk repairs and parking lot upgrades. In addition, robust on-site supportive services will be provided by Pennrose and BAYADA Home Health Care, which will operate an outpatient medical services office on the property.
The project will be professionally managed by Pennrose Management Company. Additional funding sources include HOME funds from City of Philadelphia and first position debt from PHFA.
"Pennrose was founded on the principal that high-quality, affordable housing can transform the lives of working families, neighborhoods and entire communities," said Jacob Fisher, Regional Vice President. "Thanks to the support of PHFA, we are honored to partner with FOP Senior Citizens Inc. to revitalize a community that is home to the men, women and families who dedicated their lives to protecting our communities."
The announcement from PHFA is part of more than $43.6 million in low-income housing tax credits, $7.4 million in PennHOMES funding, and $15.9 million in National Housing Trust Funds awarded for the development of affordable housing across the state.
Headquartered in Philadelphia, Pennrose has a successful track record developing high-quality, affordable housing for seniors, families and veterans across the state. Most recently, Pennrose celebrated the grand opening of Bensalem Veterans Residences, a 40-unit affordable residential community for seniors and senior veterans in Bucks County. Pennrose is also developing Sharswood Phase I in Philadelphia as part of the Sharswood/Blumberg Choice Neighborhood Initiative.