Village at Harmony Garden Celebrates Grand Opening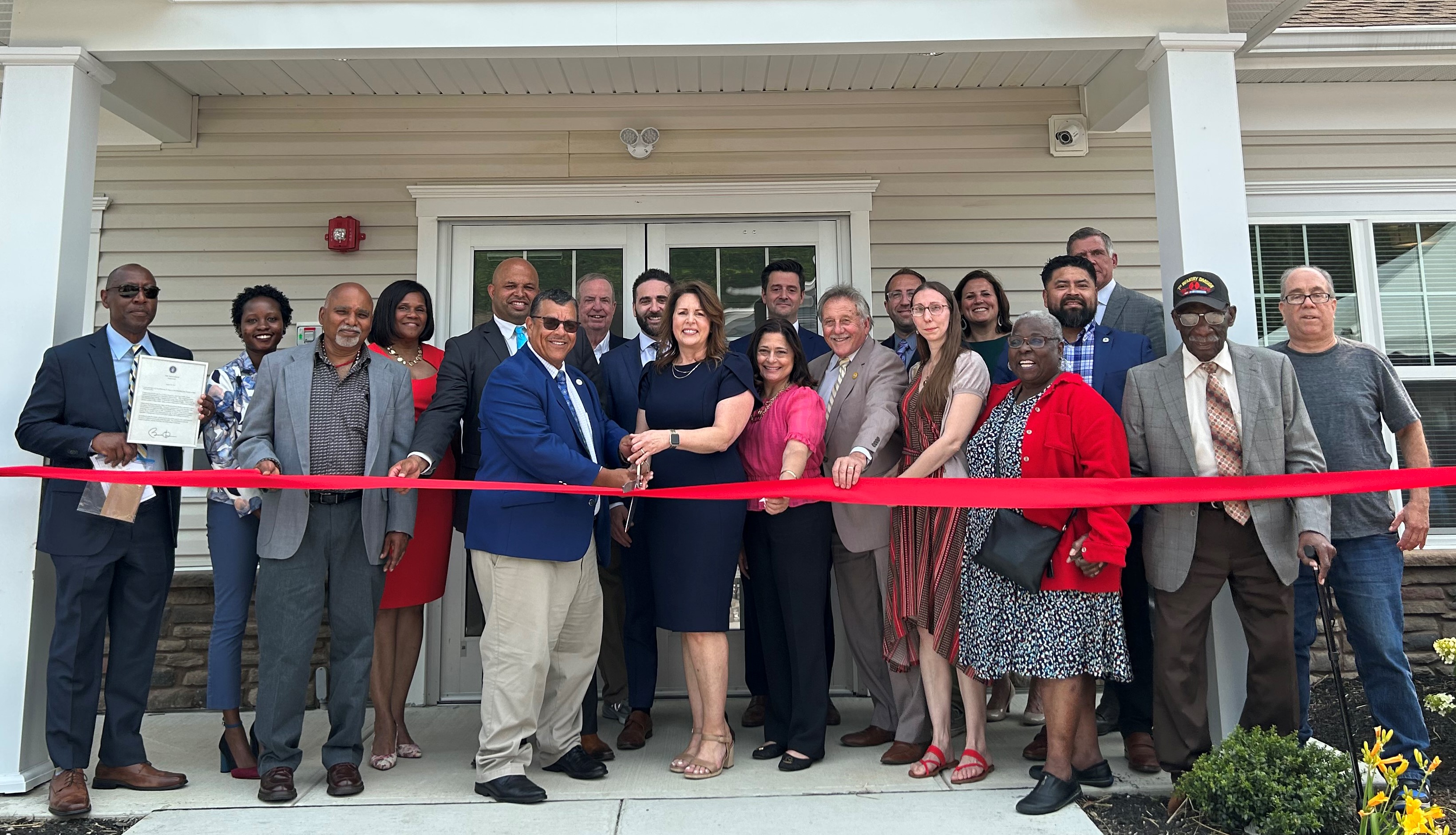 Former 10-acre public housing site transformed into affordable, accessible housing for seniors and individuals with disabilities
Pennrose, The Housing Authority of the Borough of Glassboro (GHA), Gloucester County, and project partners celebrated the grand opening of Village at Harmony Garden, the $20M redevelopment transforming the 10-acre former Ellis Manor public housing complex at the corner of Lincoln Boulevard and Higgins Drive. The brand new community adds 64 high-quality, 100% affordable apartments and supportive services for seniors 55+ and individuals with disabilities, and one resident superintendent unit.
Speakers at the grand opening ceremony included: Noah Freiberg, Senior Developer, Pennrose, LLC; Mayor John E. Wallace III, Borough of Glassboro; Frank J. DiMarco, Director of County Commissioners, Gloucester County; Liaison to the Gloucester County Housing Authority; Heather Simmons, Deputy Director, Gloucester County Board of Commissioners; Jim Jefferson, Commissioner, Gloucester County Board of Commissioners; Andrew Halter, Councilman, Borough of Glassboro; Commissioner, Housing Authority of the Borough of Glassboro Board of Commissioners; Jim Dever, President, Bank of America Greater Philadelphia; Melanie Walter, Executive Director, New Jersey Housing and Mortgage Finance Agency; Anna Miller, Council President, Borough of Glassboro; Liaison to the Housing Authority of the Borough of Glassboro; and Jacob Fisher, Regional Vice President, Pennrose, LLC.
Village at Harmony Garden includes a mix of one- and two-bedroom apartments in one-story, cottage-style buildings. All 65 units are fully adaptable, with 14 apartments accessible to residents with physical disabilities and eight units accessible to residents with hearing and vision disabilities. Additionally, 13 apartments were set aside for non-age restricted individuals with developmental disabilities and four will be set aside for individuals over 55 with developmental disabilities. The project is 100% affordable, with all apartments available at or below 50% Area Median Income (AMI) of Gloucester County, $39,100 for a single-person household.
The senior housing community was designed to improve comfort, accessibility, independence, and quality of life for residents. The apartments feature open floorplans with spacious closets; modern kitchen with dishwasher and electric range; in-unit washer and dryer; individually controlled heating and cooling; and more. Residents also have access to a 2,908 SF community building with a community room, fitness room, and supportive services center. Outside of the community building is a garden for residents to grow their own vegetables, as well as a gazebo and on-site parking. The community is Energy Star Certified.
"The Housing Authority and Borough of Glassboro have worked tirelessly to redevelop the former Ellis Manor public housing complex and transform an integral, yet blighted, section of the community into high-quality, affordable housing," said Jacob Fisher, regional vice president at Pennrose. "Village at Harmony Garden will serve as a catalyst for continued revitalization, while also providing seniors and individuals with disabilities with housing and tailored supportive services to live in place comfortably and successfully."
"The entire project underscores the potential that exists with under-utilized properties and how they can be repurposed to benefit residents in our communities," said Mayor John E. Wallace III, Borough of Glassboro. "Housing is a human right and we will continue supporting transformative projects like The Village at Harmony Garden to tackle the housing crisis and make Glassboro a more affordable place for all."
All apartments at Village at Harmony Garden will have rent supported by GHA project-based vouchers. Pennrose also partnered with PennReach to provide robust on-site supportive services for individuals with autism, intellectual, and developmental disabilities. With 17 of the units being referred by PennReach, these rental vouchers will ensure they are able to live safely and independently in a community with their peers.
Village at Harmony Garden was designed to provide much-needed housing stability and affordability for seniors and individuals with disabilities in the area. According to the National Low Income Housing Coalition, there is a shortage of more than 224,000 affordable rental homes in New Jersey and 37% of all extremely low-income renter households in the state are seniors. Village at Harmony Garden is also approximately one mile from Rowan University and more than $350 million in redevelopment planned for Rowan Boulevard.
Financing partners include the New Jersey Housing & Mortgage Finance Agency, Bank of America, Federal Home Loan Bank of New York, County of Gloucester, the NJ Department of Community Affairs, and the Borough of Glassboro.
Headquartered in Philadelphia, Pennrose is committed to delivering high-quality, supportive affordable housing throughout Pennsylvania and the Northeast. Pennrose and Philadelphia Chinatown Development Corporation (PCDC) recently celebrated the groundbreaking of 800 Vine Senior, which will convert an underutilized surface parking lot at 9th and Vine Streets into a 51-unit, 100% affordable senior housing development.