Groundbreaking Celebration for 800 Vine Senior in Philadelphia's Chinatown Neighborhood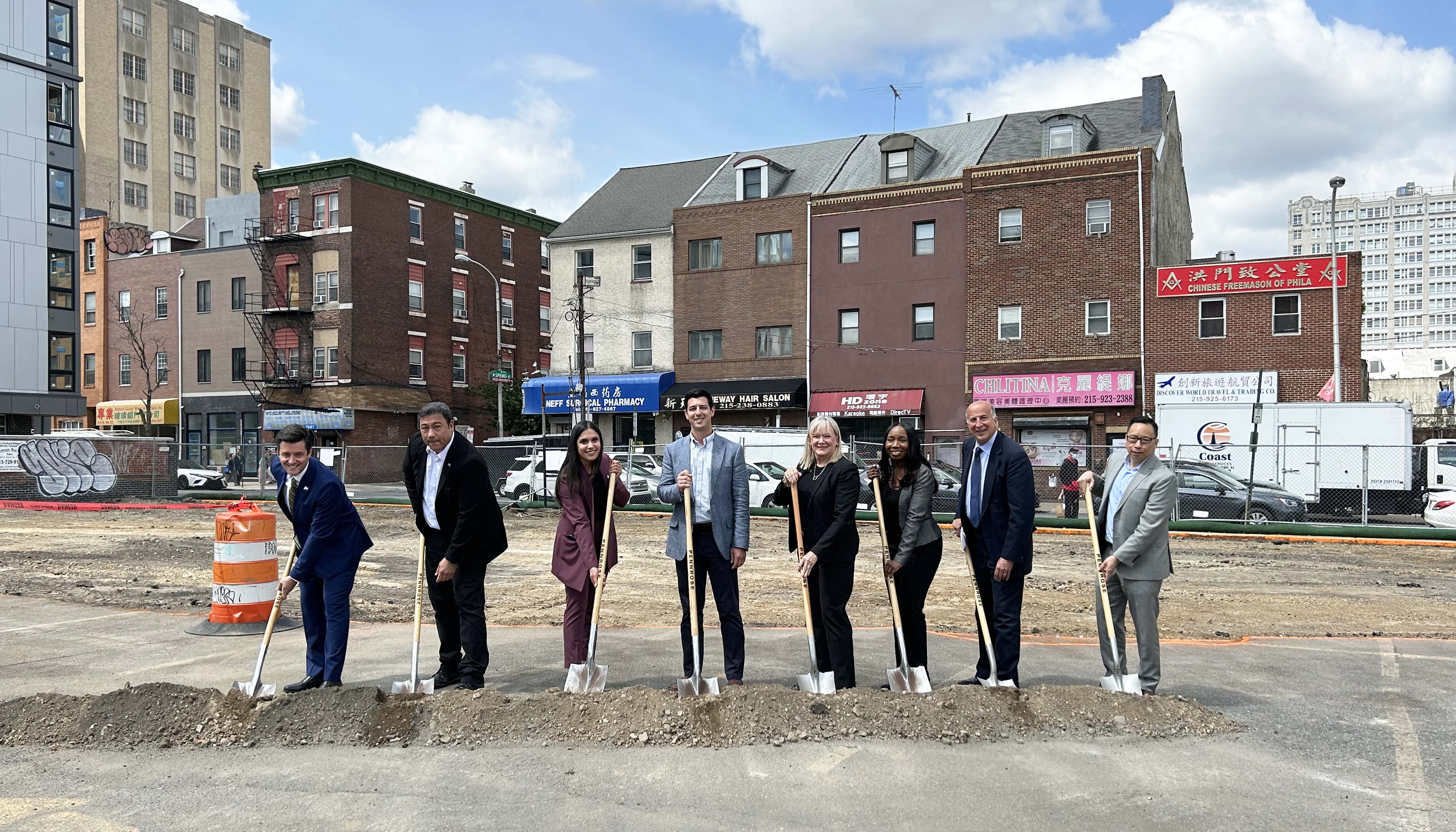 Project transforms underutilized site at 9th and Vine Streets into 51 units of affordable housing for seniors
Pennrose, Philadelphia Chinatown Development Corporation (PCDC), and project partners celebrated the groundbreaking of 800 Vine Senior, which will convert an underutilized surface parking lot at 9th and Vine Streets into a 51-unit, 100% affordable senior housing development. Located in the Chinatown neighborhood of Philadelphia, the brand new community is expected to open in Summer 2024.
Speakers at the groundbreaking included: Jacob Fisher, Regional Vice President, Pennrose, LLC; John Chin, Executive Director, Philadelphia Chinatown Development Corporation; Robin Weissmann, Executive Director, Pennsylvania Housing Finance Agency; Councilmember Mark Squilla, District 1, Philadelphia City Council; Angel B. Rodriquez, Senior Vice President, Land Management, PHDC; and Paralee Knight, Vice President of Philanthropy and Community Impact, Wells Fargo.
Located in a five-story midrise building, the senior housing community will include 51 units with a mix of studio, one-, and two-bedroom apartments. All units will be available for seniors at or below 60% of the area median income (AMI), with six units available at or below 20% AMI, 20 units available at or below 50% AMI, and 25 units available at or below 60% AMI. The apartments will be completely adaptable and visitable, with 10% of the units designed for residents with physical disabilities and hearing and vision impairments. In addition, the building will be designed to meet Energy Star Certification and Enterprise Green Communities standards.
"We are proud to be here today alongside project partners to celebrate the exciting first step in bringing new, high-quality affordable housing to Chinatown's seniors," said Jacob Fisher, regional vice president at Pennrose. "After years of planning and collaboration, we look forward to replacing a vacant lot with much needed housing, supportive services, and resources to benefit the entire neighborhood."
"This new residential project returns 9th Street to the city grid as a walkable corridor while embracing the cultural identity of Chinatown," said John Chin, executive director of Philadelphia Chinatown Development Corporation. "We are excited that we will improve the lives for rent burdened seniors."
Residents will also have access to a host of on-site amenities, including a large community room, outdoor courtyard, common laundry on each floor, and on-site property management. Tailored on-site supportive services will be offered to help improve resident quality of life, including a dedicated supportive services coordinator to plan intergenerational events and programming for residents and the surrounding neighborhood. The brand new community is conveniently located between Chinatown and Old City, placing residents just steps away from Independence Mall, Franklin Square Park, and local transportation.
Previously owned by the Philadelphia Redevelopment Authority, the parcel is located in an opportunity zone and is part of the Center City Redevelopment Area. As part of a much larger community and economic master plan to revitalize Chinatown, transforming the long-underutilized site will help activate the neighborhood and provide local seniors with more affordable housing options. According to the Philadelphia Corporation for Aging, 42% of seniors living in Philadelphia are below the poverty level.
Working in conjunction with the PCDC, a 501(c)(3) non-profit organization that addresses the needs of urban renewal and affordable housing development in Chinatown, the design draws from traditional and authentic Chinese elements to ensure the building is appropriate to its context and is well suited to the neighborhood.
The financing structure for 800 Vine Senior consists of tax credit equity from Investor, Wells Fargo, generated from 9% Low-Income Housing Tax Credits from the Pennsylvania Housing Finance Agency (PHFA), RACP funds from the Commonwealth of Pennsylvania, and a subordinate loan and permanent debt from PHFA.
"We are thrilled to be part of a project of this caliber in the Chinatown neighborhood," said Brandon Weber, Community Lending & Investment Director at Wells Fargo. "At Wells Fargo, collaborating with communities to create positive change is at the core of what we do, and we look forward to seeing how this development will support the senior residents, their families and neighbors."
Headquartered in Philadelphia, Pennrose is committed to delivering high-quality, supportive affordable housing throughout Pennsylvania and the Northeast. Pennrose is also currently working with the Philadelphia Housing Authority on the Sharswood Transformation Plan, recently completing phase II with the addition of 59 affordable, family townhomes.