Groundbreaking Celebration of Glenarden Hills Phase III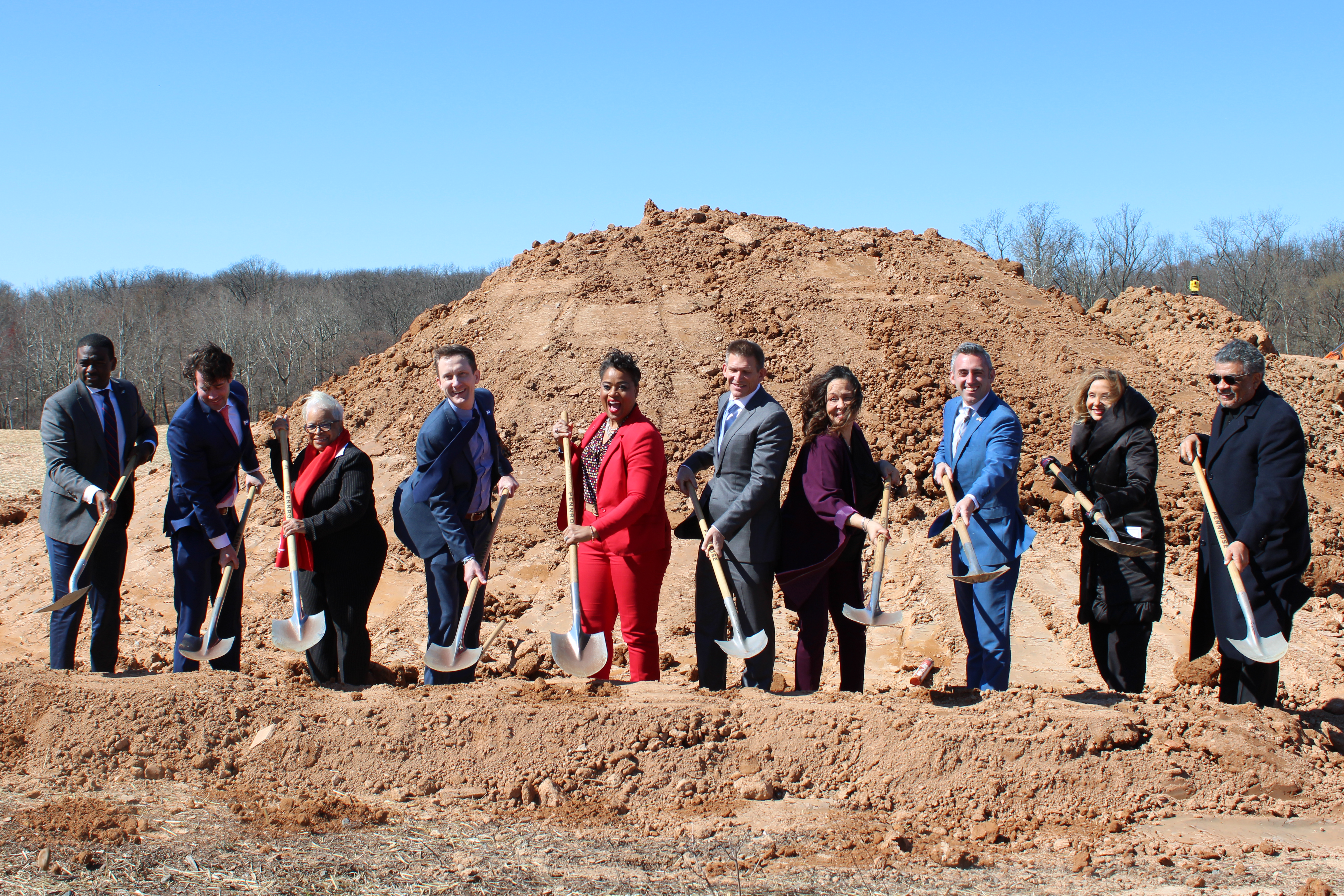 Final rental phase adds 158 affordable apartments to the 27-acre Glenarden Hills redevelopment
(Glenarden, Maryland) – Pennrose, Redevelopment Authority of Prince George's County, B&W Solutions, and SHABACH! Ministries celebrated the groundbreaking of Glenarden Hills Phase III. The final rental phase of the $110 million, six-phase Glenarden Hills master-planned community will add 158 brand new, high-quality affordable apartments to the site.
The third phase is a twin transaction, made up of two separate projects, one that utilizes the competitive 9% low-income housing tax credit and one that uses the 4% low-income housing tax credit. The 9% project has 44 units and is anticipated to open in winter 2024 and the 4% project has 114 units and is expected to open in summer of 2024. Once complete, the Glenarden Hills master plan will include 424 senior and family affordable apartments, market-rate and affordable rental townhomes, and homeownership townhomes across 27 acres.
Speakers at the groundbreaking included: Patrick Stewart, Regional Vice President, Pennrose, LLC; Reverend Nikki Pearson, Associate Pastor, First Baptist Church of Glenarden; Jacob R. Day, Secretary of Housing & Community Development, Maryland Department of Housing & Community Development;  Jolene Ivey, County Council Member – District 5, Prince George's County Council; Stephen Paul, Executive Director, Redevelopment Authority of Prince George's County; Cashenna A. Cross, Mayor, City of Glenarden; Derrick Perkins, Senior Vice President & Market Executive, Bank of America; and Ivy Dench-Carter, Senior Vice President of Development, Pennrose, LLC.
Phase III includes a mix of one-, two-, and three-bedroom units across 14 buildings available to residents at 30% to 60% of the Area Median Income. Twenty of the 158 total apartments will be available at market-rate rents. The initiative will also add a sports court, children's pool, and lap pool to the project's already robust community amenities. 
"After years of hard work and collaboration, we are proud to be here today alongside project partners, local officials, and community advocates as we kick off another milestone in the innovative Glenarden Hills revitalization," said Patrick Stewart, Regional Vice President at Pennrose. "The third phase will nearly double the community's mixed-income housing, providing additional high-quality and thoughtfully designed affordable housing options for a diverse range of incomes in Prince George's County."
"We are pleased to see the development of Phase 3 of Glenarden Hills begin," said Angie Rodgers, Deputy Chief Administrative Officer for Economic Development for Prince George's County. "Glenarden Hills has proven to be a successful public-private partnership and promotes a mix of incomes, housing options, and amenities in the center of the County.  We look forward to the completion of this community for the residents of Prince George's County."
Phase III continues the exciting momentum achieved in the project's first two phases. Phase I, completed in 2019, delivered 114 affordable and market-rate apartments for families in townhouse-style buildings and a four-story senior building. A 5,700 square foot community clubhouse with a multi-purpose space, fitness center, management suite, resource center, locker rooms, kitchenette, outdoor patio with a grill, and tot-lot was also developed as part of the first phase. In February 2021, Phase II added an additional 55 units of affordable, senior housing, a wellness room, and theater room to the four-story senior building built in Phase I.
The comprehensive Glenarden redevelopment replaces the former 578-unit distressed Glenarden Apartments complex and is anticipated to spur continued investments in the area. As with prior phases, Glenarden III was developed with significant community engagement and local input to ensure plans respect the existing neighborhoods, while offering a compact, walkable, and innovative community design.
Financing for Glenarden Hills Phase III was provided by Bank of America, M&T Realty Capital Corporation, Cedar Rapids Bank and Trust, Maryland Department of Housing and Community Development, Prince George's County Department of Community Development and the Redevelopment Authority of Prince George's County
Glenarden Hills will help address the widespread shortage of affordable housing in Maryland and the Washington, D.C metro area. According to the National Low Income Housing Coalition, nearly 30% of renter households in the state are considered extremely low income and there is a shortage of more than 125,000 affordable rental homes.
Pennrose is committed to developing high-quality, transformative affordable housing throughout Maryland and the Mid-Atlantic region. Pennrose recently closed and started construction on the second phase of the Uplands redevelopment, with 104 apartments and townhomes as part of the master planned community in Edmondson Village in Baltimore.