Groundbreaking Celebration for Taylor Apartments Phase I in Troy, NY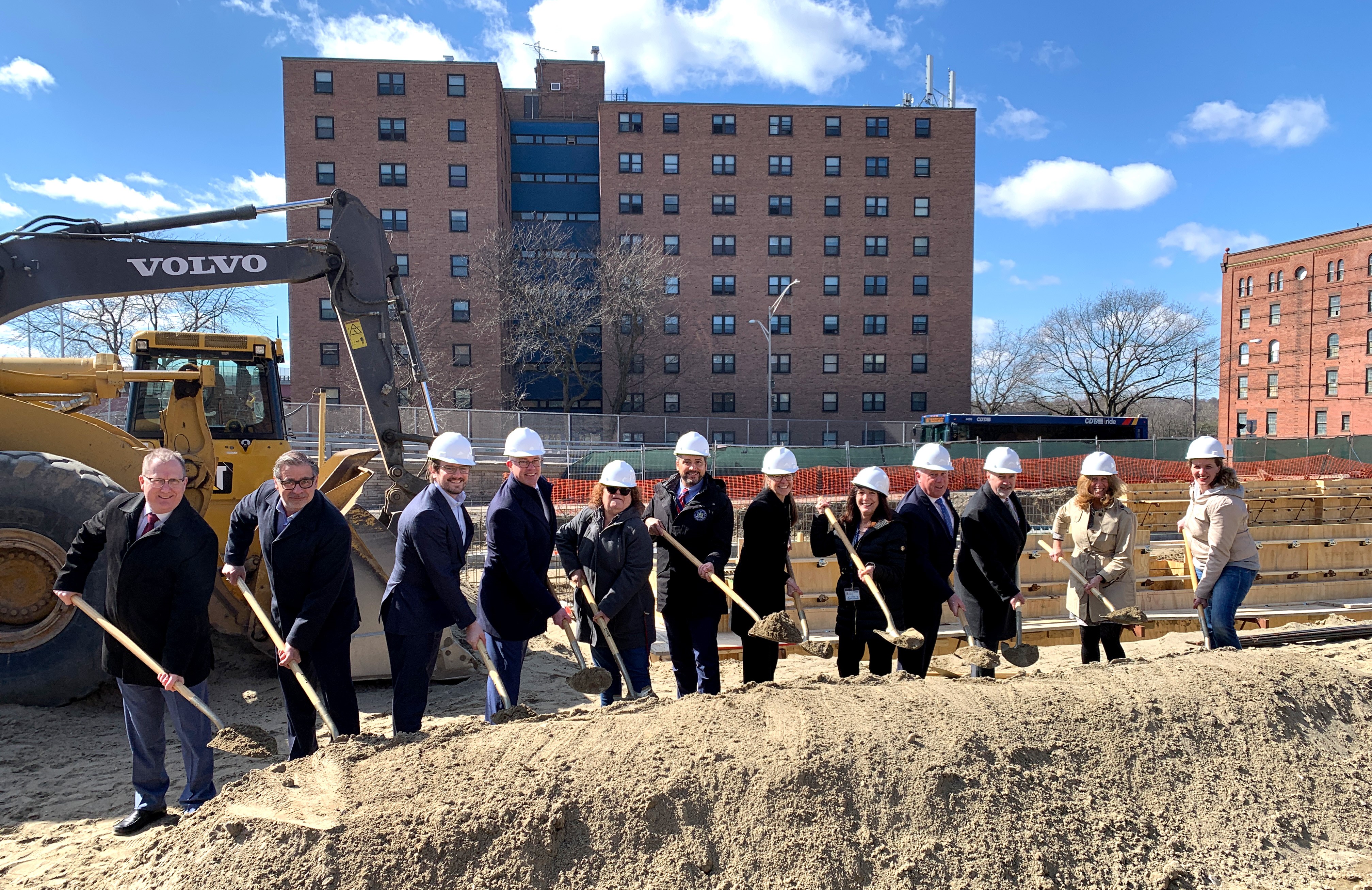 Replacement of Two Buildings at John P. Taylor Apartments Will Provide 141 New Affordable

Governor Kathy Hochul today announced that construction has begun on the new John P. Taylor Apartments in the City of Troy, replacing a vacant public housing complex with a new $67 million downtown waterfront development. The new seven-story mixed-use building will feature 141 affordable apartments and ground floor retail space, and replaces the complex's two original towers, which were demolished in 2022 after having been vacant for more than a decade. 
"Preserving our public housing stock, enhancing downtowns and promoting affordability for New York's working families will always be priorities of my administration," Governor Hochul said. "We know that housing and economic revitalization are inextricably linked, and the work beginning today will not only increase our housing supply and improve the lives of future residents but will contribute to the State's continued efforts to enhance Troy's downtown." 
Today's announcement complements Governor Hochul's Housing Compact, a multi-faceted strategy designed to address New York's historic housing shortage by building 800,000 new homes over the next decade. The Housing Compact will encourage growth by removing barriers to housing production, incentivizing new construction, and setting local housing targets across every community. The Housing Compact follows last year's launch of the Governor's $25 billion comprehensive Housing Plan that will create or preserve 100,000 affordable homes across New York including 10,000 with support services for vulnerable populations, plus the electrification of an additional 50,000 homes. 
The redevelopment of John P. Taylor Apartments is a priority of the Revitalize Riverside component of Troy's $10 million Downtown Revitalization Initiative, which was awarded by the State in 2021. The Revitalize Riverside plan was designed to enhance Troy's South Central neighborhood and is part of a comprehensive strategy to create commercial space, add new housing, restore Troy's downtown street grid, and improve the Congress Street Bridge which serves as an important artery to several of the region's major roadways. 
The completed development will consist of 46 one-bedroom, 87 two-bedrooms, and eight three-bedroom apartments. All units will be supported by Project-based Section 8 vouchers to be issued by the Troy Housing Authority. Current residents of buildings 3 and 4 at John P. Taylor Apartments, some of whom were relocated from the previous buildings 1 and 2 upon its 2005 closure, will be given a preference for placement in the new apartments. 
The new building is being developed by Pennrose and will be constructed to meet EPA ENERGY STAR Multifamily New Construction standards and will also seek certification under Enterprise Green Communities PLUS. The development will utilize advanced energy efficiency features including all-electric HVAC, increased insulation, and an energy recovery ventilation system. 
The redeveloped apartment complex will offer an array of modern amenities for residents, including free Wi-Fi, washers and dryers in every apartment, and common areas such as a fitness center, community room, and outdoor patio. 
State financing includes Federal Low-Income Housing Tax Credits that will generate $30 million in equity and $20 million in subsidy from New York State Homes and Community Renewal. The Department of State's Downtown Revitalization Initiative provided $1.6 million in support. The Federal Home Loan Bank provided more than $800,000. 
In the last five years, New York State Homes and Community Renewal has invested more than $10 million to create or preserve over 400 affordable apartments in multifamily buildings in Troy. 
Homes and Community Renewal Commissioner RuthAnne Visnauskas said, "The transformation of the John P. Taylor Apartments will not only provide a safe, stable home for 141 households in Troy, it will breathe life into a long-blighted parcel, enhance a historic downtown and remarkable waterfront, and create a beautiful modern development at the gateway of this growing city. When we transform distressed public housing into high quality homes, we not only boost our housing supply we also create inclusive vibrant communities where people can be proud to live and work.  Thank you to our partners at Pennrose and the Troy Housing Authority for helping make this project a reality." 
Secretary of State Robert J. Rodriguez said, "The Downtown Revitalization Initiative is a wonderful example of how a site can be repurposed to support a community's revitalization efforts. The projects identified by the City of Troy are no exception. This investment will provide modern and much-needed affordable housing within the cultural, social, and economic hub of downtown Troy. In addition, I applaud the inclusion of sustainability within the construction of the housing development through the use of energy efficiency features that will benefit families and the community for generations to come."
Senator Charles Schumer said, "The construction of the new Taylor apartment towers will further revitalize downtown Troy while creating hundreds of new energy-efficient, affordable apartments. I stood outside this blighted community eyesore last year, and I am proud that the American Rescue Plan I fought to pass, and the Federal Low-Income Housing Tax Credits have provided the millions in funding needed to get shovels in the ground."
Assemblymember John T. McDonald III, RPh said, "The Taylor Apartments project will be transformative for South Central Troy. This project will redevelop underutilized and vacant buildings and remove blighted properties from the community. As the city continues to grow, it is vital to ensure that individuals and families can afford to live there. With supportive housing like the Taylor Apartments more individuals will be given the opportunity to break cycle of housing instability and thrive within their own community." 
Rensselaer County Executive Steve McLaughlin said, "Rensselaer County is seeing historic growth and investment. The removal of problem properties will help encourage job growth, investment and a better quality of life." 
Troy Mayor Patrick Madden said, "As Mayor of Troy and the former executive director of the Troy Rehabilitation & Improvement Program (TRIP), I know the difference affordable housing can make for families and for our community—it is a matter of public safety, public health and economic development. I thank Governor Hochul and our partners in state and federal government for the investments in our community that made today's groundbreaking possible, and I look forward to a day when everyone in our city has a safe and affordable home."
Executive Director of the Troy Housing Authority, Deborah Witkowski said, "Now that demolition of the vacant, dilapidated Taylor apartment towers has been completed, it is now time to embark on the next phase of this exciting project and begin construction of a new building designed to provide 141 units of high-end affordable housing with modern-day amenities as well as retail and social spaces that encourage a healthy, sustainable environment.  This building is only the beginning of the overall Taylor Apartments revitalization plan that will eventually include other mixed-use buildings, direct access to the riverfront, recreational areas, and connection to Troy's downtown district." 
Regional Vice President of New York at Pennrose Dylan Salmons said, "We're proud to be here today alongside Governor Hochul, Troy Housing Authority, and project partners as we take an exciting next step in the shared Revitalize Riverside vision.  New York is facing a severe housing affordability crisis, and John P. Taylor Apartments will soon be an example of the transformative impact high-quality, affordable housing can have on the community."