Fine Fare Supermarket Opens at 50 Penn Affordable Housing Community in Brooklyn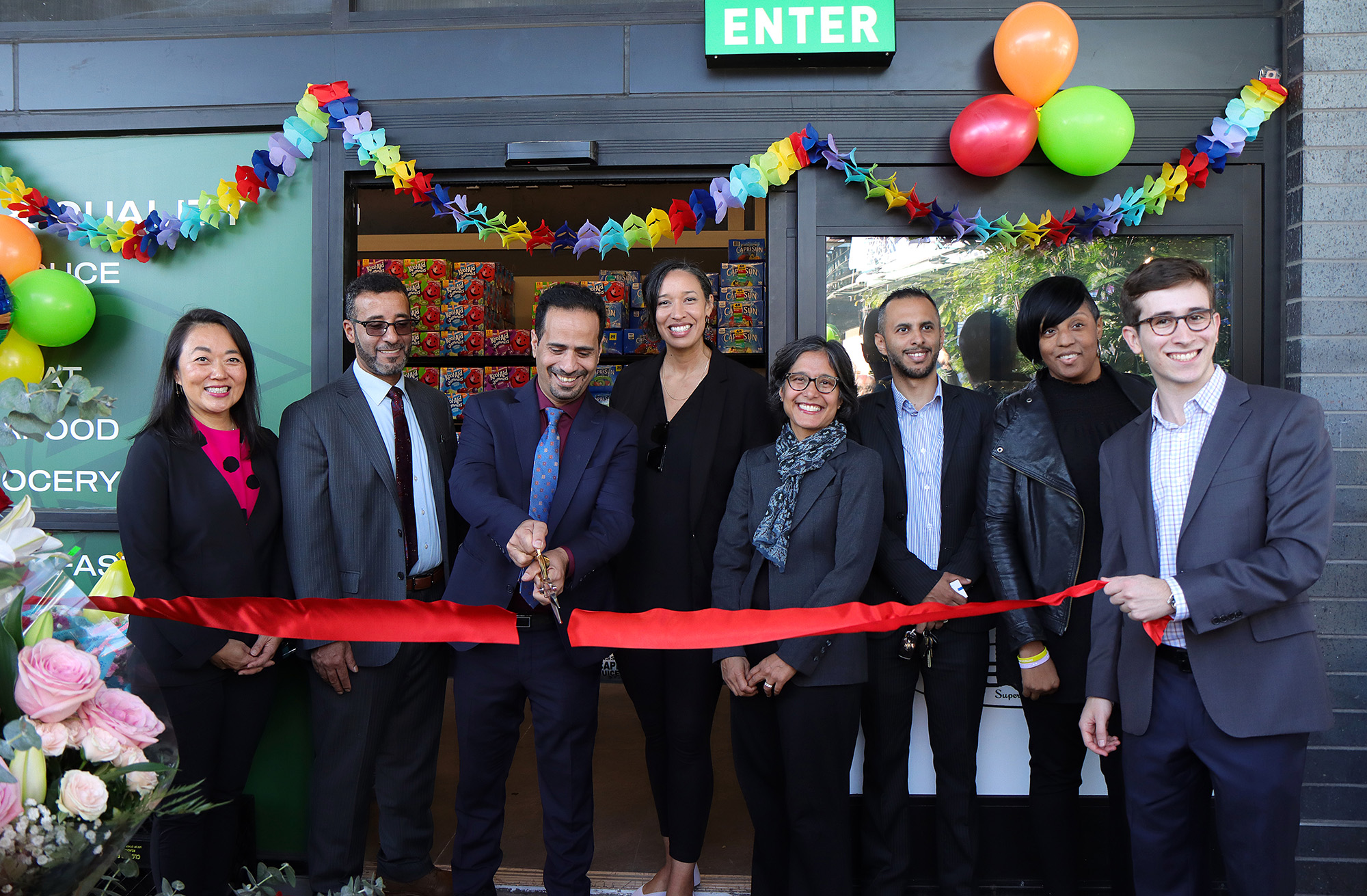 The 20,000 square foot grocery store brings accessible food options to the East New York food desert as part of NYC FRESH program
The New York City Department of Housing Preservation and Development (HPD), New York City Housing Development Corporation (HDC), and Pennrose celebrated the grand opening of Fine Fare Supermarket, an independently owned and operated supermarket franchise, on the ground floor of the 50 Penn mixed-use and mixed-income affordable development in Cypress Hills, Brooklyn. The brand new, approximately 20,000 square foot full-service store brings fresh, quality food, including prepared foods and deli counter, to help alleviate the East New York food desert.
The addition of the grocery store as 50 Penn's lead tenant is supported by New York City's Food Retail Expansion to Support Health (FRESH) Program, which supports convenient, accessible grocery stores in underserved neighborhoods through zoning and financial incentives. The program is designed to provide affordable, fresh foods in low-income neighborhoods to help reduce higher rates of diet-related diseases, including heart disease, diabetes, and obesity.
Speakers at the event included: New York City Councilmember for District 37 Sandy Nurse, Executive Director of NYC Department of Planning Edith Hsu-Chen, Executive Vice President of New York City Economic Development Corporation Brinda Ganguly, Regional Vice President of Pennrose Dylan Salmons, and Fine Fare Supermarket Store Owner Soliman Mayas.
"Pennrose is thrilled to officially welcome Fine Fare Supermarket to 50 Penn, providing residents and neighbors with access to healthy and affordable food choices in an area dominated by fast food chains and corner stores," said Dylan Salmons, Regional Vice President at Pennrose. "With mixed-income housing, on-site supportive services, community-sourced retail, and now a grocery store, 50 Penn is addressing key quality of life issues to create a better and healthier tomorrow for East New Yorkers."
"We are thrilled to be part of 50 Penn and look forward to serving as a full-scale neighborhood grocer in Cypress Hills," said owner Soliman Mayas. "We pride ourselves on quality food and produce, huge product selections, and competitive prices tailored to the East New York neighborhood."
East New York has experienced one of the fastest growing populations in the city over the past decade. But despite booming growth, the area is labeled a "food swamp," where unhealthy food, like fast food, is more readily available than more healthy options. According to a 2018 article, East New York is the biggest swamp in New York City, with more than 27 fast-food chains in the 50 Penn zip code alone. 
The Fine Fare Supermarket franchise has more than 60 locations across New York, New Jersey, and Pennsylvania, offering dairy, produce, meat, deli, fish, and bakery departments. The other two street front retail spaces at 50 Penn were leased as part of the East New York Retail Preservation Program, which aims to preserve opportunities for longstanding East New York businesses to operate within the boundaries of the rezoned neighborhood at rents that facilitate the retailers to source their workforce from within the community and provide job training and benefits. These spaces have been occupied with the District 27 New York City Councilmember's office and a discount retailer.
Pennrose and project partners celebrated the grand opening of 50 Penn in June 2022. The 100% affordable housing community delivered 218 units of mixed-income, high-quality housing and approximately 30,000 square feet of retail space to help address key priorities identified in the East New York Neighborhood Plan, including affordable housing, greater access to fresh food choices, and long-term community-wide benefits.