Grand Opening of 50 Penn Mixed-Use Development in Cypress Hills, Brooklyn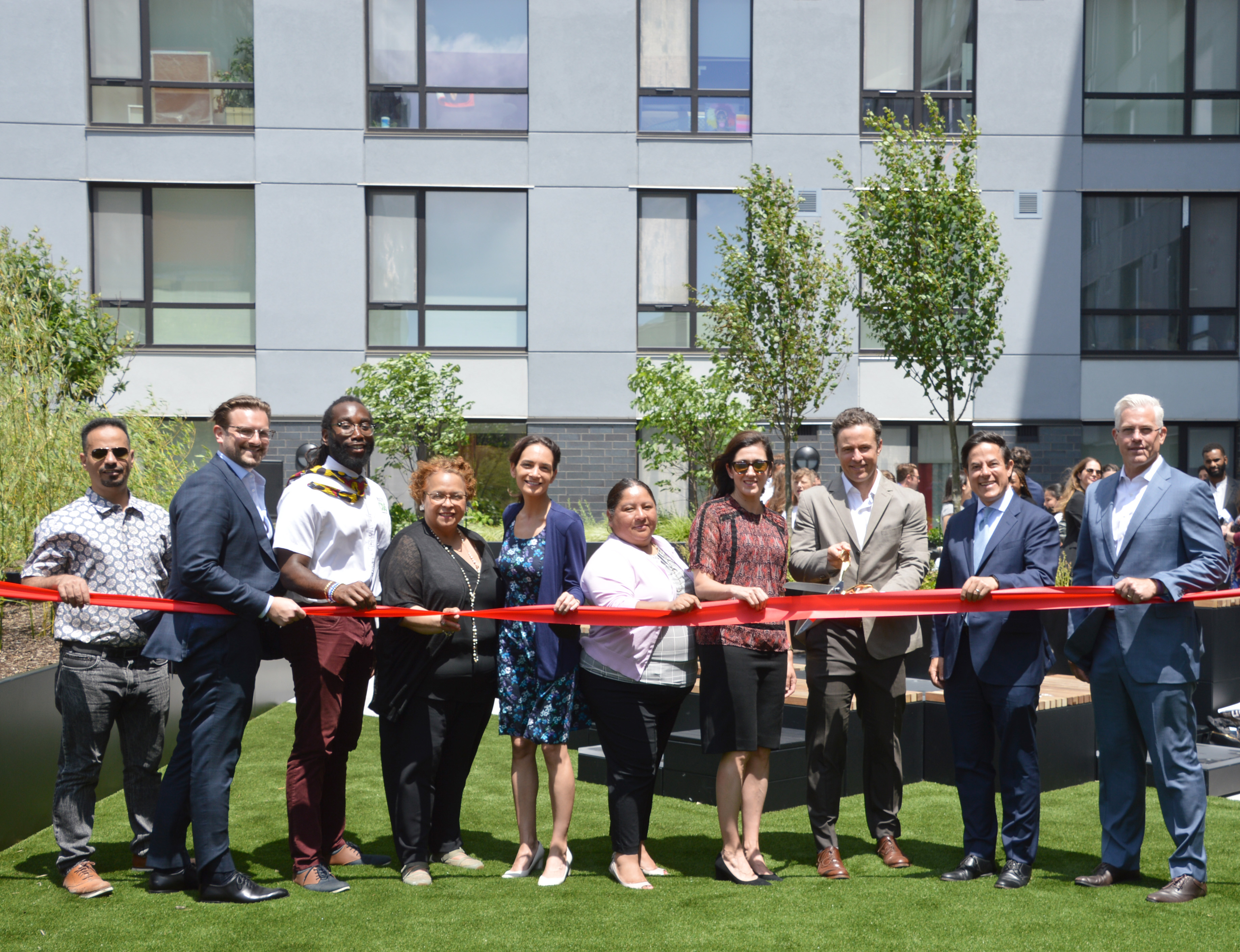 The New York City Department of Housing Preservation and Development (HPD), New York City Housing Development Corporation (HDC), Pennrose, and RiseBoro Community Partnership today celebrated the grand opening of 50 Penn, a 218-unit 100% affordable housing development at 50 Pennsylvania Avenue in Brooklyn. The mixed-use, mixed-income community was designed to address key priorities identified in the East New York Neighborhood Plan, including affordable housing, greater access to fresh food choices, and include community-wide benefits.
The nine-story building includes 56 studios, 96 one-, 48 two-, and 18 three-bedroom units. The apartments are available for residents at a range of incomes, including extremely low-income households earning up to 30% of the Area Median Income (AMI) to low-income households earning up to 80% of AMI, that's $36,060 to $96,080 for a family of three. Of the total units, 42 are set-aside for formerly homeless and frail elderly with operating subsidy provided by the New York State Empire State Supportive Housing Initiative (ESSHI) program. In addition, 102 units will be permanently affordable, with 44 made possible through the City's Mandatory Inclusionary Housing program (MIH).
In addition to the affordable housing, the ground floor is anchored by a 18,500 square foot grocery store as part of the NYC Department of City Planning FRESH program, which supports convenient, accessible grocery stores in underserved neighborhoods. The two remaining street front retail spaces will be leased as one of the first developments to pilot the East New York Retail Preservation Program, which is intended to preserve opportunities for longstanding East New York businesses to operate within the boundaries of the rezoned neighborhood at rents that facilitate the ability to source their workforce from within the community and provide job training and benefits. 
Speakers at the event included:  Jessica Katz, Chief Housing Officer, City of New York; Julia Salazar, Senator, New York State; Ruth Moreira, Executive Vice President for Development, New York City Housing Development Corporation; Dan Garodnick, Director of the Department of City Planning, City of New York; Melinda Perkins, District Manager, Brooklyn Community Board 5; Renee Casertano, Vice President, Citi Community Capital; Timothy I. Henkel, President, Pennrose, LLC; Dylan Salmons, Regional Vice President, Pennrose, LLC; and Scott Short, CEO, RiseBoro Community Partnership.
"Mixed-use developments like 50 Penn are important steps forward in tackling our housing shortage and providing communities with the local amenities and resources everyone should have outside their door. This project not only gives over 200 New Yorkers and families a new place to call home, but in partnership with the NYC FRESH program, it brings a full scale grocery store to the neighborhood as well," said New York City Chief Housing Officer Jessica Katz. "Congratulations to Riseboro, Pennrose and the HPD and HDC teams for bringing together such an incredible project. Through efforts like this, we will ensure all of our neighbors across the city have the safe, stable and affordable homes they deserve."
"Today we celebrate 218 new affordable homes for a range of households including formerly homeless New Yorkers who will have access to supportive services, a host of amenities, and a grocery on the ground floor. We look forward to continuing our work with the community and supporting new area investments that will improve the lives of those that call East New York their home," said HPD Commissioner Adolfo Carrión Jr. Thank you to Pennrose, RiseBoro, and HDC for their work on this project as we welcome home the new residents of 50 Penn."
"Today's celebration marks the completion of 218 affordable homes - nearly half of which will remain a permanently affordable – providing security and peace of mind to New Yorkers in need, including our formerly-homeless and senior households," said HDC President Eric Enderlin. "Congratulations to our partners for their dedication to bringing much-needed housing, supportive services, and retail space to the East New York community."
"This is an example of good planning policy leading to real benefits. This project not only creates affordable homes for families of a variety of sizes and incomes, but also access to healthy foods," said DCP Director Dan Garodnick. "We need more like this."
The brand new apartments feature modern, fully-equipped kitchens with electric range and dishwasher; spacious closets; vinyl flooring; resident controlled heating and cooling; and on-site laundry facilities. Residents will also enjoy ample community amenities, including a fitness center, community room, professionally landscaped terrace, bike storage, and easy access to the ground-floor retail and grocery store. Along with on-site amenities, residents are within close proximity to the Broadway Junction, J/Z and A/C subway. 50 Penn was designed to meet Enterprise Green Community standards and features rooftop solar photovoltaic panels and green roofs that are intended to offset the carbon footprint of the project and minimize stormwater runoff.
"Pennrose is proud to work alongside HPD, HDC, and RiseBoro to address key quality of life issues in the neighborhood through transformative, mixed-use housing," said Dylan Salmons, Regional Vice President of New York at Pennrose. "With high-quality affordable housing, tailored supportive services, community-sourced retail and grocery space, 50 Penn signifies the changing fabric of the neighborhood and will be a benefit to East New Yorkers for many years to come."
"We are thrilled to be part of 50 Penn, delivering on the promise of community priorities identified in the East New York Neighborhood Plan," said Scott Short, CEO of RiseBoro Community Partnership. "The project not only provides urgently needed mixed-use and mixed-income housing units, but also meets many of the other community demands, including deep affordability, advancing local economic opportunity and food justice."
Pennrose served as the project's lead developer and RiseBoro will provide on-site supportive services and property management. The development team also included Dattner Architects and Mega Contracting.
50 Penn was financed under HDC and HPD's ELLA programs. HDC provided approximately $44.03 million of tax-exempt bonds and $13.75 million in corporate reserves. HPD provided $31.06 million in city subsidy.  Former New York City Council Member Rafael L. Espinal Jr. provided $2 million in Reso A funds. Redstone Equity Partners acted as the tax credit syndicator, Citi Community Capital is the tax credit investor and provided a letter of credit for the construction.
Pennrose has a successful track record developing high-quality, affordable housing throughout New York. Pennrose recently celebrated the grand opening of Northside Village, the first phase of the Yates Village public housing redevelopment in Schenectady.