Phase One of Yates Village Revitalization Celebrates Grand Opening in Schenectady, New York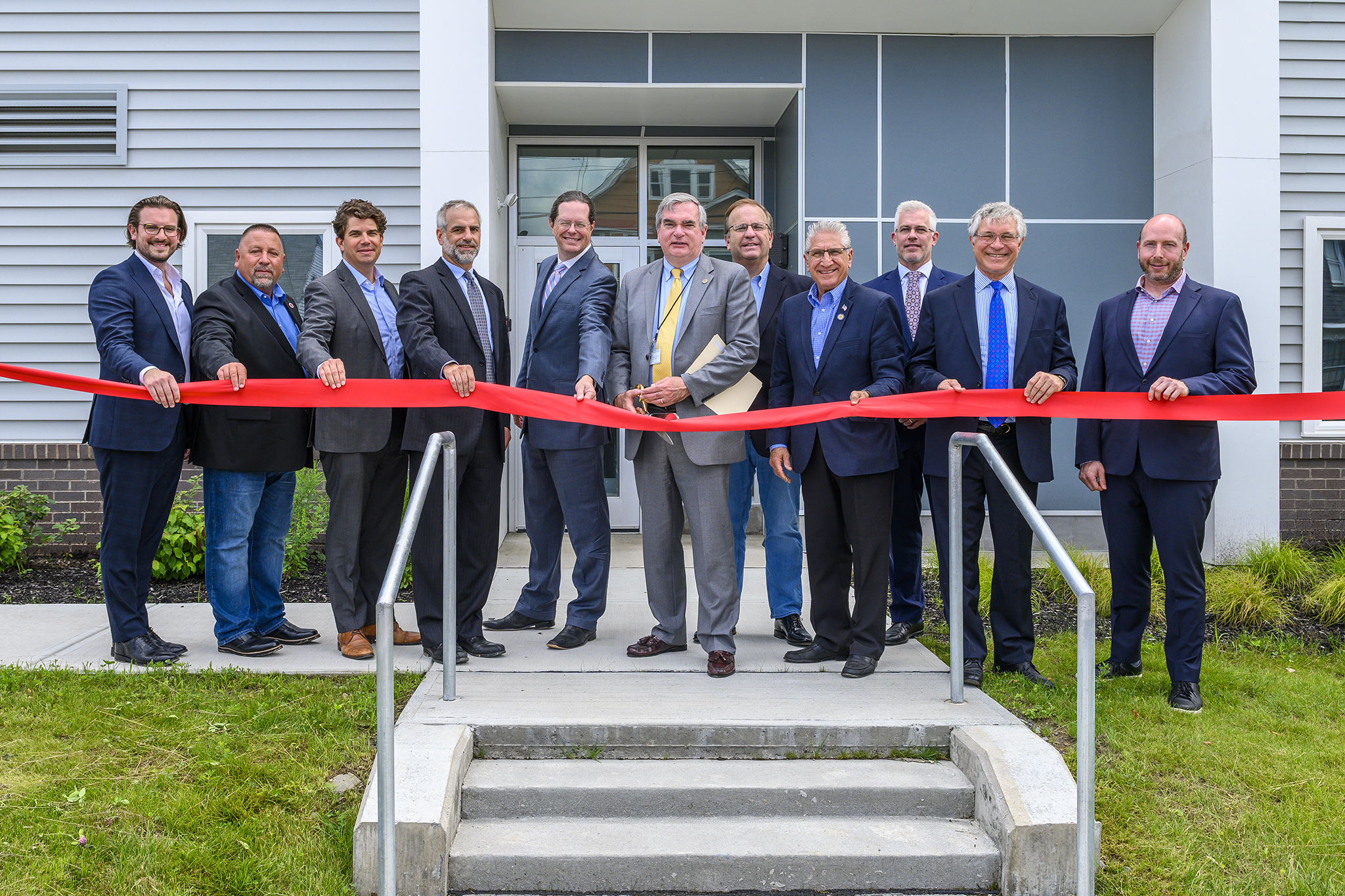 Northside Village I includes 89 affordable apartments and a new community building
The Schenectady Municipal Housing Authority (SMHA), Pennrose, and Duvernay + Brooks, LLC celebrated the grand opening of Northside Village, the first phase of the Yates Village public housing redevelopment in the Goose Hill/Northside neighborhood of Schenectady. The first of two phases, Phase I substantially rehabilitated 25 existing apartments and added 64 brand new homes along Van Vranken Avenue.
Speakers at the ribbon cutting included Gary McCarthy, Mayor of City of Schenectady; Phil Steck, Assemblymember, New York State Assembly District 110; Richard Homenick, Executive Director of Schenectady Municipal Housing Authority; Brian Heeger, Managing Director with Duvernay + Brooks, LLC; Dylan Salmons, Regional Vice President for Pennrose; Tiffany Barnhill, returning resident; Darren Scott, Upstate East Director of Development for NYSHCR; Richard Patierne, County Legislator; Ray Gillen, Chair, Schenectady County Metroplex Development Authority; and Timothy I. Henkel, Principal and Senior Vice President for Pennrose.
Northside Village offers one-, two-, and three-bedroom townhouse and garden-style affordable apartments available at 30% to 80% of the area median income (AMI). Of the 89 total units, 18 are set aside for individuals with special needs and veterans and 57 of the units are supported by SMHA Section 8 Project-Based Vouchers. All residents that were temporarily relocated during Phase I construction were given first priority to return to the revitalized community.
"The opening of Northside Village represents a remarkable transformation of this property and is a testament to the Housing Authority's commitment to preserve affordable housing for Schenectady families," said Richard Homenick, SMHA's Executive Director. "It has been a privilege to work with a dedicated team of housing professionals, including Schenectady Mayor Gary McCarthy, who supported this project from vision to completion, New York State Homes and Community Renewal, and our developer partners, Pennrose and Duvernay + Brooks.
The modern apartments feature contemporary kitchens with electric range and dishwasher, in-unit washer and dryer, spacious closets, vinyl flooring, and central A/C. The first phase also added a brand new, 12,000 sq. ft community building to the site, with 3,000 sq. ft dedicated to resident amenities, including a fitness center, playground, and management suite. The remaining 9,000 sq. ft will be rented to three, local not-for-profit supportive and social service providers, Boys and Girls Clubs of Schenectady, Bethesda House (food pantry), and the Schenectady Community Action Program (Early Learning Center), each supported with generous funding from the Schenectady Foundation to assist with the start-up.
"The comprehensive, multiphase redevelopment of Yates Village is an example of the strength behind public-private partnerships," said Dylan Salmons, Regional Vice President at Pennrose. "We're proud to work alongside SMHA, Duvernay + Brooks and all project partners to transform an outdated public housing superblock into a high-quality, lifestyle-centered neighborhood with modern amenities and supportive services available to families at a range of incomes."
"Northside Village represents the promise of SMHA and the City of Schenectady to transform the Yates Village community through an inclusive planning process that has resulted in high quality, sustainable affordable housing and community assets," said Brian Heeger, Managing Director at Duvernay + Brooks. "D+B is honored to be able to partner with SMHA and Pennrose to preserve and expand this vital affordable housing resource and help contribute to the on-going revitalization of the City and the Northside neighborhood." 
Built in 1948, the 300-unit Yates Village spans 20 acres and is the largest public housing development in the city. Phase II is expected to begin in the fall of 2021 and includes the redevelopment of 211 affordable apartments.
The first phase of Northside Village was awarded competitive 9% Low Income Housing Tax Credits from New York State Homes and Community Renewal (HCR), and received over $5,170,000 in subsidy through HCR's Housing Trust Funds and Community Investments Funds programs. Hunt Capital Partners acted as the tax credit syndicator, JPMorgan Chase was the investor and provided construction financing, Lument provided permanent financing, and SMHA provided an acquisition loan for the project. Metroplex provided a PILOT and tax exemptions for the 100% affordable development.
Pennrose develops high-quality residential communities throughout New York state with a regional office in Brooklyn, New York. Most recently, Pennrose was selected by the Ulster County Housing Development Corporation to develop a mixed-income, intergenerational, and workforce housing development in Kingston, New York.