Grand Opening of North Hills Manor in Montgomery County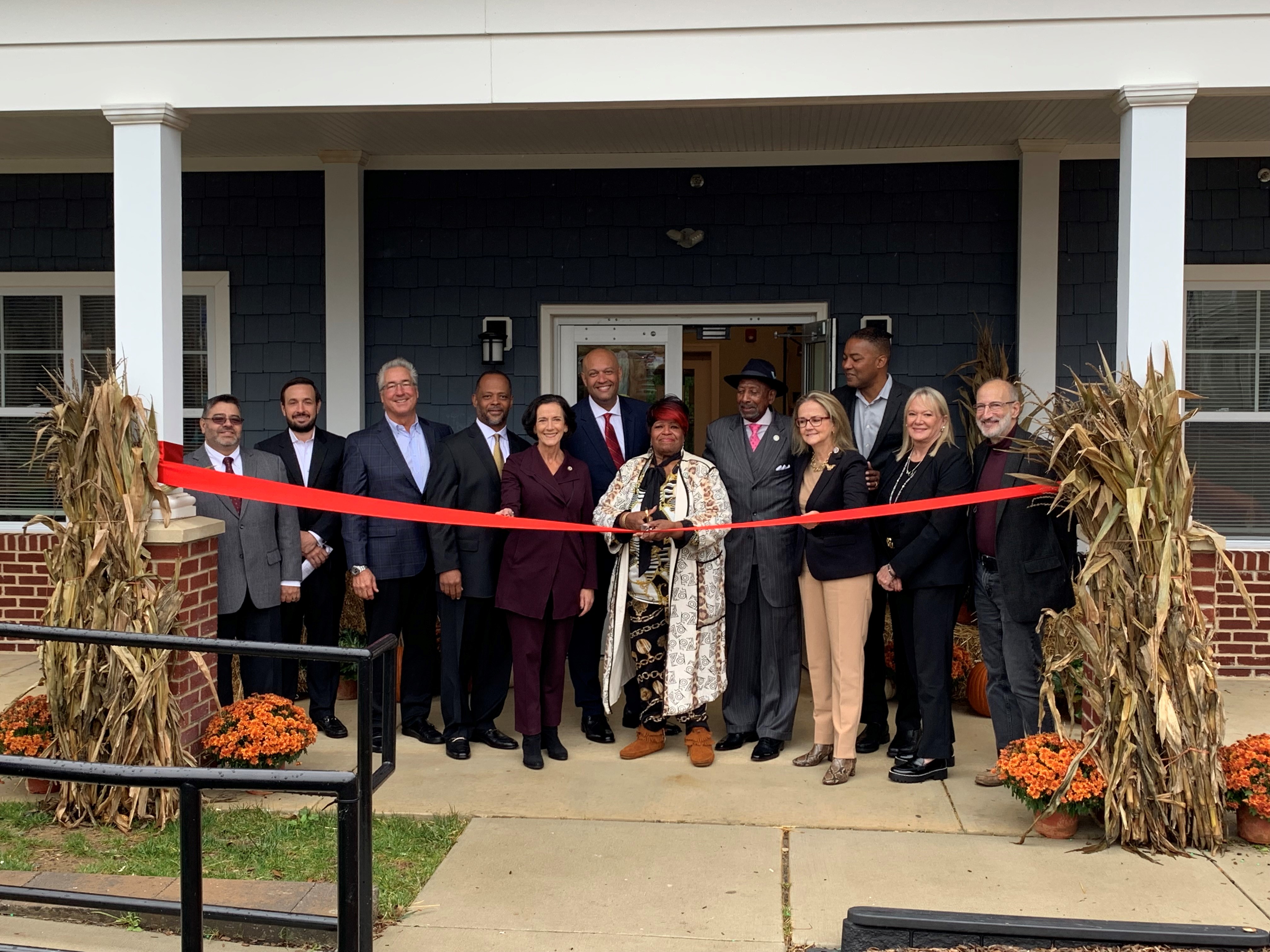 Redevelopment transforms outdated public housing into 50 high-quality, affordable homes
(Glenside, Pennsylvania) – Pennrose, Montgomery County Housing Authority (MCHA), state, county, and local officials celebrated the grand opening of North Hills Manor, the redevelopment of 1950s era public housing into a brand new, high-quality 50-unit affordable housing community. Located at 3115 Walnut Avenue in Glenside, the redevelopment also includes a new 2,638 SF community building.
Speakers at the grand opening ceremony included: Joel Johnson, Executive Director, Montgomery County Housing Authority; Harry Moody, Senior Developer, Pennrose, LLC; Rev. Dr. John E. Douglas, Pastor, Antioch Baptist Church, Member, Montgomery County Housing Authority Board of Directors; Congresswoman Madeleine Dean, 4th District of Pennsylvania, U.S. House of Representatives; Robin Wiessmann, Executive Director & CEO, Pennsylvania Housing Finance Agency; Dr. Valerie A. Arkoosh, MD, MPH, Chair, Montgomery County Board of Commissioners; Kenneth E. Lawrence, Jr., Vice-Chair, Montgomery County Board of Commissioners; Ira S. Tackel, Ward 4, Upper Dublin Township Board of Commissioners; Gloria Wilson, Resident, North Hills Manor; Christopher Tully, Director, RBC Community Investments; Mark H. Dambly, CEO, Pennrose, LLC.
North Hills Manor includes one-, two-, three-, and four-bedroom apartments and townhomes across 17 residential buildings. With a longstanding history of providing affordable homes for generations of residents in Montgomery County, the high-quality homes will be available to households up to 60% The project will help address the County's shortage of affordable rental homes, where the 2021 Homes For All report found that nearly 50% of local renters are rent burdened.     
According to the Montgomery County Housing Authority's Executive Director Joel Johnson, "The MCHA is thrilled to have helped Pennrose lead the effort to incorporate the lessons learned during a year-long community engagement process involving residents, neighbors and community leaders to help inform the site design and layout of the reinvested North Hills Manor community."
"We are proud to join MCHA and our incredible project partners to celebrate the transformation of an outdated public housing site into high-quality, mixed-income housing," said Mark Dambly, CEO at Pennrose. "The brand-new homes will be a tremendous asset in Upper Dublin Township, providing the next generation of renters with sustainable affordable housing and top-notch amenities in an ideal location."
The updated homes feature modern kitchens with electric range and dishwasher, spacious closets, ceramic tiled bathrooms, resident controlled heating & cooling, and in-unit washer/dryers. All buildings will be LEED certified. Residents will also enjoy access to ample on-site amenities, including the new community building with community room, property management offices, and playground.
North Hills Manor offers residents excellent access to SEPTA public transportation and route 152, providing close proximity to Willow Grove Park Mall, the Upper Dublin School District, and a quick commute to Philadelphia.  
Financing for the redevelopment was secured from Pennsylvania Housing Finance Agency in the form of Low Income Housing Tax Credits ($11.6 M) and PHARE funds with Citizens Bank as the construction lender and RBC Capital as the tax credit investor. Additional funds were provided by the Redevelopment Authority of Montgomery County and a permanent loan from Freddie Mac.
The three Phase demolition and construction at the original North Hills Manor public housing community began in 2017, with subsequent phases occurring over the next few years.  The on-site relocation of residents allowed families to remain in the community during the redevelopment of the site.
Pennrose is active throughout Pennsylvania and the tri-state region and has in-depth experience redeveloping communities throughout the country. Most recently, Pennrose celebrated the grand opening of Sharswood Crossing, an affordable family development and the latest phase of the Sharswood Transformation Plan in Philadelphia.