Grand Opening of Imani Village in Wilmington's Riverside Neighborhood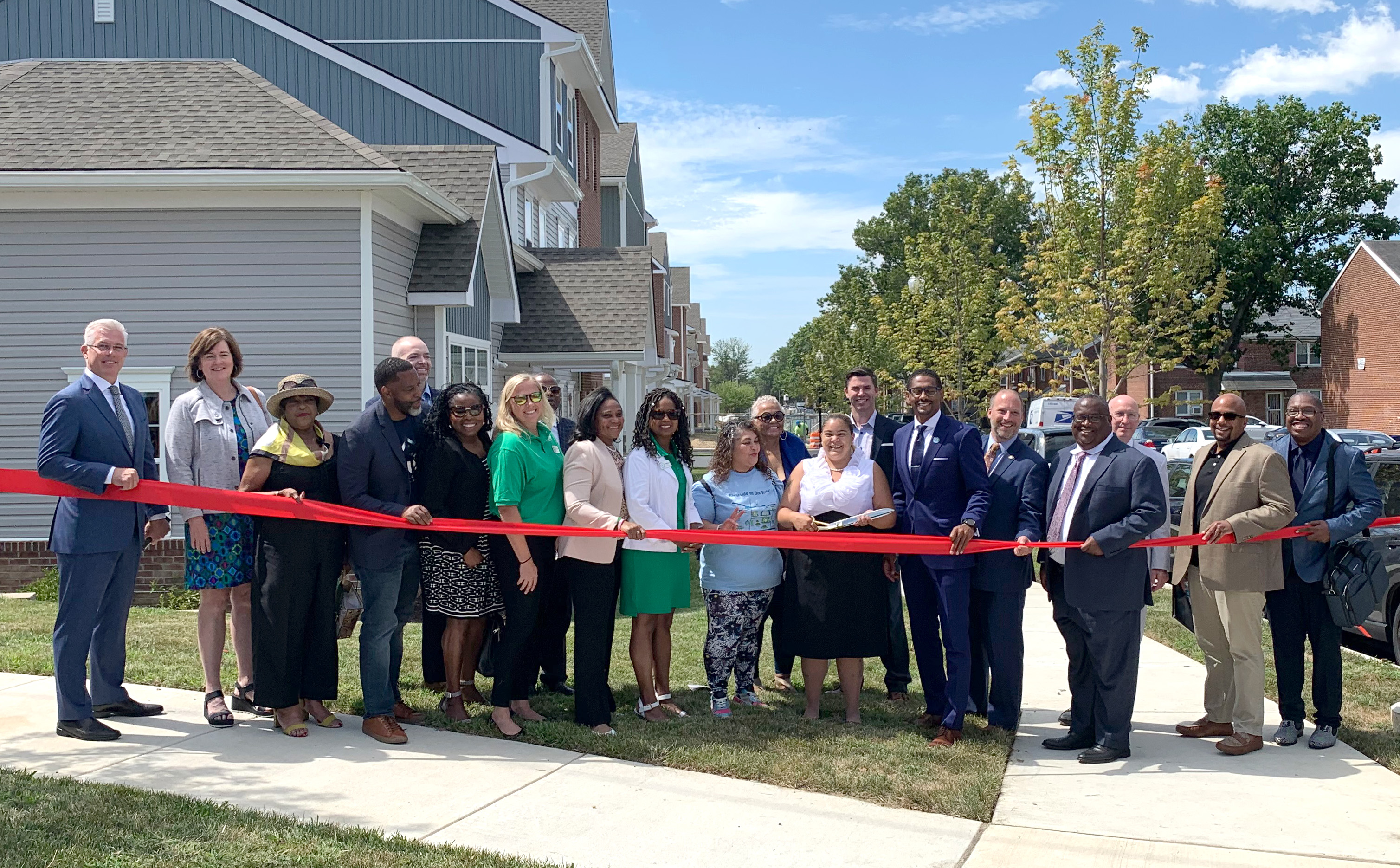 Phase one of the Purpose Built Community adds 74 affordable housing and workforce apartments
Pennrose, REACH Riverside (managing partner for The WRK Group, including The Warehouse and Kingswood Community Center), the Wilmington Housing Authority, and local and state officials celebrated the grand opening of Imani Village, the first of the multi-phase, community-led master planned redevelopment of Northeast Wilmington's Riverside neighborhood. The project is designed under the Purpose Built Communities Network model, with phase one delivering 74 mixed-income rental apartments.
Speakers at the grand opening celebration included: Logan Herring, CEO, The WRK Group; Mayor Michael S. Purzycki, City of Wilmington; Congresswoman Lisa Blunt Rochester, U.S. House of Representatives; Senator Tom Carper, U.S. Senate; Senator Darius J. Brown, Delaware General Assembly; Representative Stephanie T. Bolden, Delaware General Assembly; Councilmember Zanthia Oliver, 3rd District, Wilmington City Council; Aaron Bass, CEO, EastSide Charter School; Raymond Fitzgerald, Executive Director, Wilmington Housing Authority; Eugene Young, Jr., Director, Delaware State Housing Authority; Charles S. McDowell, James Ray Rhodes, Anaya Patterson, and Representative Sherry Dorsey Walker, The WRK Group Board Chairs; Carol R. Naughton, CEO, Purpose Built Communities; Matthew Heckles, Mid-Atlantic Regional Administrator, U.S. Department of Housing and Urban Development; Alison Mendez, Riverside Resident; Roy H. Campbell, Celebrity Event Planner, Former Riverside Resident; and Timothy Henkel, President, Pennrose, LLC.
Imani Village includes one-, two-, three-, and four-bedroom apartment homes for low-income families, with units set aside for seniors, veterans, and individuals with disabilities. In alignment with the Purpose Built Communities' mission to uplift concentrated areas of urban poverty, 59 of the units are available to tenants with incomes from 30% to 60% of Area Median Income (AMI) and 15 workforce housing units. Of the total units, 12 units are fully ADA accessible, eight units are designated for residents with special needs, and all are Zero Energy Ready.
"Riverside has been historically ignored for decades. Our community was originally built for returning White veterans from World War II. With the implementation of the GI Bill, many white families were able to obtain mortgages – a major factor in determining generational wealth – and leave Riverside.  This opportunity was not extended to returning Black veterans and as a result, many families were forced to live in communities of consolidated poverty," said Logan S. Herring, Sr., CEO of The WRK Group. "Imani Village's grand opening signifies a new chapter for Riverside residents – one in which children are proud to call their community home and families are able to move from financial distress to success."
"Imani Village is a wonderful example of what is possible when the community, government, private industry, and other stakeholders come together to create positive change", said Ray Fitzgerald, Executive Director of the Wilmington Housing Authority. "This project represents the first step in strengthening the Riverside Community and the families we serve. Thank you to the Wilmington Housing Authority staff and all of the other partners who helped make this day possible!"
"Completing phase one is a significant milestone and step forward in the comprehensive redevelopment of Riverside, a neighborhood which has been impacted by decades of disinvestment," said Ryan Bailey, senior developer at Pennrose. "We're proud to work alongside REACH Riverside and the Wilmington Housing Authority to provide high-quality, affordable and equitable housing which will improve the quality of life for residents for years to come."  
The new construction modern apartments feature contemporary open floor plans; amenity rich kitchens with electric ranges and dishwashers; in-unit washer and dryer; spacious closets; luxury vinyl tile flooring; ceramic-tiled baths; exterior storage; and Central A/C. In addition, residents will enjoy ample community amenities including access to an inviting community center; business center with computer stations; playground; professionally landscaped grounds; community garden; on-site supportive services; and more.
The REACH Riverside master plan focuses on the three pillars of revitalization shown to have the greatest impact on long term community health and well-being – housing redevelopment, education, and community health. Once complete, the Riverside redevelopment will include 600 high-quality, mixed-income rental and for-sale homes and a new Kingswood Community Center, including a best-in-class Early Learning Academy, a new and improved Jimmy Jenkins Senior Center, as well as much needed community and family resources. The Warehouse located on the southern edge of the community opened in 2020. The Warehouse was developed "For Teens, By Teens" and serves as an innovative, one-stop center serving youth ages 13 to 24.
Phase 1 was financed through an allocation of Low Income Housing Tax Credits from the Delaware State Housing Authority, who also contributed construction and permanent debt. The tax credits are being purchased by Cinnaire, who also provided permanent financing.  Wilmington Housing Authority, REACH Riverside, the City of Wilmington, the County of New Castle and M&T Bank also provided critical financing. 
Pennrose is active throughout Delaware and the tri-state region and has in-depth experience developing master planned communities throughout the country. Pennrose also developed The Garrison in downtown New Castle, which includes 120 modern apartments.