Groundbreaking of John Arthur Flats in Northside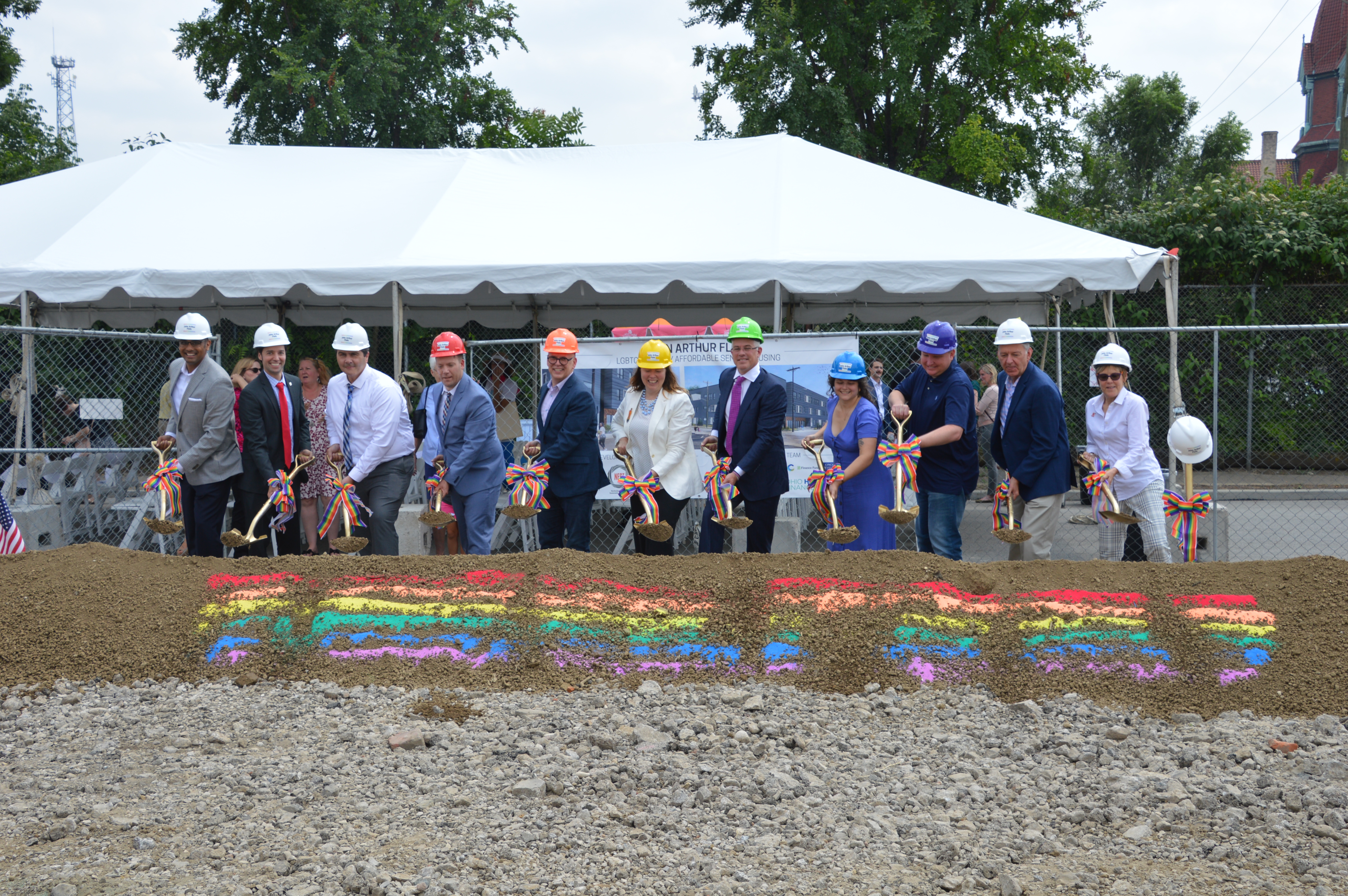 Development is Cincinnati's first LGBTQ-friendly affordable housing community for seniors
Northsiders Engaged in Sustainable Transformation (NEST) and Pennrose celebrated the groundbreaking of John Arthur Flats, Cincinnati's first LGBTQ-friendly affordable senior housing community. Located at 4145 Apple Street in the Northside neighborhood, the new development includes 57 high-quality affordable apartments and tailored on-site supportive services. The community is slated for completion in the summer of 2022.
Speakers at the groundbreaking included Sarah Thomas, Executive Director, NEST; Amber Seely-Marks, Senior Developer, Pennrose; City Council Member and President Pro Tem Chris Seelbach; Kelan Craig, Director of Multifamily Housing, Ohio Finance Agency; Jeff Nelson, VP, Account Manager, CREA; Linda Seiter, Executive Director, Caracole; Jim Obergefell, Spouse of John Arthur; Bill Hardy, CEO, Equitas Health; Pavan V. Parikh, Assistant Vice President, Government Relations Officer & Legislative Counsel, Federal Home Loan Bank Cincinnati; Justin Marshall, Community Development Lending Group Head, Fifth Third Bank; and Timothy I. Henkel, Principal and Senior Vice President.
In a three-story, elevator building, John Arthur Flats will include a mix of brand new studio, one-, and two-bedroom apartments for seniors at 30% to 60% of the Area Median Income (AMI). Residents will have access to robust on-site amenities, including a fitness center, outdoor terrace, laundry, parking, and the Maureen Wood Community Room. The community is also in an ideal walkable location with easy access to the Northside business district, McKie Recreation Center, and many other nearby amenities.
"The John Arthur Flats groundbreaking brings Northside one step closer to providing high-quality, secure, affordable housing to our neighbors in the LGBTQ+ and aging populations. Northside has always been a diverse, welcoming community and we look forward to growing our neighborhood by providing affordable housing, social services and the opportunity to remember cornerstone community members within this project," said Sarah Thomas, Executive Director with NEST. "It is an honor for NEST to contribute to this unique development and we hope it serves as inspiration for other community-minded projects to be realized across Cincinnati and our region."
On-site supportive services will be provided by Council on Aging of Southwestern Ohio, Pennrose Management Company, CAIN (Churches Active in Northside), and Caracole, the Greater Cincinnati region's nonprofit AIDS Service Organization.
"Today marks the first step in transforming a formerly vacant, underutilized site into a vibrant community asset," said Timothy I. Henkel, Principal and Senior Vice President at Pennrose. "LGBTQ older adults experience higher rates of poverty and housing discrimination, and innovative housing solutions like John Arthur Flats create an inclusive, safe and welcoming environment for seniors to age in place comfortably. We hope this development serves as an example in neighborhoods throughout Ohio and the country."  
The development commemorates local history and is named in recognition of the late John Montgomery Arthur, a Cincinnati native and husband of the plaintiff in the Supreme Court case that legalized same-sex marriage in the United States. In addition, the new community space honors Maureen Wood. Before her passing, Maureen was a long time Northsider, LGBTQ neighborhood pioneer, Crazy Ladies Bookstore owner, and was known for teaching home-repair and improvement classes to single women and mothers.
This $13 million redevelopment is financed with an award of Low Income Housing Tax Credits from the Ohio Housing Finance Agency, equity syndicated by CREA, HOME funding from the City of Cincinnati, an award from the Affordable Housing Program of the Federal Home Loan Bank of Cincinnati and debt underwritten by Fifth Third Bank.
Pennrose is committed to developing high-quality, affordable LGBTQ-friendly housing for seniors, including Haven Green, a 123-unit deeply affordable community in New York City and John C. Anderson apartments in Philadelphia. Pennrose is also transforming the former Rogers School in Boston's Hyde Park neighborhood into the region's first LGBTQ-friendly senior housing community. Pennrose has a regional office in Cincinnati.