Grand Opening of Veterans Housing Community in Dover, New Jersey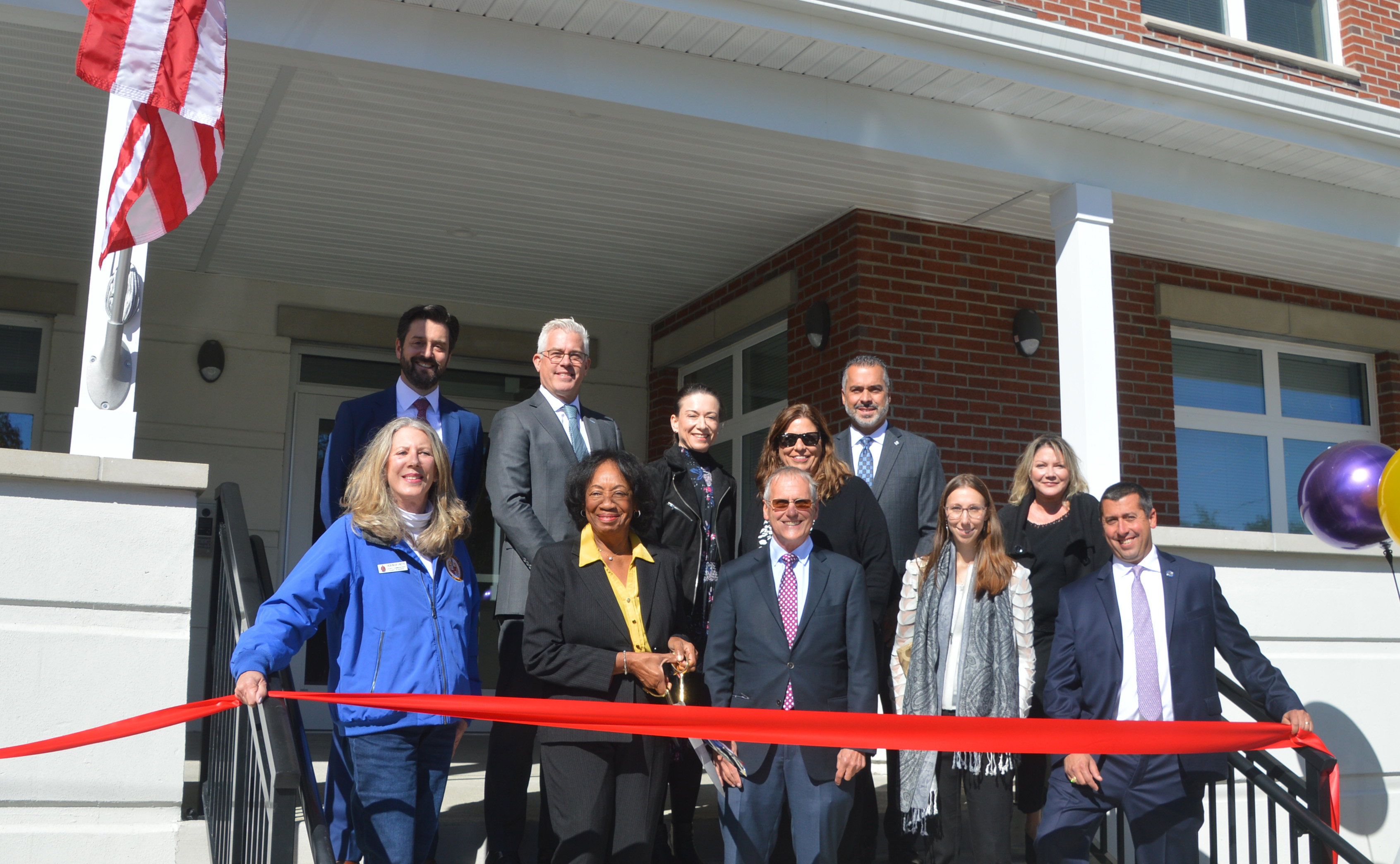 One Thompson Avenue offers 70 affordable veteran and family apartments in Morris County
Pennrose and the Town of Dover celebrated the grand opening of One Thompson Avenue, a 100% affordable veterans and family housing community in Dover, New Jersey. As part of Dover's downtown master redevelopment plan, One Thompson Avenue transforms a formerly underutilized parking lot into a vibrant housing community with 70 brand new apartments and on-site supportive services.
The community includes a mix of one-, two-, and three-bedroom apartments, with all units available to households at or below 60% of the area median income (AMI). Of the 70 apartments, 50% give preference to veterans and five units are set aside for formerly homeless residents. Morris County Department of Human Service Veterans Services and Community Hope, a nonprofit dedicated to supporting veterans and their families, have partnered with Pennrose to help connect veterans to the new housing opportunity.
Speakers at the grand opening celebration include Carolyn Blackman, Mayor, Town of Dover; Tamara Bross, Secretary to Planning Board, Board of Adjustment & Historic Preservation Commission, Town of Dover; Brian Bergen, Assemblyman, NJ 25th Legislative District; Aura K. Dunn, Assemblywoman, NJ 25th Legislative District; Jacob Fisher, Regional Vice President, Pennrose, LLC; Kimmel Cameron, Senior Vice President, Acquisitions / Underwriting, Hudson Housing Capital; Melanie Walter, Executive Director, New Jersey Housing and Mortgage Finance Agency; William Viqueira, SVP, CFO & Treasurer, NJ TRANSIT Corporation; Leslie Stivale, President & CEO, Triple C Housing, Inc.; and Timothy I. Henkel, Principal and Senior Vice President, Pennrose, LLC.
"As Mayor of the Town of Dover, I am so pleased that we were able to open our doors to this beautiful facility for our veterans and families who qualify to live here in Dover," said Carolyn Blackman, Mayor of Town of Dover. "This grand opening marks the beginning of a new chapter where high-quality affordable housing is available within the borders of Dover. Pennrose has brought an added jewel to our wonderful Town!"
The high-quality apartments feature modern kitchen with electric range and dishwasher, spacious closets, and Central A/C. In addition, residents will enjoy ample community amenities, including community lounge, fitness center, on-site parking, bicycle storage, laundry facility on each floor, professionally landscaped grounds, and an on-site management and maintenance suite.
"We are honored to help facilitate the development of this state of the art facility that will serve those who served our country, directly benefiting veterans by providing safe, stable, affordable homes specifically designed to meet their day-to-day needs." said NJHMFA Executive Director Melanie R. Walter. "NJHMFA is proud to have helped finance this development, which represents the State's commitment to permanent supportive housing and will provide needed housing to help Veterans' build their post-service lives, and promote local economic development and energy efficiency measures. We commend everyone who worked to get us to today and we look forward to seeing One Thompson Ave become a keystone of Dover's downtown for years to come."
The new community is designed to fit the existing architecture of downtown Dover and is energy efficient to meet Enterprise Green Communities standards. One Thompson Avenue is conveniently located near the New Jersey National Guard Armory and service provider Picatinny Arsenal. Robust on-site supportive services will also be provided to residents through Triple C Housing.
"We're grateful to partner with the Town to execute our shared vision for the site, transforming an underutilized property into high-quality homes for families and veterans and creating a more vibrant, walkable downtown," said Jacob Fisher, Regional Vice President at Pennrose. "One Thompson Avenue showcases how public-private partnerships, including Community Hope and Triple C Housing, can create innovative housing solutions that positively impact communities for years to come." 
One Thompson Avenue was financed through a combination of Low-Income Housing Tax Credit equity – through an allocation from NJHMFA, Morris County HOME funds, and permanent debt. Hudson Housing Capital is the syndicator for the tax credits and Santander is the purchaser. Santander also provided the construction debt. Grandbridge Capital is providing the permanent debt through a Freddie Mac transaction.
Pennrose is committed to creating high-quality, affordable housing for veterans with tailored supportive services across the country. In Edison, New Jersey, Pennrose also developed veterans housing at Residence at Roosevelt Park and Truman Square.