Apple Street Senior Development Named "John Arthur Flats"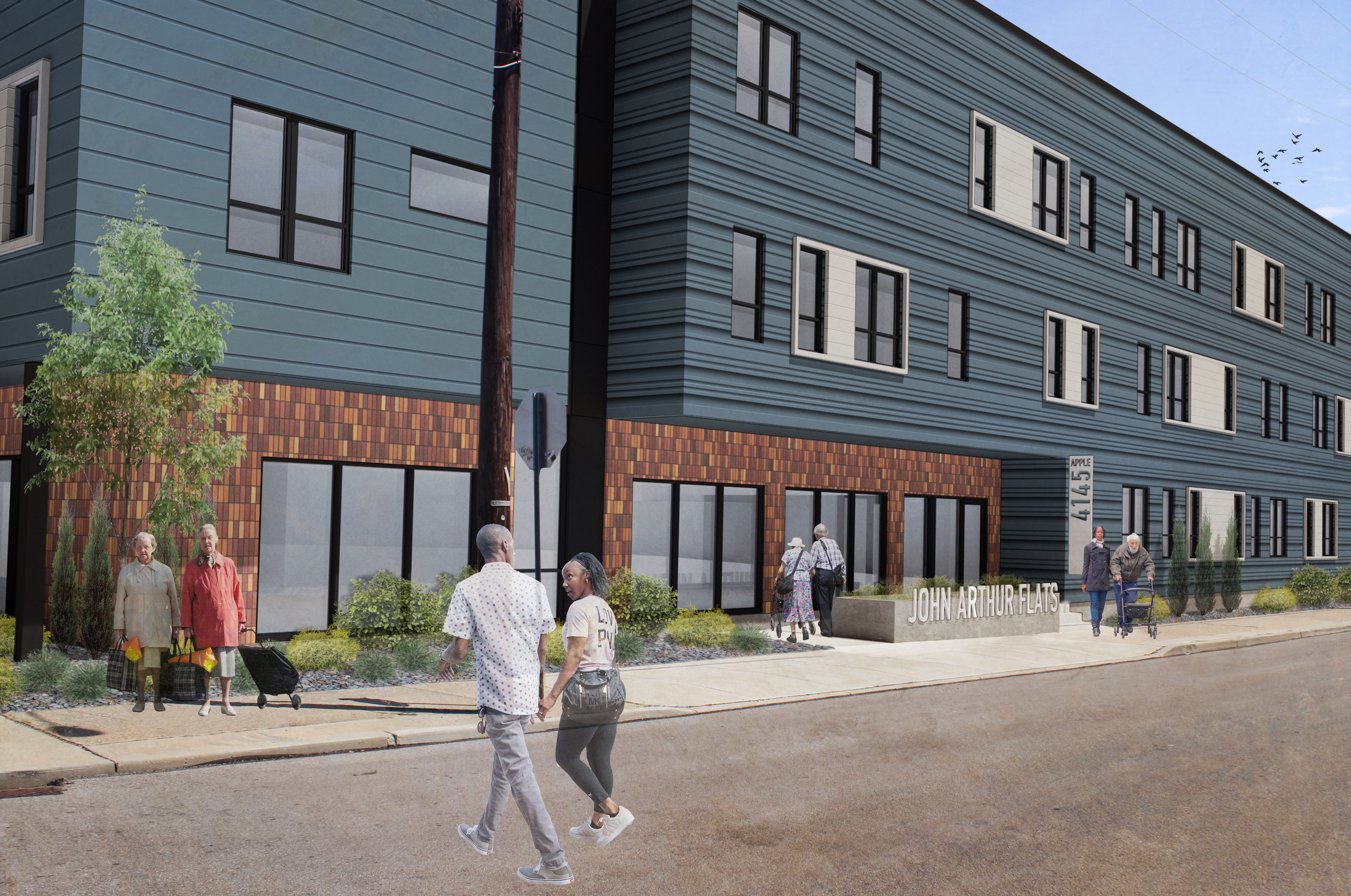 Cincinnati's first LGBTQ-friendly affordable housing community honors the legacy of John Montgomery Arthur
Northsiders Engaged in Sustainable Transformation (NEST) and Pennrose announced today that Apple Street Senior, the first LGBTQ-friendly affordable housing community for seniors in Cincinnati, will be renamed John Arthur Flats. The name pays tribute to the late John Montgomery Arthur, a Cincinnati native and husband of the plaintiff in the Supreme Court case that legalized same-sex marriage in the United States. The new name was announced during NEST's annual meeting on March 16, 2021.
"I'm incredibly touched that NEST has chosen to remember and honor my late husband John in this way. John had dreams of doing something grand to benefit Cincinnati but was never able to do that because of his ALS diagnosis," said Jim Obergefell, husband of the late John Montgomery Arthur. "NEST has made John's dream come true, and I'm confident he would be honored to be remembered in this way, especially when this project benefits the oft-overlooked community of LGBTQ+ elders."
Located at 4145 Apple Street in the Northside neighborhood of Cincinnati, John Arthur Flats will include 57 studio, one- and two-bedroom apartments for seniors at 30% to 60% of the Area Median Income (AMI). Residents will have access to top-notch amenities, including a fitness center, community space, outdoor terrace, on-site laundry and parking. The development will also include on-site supportive services provided by Council on Aging of Southwestern Ohio, Pennrose Management Company and Caracole, the Greater Cincinnati region's nonprofit AIDS Service Organization.
"NEST is thrilled to be able to provide inclusive, secure and affordable senior housing in our beloved Northside community. Through our partnership with Pennrose and our services with Caracole, CAIN and Council on Aging Southwest Ohio, we are confident that the residents of John Arthur Flats will be able to experience a wonderful quality of life and enjoy our neighborhood," said Sarah Thomas, Executive Director with NEST. "We are grateful to everyone who has worked diligently to create, plan and build this project. We celebrate the opportunity to honor meaningful people like John Arthur and Maureen Wood who are no longer with us but have surely left profound impacts throughout their lives."
"John Montgomery Arthur and Jim Obergefell were trailblazers who changed the lives of countless individuals in their hometown and throughout the country," said Timothy I. Henkel, Principal and Senior Vice President at Pennrose. "Following their lead, we hope this community improves the lives of those who live here and is an asset to the entire neighborhood. LGBTQ older adults continue to face higher rates of poverty and housing discrimination, and we have made it a priority to create innovative housing solutions to help address this issue."
John Montgomery Arthur and Jim Obergefell were pioneers for same-sex marriage, both in the state of Ohio and across the United States. Following Arthur's ALS diagnosis and after the Supreme Court struck down the federal Defense of Marriage Act, the two flew to Maryland in 2013 and were married in a medically equipped plane on the tarmac. Following Arthur's passing three months later, Obergefell sued the state of Ohio to be listed as a spouse on his death certificate. Obergefell continued fighting for marriage equality in Ohio, ultimately leading to the Supreme Court case, Obergefell v. Hodges, in 2015 that legalized same-sex marriage in all 50 states.
The community room at the new development will be named the "Maureen Wood Community Room" to honor Maureen Wood who was a long-time Northsider who passed away in 2017. She was LGBTQ, a neighborhood pioneer, owned Crazy Ladies Bookstore, and was known for teaching home-repair and improvement classes to single women and mothers.
John Arthur Flats will be financed with equity syndicated by CREA from a 9% Low Income Housing Tax Credit award from the Ohio Housing Finance Agency, a $1M award of HOME funding from the City of Cincinnati, a $500,000 grant from the Federal Home Loan Bank of Cincinnati's Affordable Housing Program and a loan from Fifth Third Bank.
Pennrose is committed to developing high-quality, affordable LGBTQ-friendly housing for seniors, including Haven Green, a 123-unit deeply affordable community in New York City and John C. Anderson apartments in Philadelphia. Pennrose is also transforming the former Rogers School in Boston's Hyde Park neighborhood into the region's first LGBTQ-friendly senior housing community.