LGBTQ Housing Spotlight: LGBTQ Senior Housing Inc.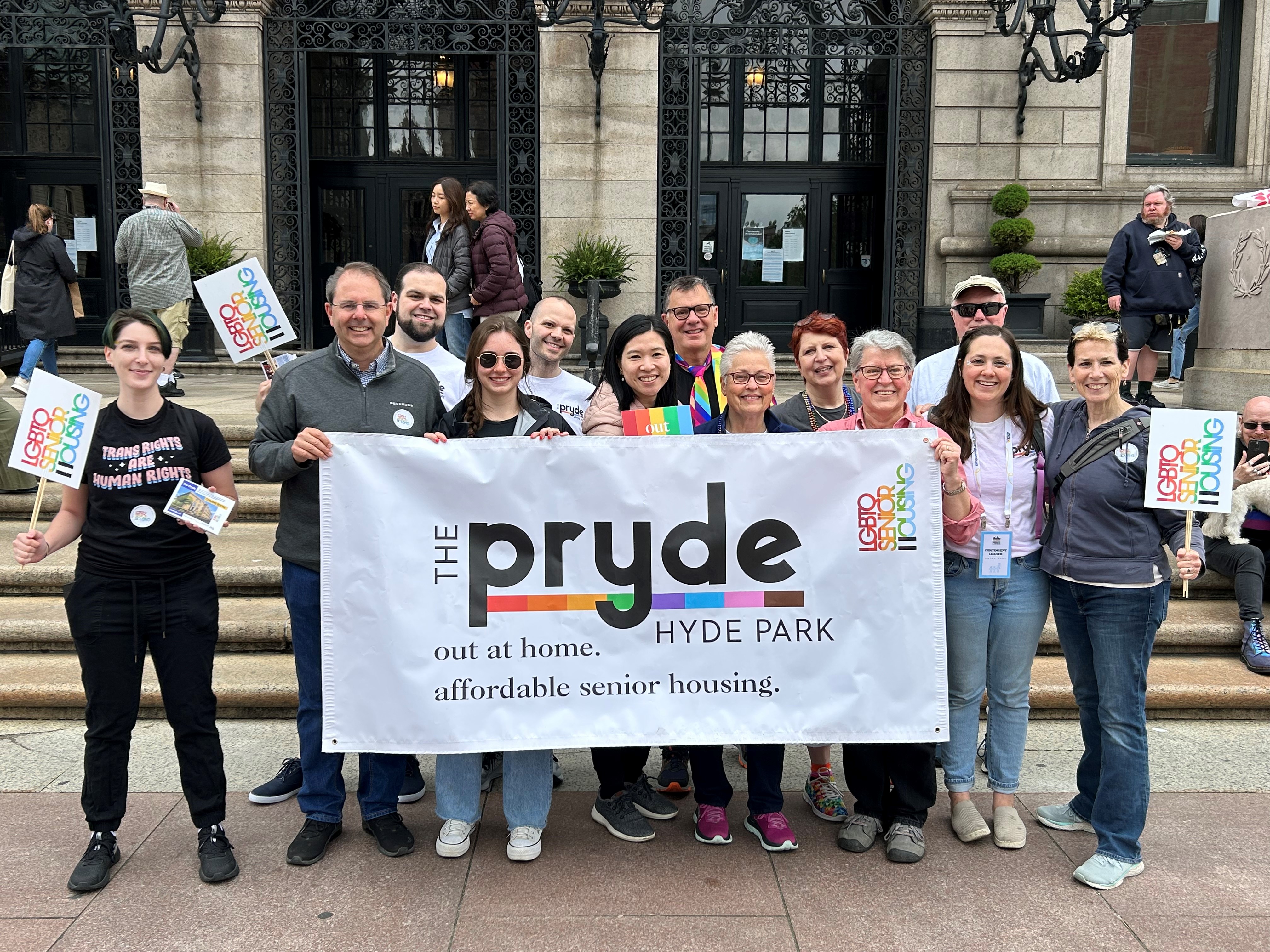 Happy Pride Month! In celebration, Pennrose is highlighting our incredible LGBTQ+ project partners and local community advocates throughout the month of June. We are excited to shine a spotlight on the invaluable support, services, and resources they provide within our communities.
Today we are speaking with Gretchen Van Ness (she, her, hers), Executive Director at LGBTQ Senior Housing Inc. and an invaluable partner with Pennrose on The Pryde, Boston's first LGBTQ+ affirmative, affordable senior housing community.
Q: To start, tell us about your organization. What is your mission and how is it reflected in the work you do?
GVN: LGBTQ Senior Housing, Inc. is a small but mighty Boston-based nonprofit organization dedicated to creating affordable and welcoming housing for LGBTQ older adults and our allies. We are the only nonprofit in the country solely devoted to creating LGBTQ-affirming affordable senior housing. Our first LGBTQ+ affirmative community, in partnership with the amazing team at Pennrose, is in the Hyde Park neighborhood of Boston where we are in the process of converting a former middle school into 74 income-restricted apartments for seniors 62+.
Our mission is to facilitate access to welcoming, safe, and affordable housing for low-income LGBTQ seniors, including through a formal role in the development of housing, defining onsite services and programming that addresses the specific needs of LGBTQ seniors, and overall to support community space to serve seniors in the Greater Boston community.
Q: What inspires you to go to work every day?
GVN: The LGBTQ elders in Boston and across the country who face harassment and discrimination in housing as they age and are too often isolated and forced back into the closet at a time in their lives when they should be embraced, celebrated, and supported. It's critically important for our community to have safe, happy, healthy, and affordable living spaces. With an estimated 65,000 LGBTQ elders in Massachusetts, the need for this kind of housing is tremendous and we're just getting started!
Q: Why is LGBTQ+ affirmative, affordable housing for seniors important?
GVN: Many older LGBTQ people are concerned with finding a home where they can be themselves without facing discrimination or harassment. According to AARP, 85% of LGBTQ older adults are concerned about discrimination, and studies show that LGBTQ elders are more likely to face health and economic disparities, with one-third living at or below 200% of the poverty line. In Massachusetts for example, public health data from the Behavioral Risk Factor Surveillance System survey found that LGBTQ people aged 50-75 are more likely to report difficulty paying for housing or food in past year than their cisgender peers. In another recent study, we were shocked to learn that the stress of living in the closet can take 12 years off a person's lifespan.
LGBTQ+ affirmative housing is not only providing people a place to live – it also provides a place where we can be our authentic and fabulous selves without fear or shame. It provides a space to be free and joyous, to laugh, celebrate, and live happily and healthily into old age while surrounded by friends and chosen family. With many of our community members not given the chance to enjoy their lives to the fullest, it is important that we work to improve LGBTQ+ lives and living conditions.
Q: What are your plans / priorities for this year? How will it benefit the community you serve?
GVN: This year we are focused on opening our very first community - The Pryde of Hyde Park! To ensure everyone knows about The Pryde and its application process, we are conducting extensive outreach to make sure we reach every older adult in the LGBTQ community and every ally who wants and needs this housing. To spread the word, we will have staff and volunteers at Pride Month events across the state to build trust and excitement about The Pryde in our communities.
We are also fundraising to incorporate state-of-the-art AV and virtual technology that will stream programming and services to members of our community, regardless of ability and location, to ensure The Pryde is affirming and inclusive. With the fabulous plans we have for our Community Center, we want our programming to be available to everyone!
In addition, we continue to forge partnerships with healthcare and service providers. LGBTQ elders have often been excluded from systems of care and networks of belonging. As we prepare for construction to be completed, we want to make sure future community members will have the opportunity to both access resources that will meet basic needs and opportunities for joy, fun, and fulfillment.
Q: What steps can residential communities take to be more welcoming towards the LGBTQ+ community?
GVN: To make residential communities more welcoming towards the LGBTQ+ community, they must stop assuming that all their residents are straight. Residential communities can accomplish this by using inclusive language such as "spouse" or "partner," and recognizing that our LGBTQ elders have chosen families that might look different from other families.  It's also important not to put the burden of making a residential community welcoming on the very people you want to welcome.
To be more inclusive towards your LGBTQ+ residents, add Pride Month celebrations to your activity calendar, reach out to the local LGBTQ community center and invite them to meet your residents, and make sure to check in with folks one-on-one. In this time of increasing violence against our community, it is crucial to ask if they are okay and if there's anything you can do to support them. Even if they aren't LGBTQ themselves, many will have LGBTQ family members, friends, and loved ones, and will appreciate your support.
--
The Pryde is Boston's first LGBTQ+ affirming senior apartment community. Once complete, the historic rehabilitation will transform the former William Barton Rogers School into 74 high-quality, affordable apartments, modern amenities, and on-site supportive services in a vibrant neighborhood for seniors 62+.
For more information or to support LGBTQ Senior Housing Inc., please visit https://www.lgbtqseniorhousing.org/.