Project Spotlight: Sharswood Phase I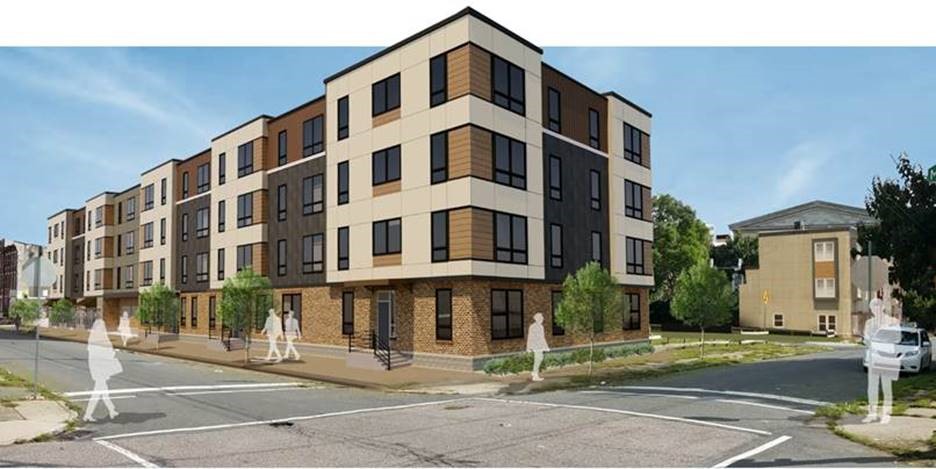 by Jacob Fisher, Regional Vice President
Construction on Pennrose's newest Philadelphia-area affordable housing development, Sharswood Phase I, is underway! The first of the three-phase Sharswood development is part of the Philadelphia Housing Authority's (PHA) Choice Neighborhood Implementation grant, which seeks to transform Sharswood by bringing high-quality affordable housing to a desolate block and preserve affordability in a neighborhood facing gentrification.
We're speaking with Jacob Fisher, Regional Vice President at Pennrose, to learn more about this exciting development and the impact it will have on the local community.
First, can you provide a quick overview of the project?
Absolutely! The first phase of the Sharswood development is a collaboration between Philadelphia Housing Authority (PHA), Hunt Companies, Inc., and Pennrose. Located on the 2000 blocks of Master and Seybert Streets, and along 21st Street, Phase I will transform a blighted, abandoned block into 60 units of brand new affordable housing scattered across a four-story apartment building and nine townhomes. The modern one-, two- and three-bedroom apartments will feature Energy Star appliances and will meet Enterprise Green Communities standards. Plus, the four-story multifamily building will also include a community room and ground floor commercial space, in addition to robust on-site supportive services and other resident amenities, like a fitness center and parking.  
We are also hard at work preparing for the second and third phases of the development, which together will add over 200 units to the master plan.
Amazing. Tell us a little more about the Choice Neighborhood Transformation Plan.
In April 2020, PHA was awarded a $30 million Choice Neighborhoods Implementation grant from the U.S. Department of Housing and Urban Development to help create 1,200 affordable homes as part of the Sharswood Transformation Plan. This includes the replacement of Blumberg public housing, low-income, and market-rate rental, along with workforce and market-rate homeownership units. However, PHA's vision encompasses far more than housing – the goal of the multi-faceted plan is to re-establish the Sharswood/Blumberg community into a network of safe, vibrant neighborhoods with access to high-quality schools, services, transportation, and job opportunity.
For example, the community will have access to a fully-realized Peace Park, Ridge Avenue Shopping Center with a wide variety of mom and pop shops and grocery options, a small business incubator to ensure local startups are set up for success, and resources for improving education, health, and job preparedness through the Vaux Workforce Center. There will also be a senior housing component through Health USA and Habitat for Humanity to ensure senior residents have access to an affordable home where they can live and age comfortably.
How has COVID-19 impacted project timelines?
Thanks to a close partnership with PHA and countless Zoom meetings, we were able to close on financing for the first phase and begin construction during the pandemic. We're very grateful to have been awarded the Choice Neighborhoods grant back in April, which allowed us to move forward with the project during a time of uncertainty. On the construction side, our partner Dale Corp. has done a tremendous job creating an environment governed by social distancing and health and safety protocols. With heightened precautions and the vaccine rollout underway, we are confident Phase I will be completed on schedule.   
It sounds like this project is going to leave a lasting impact on the community. What can neighbors expect?
This revitalization is a result of a robust community engagement process. Countless stakeholders from the City to community-based organizations participated in aspects of the planning process and the Choice Neighborhoods application.
Based on this feedback, the development partners envision the Sharswood project to not only benefit the individuals, families and seniors living there, but the entire community by providing robust supportive services, new retail options, revived community gathering and green spaces, and improved access to resources like education, health, and job readiness.
The mix of affordable and workforce units will help to create homes for individuals and families with a range of incomes while ensuring current residents are not priced out of a rapidly changing corner of the neighborhood. Right now, there is enormous resilience and optimism among community members to address the problems the neighborhood faces. We look forward to bringing positive change and revitalization to Sharswood for years to come.
Is there anything else you would like to add?
 PHA has been dedicated to the revitalization of the Sharswood community for years. We are proud to help execute the next stage of their comprehensive plan for the site along with a long list of committed partners and collaborators. Fun fact: Pennrose's headquarters in Brewerytown is just blocks away from the development! We're thrilled to be working on a project that will have a direct impact on our neighbors.
--
Phase I of the Sharswood development is slated for completion in March 2022. For project updates, stay tuned to the Pennrose News section or follow us on Twitter, LinkedIn, and Facebook.