Engaging the Community Every Step of the Way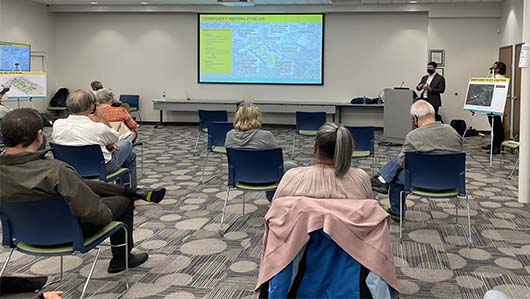 By Dylan Salmons, Regional Vice President
When developing affordable housing, a solid community engagement plan is often at the heart of designing high-quality communities that transform lives. The first step in conceptualizing a development or transformation plan from the ground up is to identify stakeholders, including current residents, neighbors, and underserved populations in the community. We want to bring those voices to the table, along with local leadership, to make sure the community is heard and involved in the decision-making process early on.
For Pennrose, the community engagement process always starts with residents. We want to understand what their priorities are and how the proposed community or redevelopment can better serve their needs. From there, we look to engage the general public as well. Anyone who is a neighbor, local business owner, or involved in a public group is welcome to participate. Once we've engaged a diverse range of community members, our next step is to identify financing to execute the shared vision we've created with the community.
As an example, we're currently working with our local partners in New York on a number of projects that are centered around community engagement. In Troy, we've partnered with Troy Housing Authority to reimagine Taylor Apartments into a dynamic mixed-use community. Community engagement has been particularly beneficial for this project as the original development has some complexities we are looking to correct. The community is located on a post-industrial waterfront that serves as an integral gateway into the city and is a property desperately looking to be reclaimed by residents. We don't see any way of successfully executing this plan without a thoughtful and strategic community engagement platform.
In North Tonawanda, Pennrose is working on Timber Shore Apartments, the first phase of development envisioned for Tonawanda Island that will create 70 brand new units of much needed affordable housing. Due to the pandemic, the beginning of our community engagement process began virtually, which allowed us to record the meetings to refer back to. The community helped us rethink the building strategy and structure for this project as well as voiced their desire to see more market rate units incorporated. Because the community has such a strong vision for the site, our strategy is to allow the feedback to guide the path forward and truly shape the development.
We are also working in Kingston, NY, on an exciting redevelopment vision for the former site of the Ulster County Jail, an approximately 20-acre property situated between healthcare and senior living facilities, the Empire State trail network, and with views of the Catskills. The vision for "Golden Hill" includes executing on Ulster County Green New Deal initiatives and providing new intergenerational mixed-income housing opportunities for the Hudson Valley region. Pennrose is actively leading a community engagement process with its development partner Ulster County Housing Development Corporation (UCHDC), the County of Ulster, the City of Kingston, the Family of Woodstock, elected officials, local community-based organizations, and residents to craft a unified vision in support of the City of Kingston's 2025 Comprehensive Plan and to promote the community's diverse needs and nurture residents for generations to come. 
Much of the feedback we get during the community engagement process is focused on impact – what will serve residents vs. the community. Our goal is to focus on collective impact and to help community members see the overarching benefits that affordable housing can have in their neighborhood. For the Greenleaf Redevelopment in Washington, D.C., the development team is hosting a series of meetings focused on the development plan, senior residents, rehousing plan, and ongoing engagement.
Affordable housing often comes with a negative stigma that impacts whether a community will make it beyond the design phase. Community engagement helps to demystify myths around affordable housing, such as tax district burdens, impact on schools, decreasing property values, among others. Pennrose's experience as developers and master planners underscores collaborative public involvement as an essential cornerstone to community transformation. We look forward to continuing our work in communities across the country to enhance neighborhoods and ultimately address the growing need for safe, high-quality affordable housing.