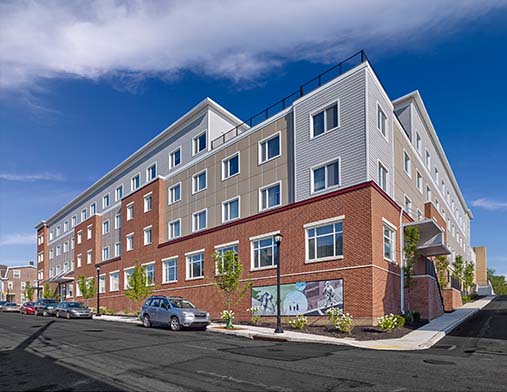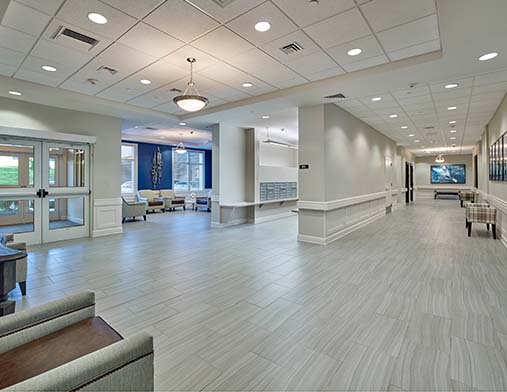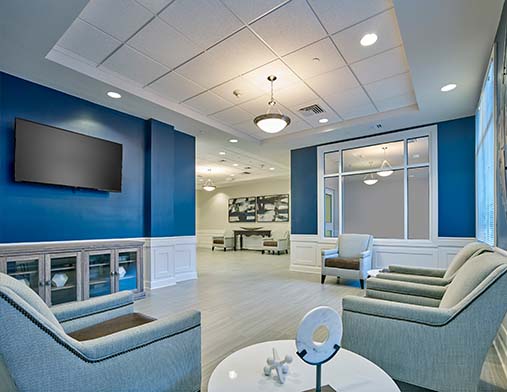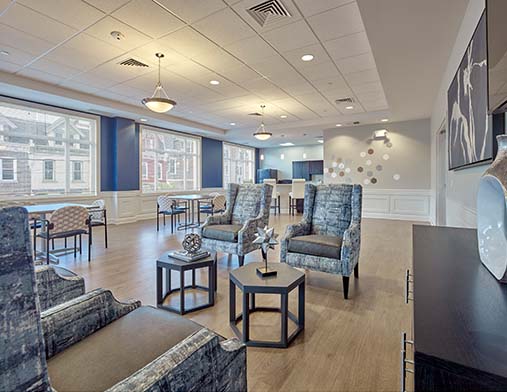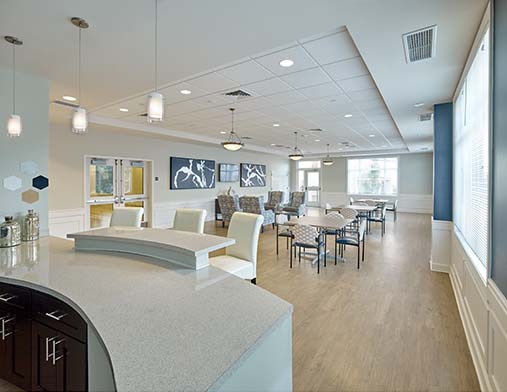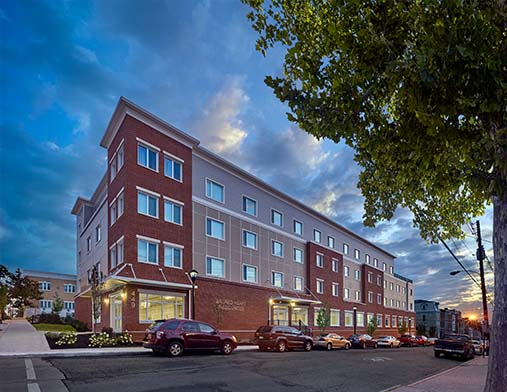 West Turner Residences (WTR) is a new four-story, 61-unit affordable multifamily senior rental project situated on a sloping site at the corner of West Turner and North 5th Streets in the Center City District of downtown Allentown. A joint venture redevelopment project between Sacred Heart Hospital (SHH), located only two short blocks to the north of the site, and Pennrose, the project brings much-needed affordable housing opportunities to local area seniors, as well as critical, on-site medical and health services for both WTR residents and the local community provided through a 6,884SF ground-floor clinic operated by SHH. In addition to the health services available on-site, amenities at WTR include a community room, a sitting room, a fitness room, a game room, a library, a fourth-floor rooftop deck, on-site leasing and management offices, and central laundry facilities.
The residential, amenity and health services components offered at WTR are important in and of them¬selves. But an equally important and overriding component throughout the life of the project was a firm commitment by stakeholders, as well as both the development and design teams, to the principals of green and sustainable design. Originally awarded low income housing tax credits in 2015 through the Pennsylvania Housing Finance Agency (PHFA) Tax Credit Program, the development team took full advantage of incentive points offered for multifamily buildings designed and built to meet the stringent PHIUS+ 2015 Passive Building Standards. Additionally, and as part of the PHFA tax credit award, WSR was required to meet both mandatory and additional scoring points under the Enterprise Green Communities program.
Completed in June 2017, the successful redevelopment of WTR replaces a row of dilapidated and aging housing stock that had previously occupied the block-long site. With a design that makes full use of its unique, sloping site, and one that is tied into the surrounding local fabric, and sensitive to the architectural vernacular of downtown Allentown and its environs, the building successfully balances the divide between the urban setting in which it resides and the comfortable, if not pedestrian environment necessary for its ultimate purposes.
As affordable housing continues to be a critical issue affecting families and communities across the nation, WTR's 61 new units of affordable living for seniors will undoubtedly make an immediate impact on the local neighborhood and its residents. Additionally, the ground-floor health clinic being operated by SHH, offering services not only to residents, but to those living in the surrounding area, brings much-needed accessible medical services to a community in need. No longer do members of the community need to seek medical attention at the hospital, but can instead receive treatment in a friendly, out-patient clinic environment.
The project was financed with 9% Low Income Housing Tax Credits from the Pennsylvania Housing Finance Agency, HOME funds from the City of Allentown, financing from JPMorgan Chase, and Redevelopment Capital Assistance Program funds from the Commonwealth of Pennsylvania.