The Wilmington Housing Authority & the City of Wilmington Awarded $50 Million HUD Grant to Revitalize Wilmington Neighborhood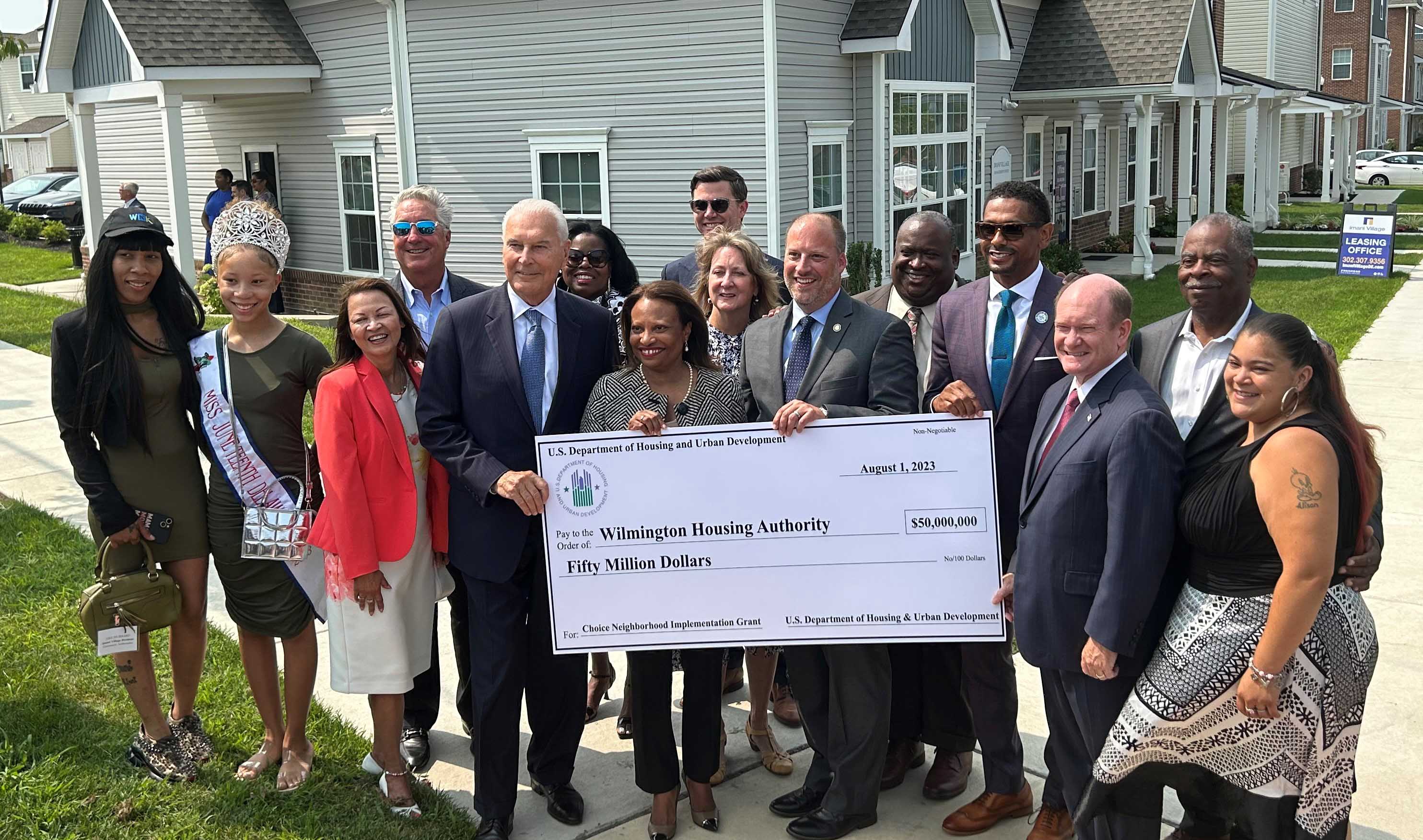 The grant will increase affordable housing, community support services, and jobs in Northeast Wilmington.
The U. S. Department of Housing and Urban Development (HUD) awarded the Wilmington Housing Authority (WHA) and the City of Wilmington with the $50 million Choice Neighborhoods Implementation Grant Award (Choice).  The grant will support the eight-year community revitalization plan for Northeast Wilmington in collaboration with the City of Wilmington, the Housing Authority of Wilmington, REACH Riverside Development Corporation (REACH), Kingswood Community Center and Pennrose LLC.
Choice is the largest grant program offered by HUD and supports communities in implementing their neighborhood redevelopment plans. The Choice award signifies the largest investment in Wilmington's housing and infrastructure in decades and will transform the Northeast area into an economically thriving community.  Funding from the grant will be used to build over 550 new mixed-level income rental homes in the Imani Village community.
The Wilmington Housing Authority and the City of Wilmington are proud to be the recipient of this prestigious award as it will bring more opportunities for the community.
"We would like to thank all the support we received from the community, political leaders, our staff, and others who helped our team win this award," stated WHA Executive Director Ray Fitzgerald. "This project will allow us to complete our Riverside development in 8 years rather than the more than 20 years that was originally planned. The entire Northeast community will all benefit greatly from this project, and we are all excited to get started!"
"A decade ago, Charlie McDowell, Rob Buccini, former WHA Executive Director Fred Purnell, and I visited the country's first Purpose Built Community in Atlanta and marveled at this unique initiative's impact," said Mayor Mike Purzycki. "We were determined to bring this program, encompassing housing, education, community wellness and community leadership, here to Wilmington to help build strong, economically diverse communities that provide the means to prosper. What our multiparty public-private partnership has achieved so far in Riverside in just a few years is nothing short of remarkable, and this is only the beginning. We are immensely grateful to HUD for recognizing our early successes and for giving Wilmington the means to build on those successes to continue to reimagine communities and transform lives."
The application for this award was the culmination of 4 years of collaborative planning between residents, as well as community and business organizations. The Choice award will also be used to expand the Kingswood Community Center's EMPOWER Program, which provides supportive services such as workforce development and financial literacy, that helps improve residents' quality of life. 
"For too long, the Northeast Wilmington community has been relegated to the sidelines," said Logan Herring, CEO of The WRK Group, which includes The Warehouse REACH Riverside, and Kingswood Community Center. "Through The WRK Group's partnership with Wilmington Housing Authority, the City of Wilmington, Pennrose Properties, and the amazing investment through the Choice Neighborhood Implementation grant from HUD, we plan to change that.  This significant investment in a historically ignored community will transform the Northeast as we know it today. Our new community will feature beautiful and affordable homes, economic development opportunities for local and national businesses, and provide green space for families to grow in, as well as educational and workforce development pipelines. I thank our partners and HUD for their commitment to our community."
Once complete, the comprehensive revitalization will include the over 600 high-quality, mixed-income rental and for sale homes, transforming vacant properties into suitable homes for residents, and neighborhood beautification efforts, such as public art and signage, to further enhance the thriving community.
Funding for these revitalization projects will support local businesses and create jobs in the neighborhood.  The revitalization plan also includes developing vacant properties into suitable homes for residents and neighborhood beautification efforts, such as public art and signage, to further enhance the thriving community.
"We can't thank HUD enough for their support of Imani Village and the comprehensive transformation planned for Northeast Wilmington's Riverside neighborhood," said Ryan Bailey, Senior Developer at Pennrose. "With the Choice Neighborhoods Implementation Grant, the development team has taken a significant step forward in delivering 600 high-quality, mixed-income apartments with on-site supportive services and amenities to the robust, community-led master plan."