Philadelphia Housing Authority, Pennrose and Hunt Bring More Homes to Sharswood as part as the Neighborhood Transformation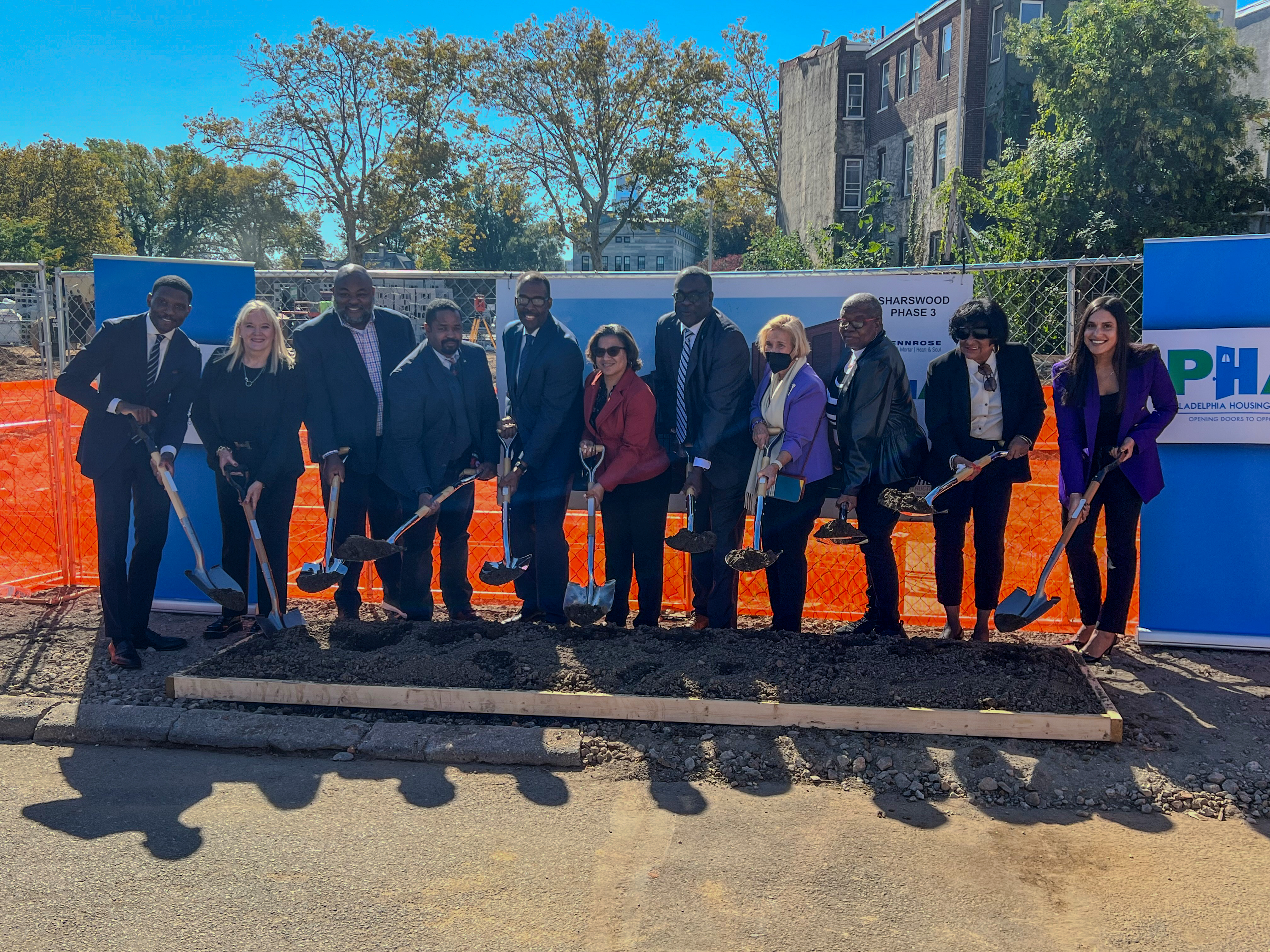 Sharswood Phase III will add 224 brand new, mixed-income homes, retail space, and on-site supportive services as it creates a vibrant gateway to Sharswood
Pennrose, the Philadelphia Housing Authority (PHA), Hunt Companies Inc. (Hunt), and project partners celebrated the groundbreaking of Sharswood Crossing III, the third phase in the Sharswood Transformation Plan. Phase III will transform the formerly desolate blocks situated in the northwest corner of PHA's Sharswood Blumberg Choice Neighborhood Initiative (CNI) grant into 224, brand new, mixed-income homes with ground floor retail, community amenities, and robust on-site supportive services for families.
"Sharswood III opens a gateway to the Ridge Avenue commercial corridor as it jumpstarts more equitable development and creates new employment opportunities," said Kelvin A. Jeremiah, President and CEO of PHA. "Pennrose and Hunt Companies have developed strong reputations for building quality, affordable housing and offering the amenities, contemporary life styles, and supportive services that residents need to flourish. With this ground breaking, we attain another significant milestone in Sharswood." 
"We are thrilled to join PHA and the project's many stakeholders and advocates to mark the exciting next step in the comprehensive, full-scale Sharswood revitalization," said Jacob Fisher, regional vice president at Pennrose. "This initiative is a significant – and impactful – undertaking, and we are honored to help achieve PHA's vision of bringing quality affordable housing and meaningful supportive services to an area facing rapid gentrification, while also spurring continued private investment in the neighborhood." 
"With each development of more, new affordable housing in Sharswood, we are transforming this section of North Philadelphia - one development at a time," said Council President Darrell L. Clarke (5th District). "There's an urgent need for affordable housing for families as they grow and their needs change. Another big step forward today for North Philadelphia — we're grateful to PHA and all of our partners."
Congressman Dwight Evans (PA-3) said, "I'm pleased to see Phase III of the Sharswood Transformation Plan moving forward! I helped PHA to secure $30 million in federal funding, leveraging over $225 million in investment, to revitalize the Sharswood-Blumberg neighborhood, and I believe this is an important way that we can rebuild Philadelphia, block by block!"
 "Today's groundbreaking is another milestone- for the Sharswood Blumberg Transformation Plan," said State Rep. Donna Bullock. "PHA, its development partners, and the local residents have planned and worked together to reimagine this neighborhood as an affordable, choice neighborhood. It is so exciting to support and see another project underway toward that goal."
Sharswood Crossing III is comprised of three components to deliver a mix of multi-family buildings, townhomes, and flats, with 1-, 2-, 3-, and 4-bedroom options available to families at a range of affordability levels.
Part 1                                                                                                                           
Located at Ridge Avenue and Master Street, the first component of Phase III is one four-story and one five-story building. The ground floor of both buildings will include retail space, a management suite, and community room. The residential floors above will include a total of 42 affordable units and 15 market rate units. Of the 42 affordable units, six will be affordable to households at 20% AMI or less, 14 at 50% of AMI or less, and 22 at 60% AMI or less. There will be 38 one-bedroom and 19 two-bedroom apartments.
Part 2
The second component will offer a mix of townhomes and flats with Oxford Street to the north, Nassau Street to the south, 24th Street to the east, and 25th Street to the west. There will be 84 affordable units and 20 market rate units. Of the 84 affordable units, 11 will be affordable to households at 20% AMI or less, 27 at 50% of AMI or less, and 46 at 60% AMI or less. There will be 33 two-bedroom, 61 three-bedroom, and 10 four-bedroom apartments.
Part 3
The third and final section of phase III will be a 63-unit scattered site development with a mix of townhomes and flats on 25th Street, the 2400 block of Nassau and Jefferson Street, the 2200 block of Master and Ingersoll Streets, the 2000 block of Ridge Avenue, and one four-story multifamily building at the corner of Master Street and 21st Street. All 63 units will be affordable, with nine units available for households at 20% AMI or less, 25 at 50% of AMI or less, and 29 at 60% AMI or less. There will be 9 one-bedroom, 42 two-bedroom, 6 three-bedroom, and 6 four-bedroom apartments.
In April 2020, PHA received a $30 million Choice Neighborhoods Implementation grant from the U.S. Department of Housing and Urban Development in support of the entire Sharswood initiative. Since work began on the Sharswood Transformation Plan in 2016, In Sharswood, 526 affordable and mixed-income units are complete and 498 are under construction. Once completed, the Sharswood revitalization will create more than 1,200 new units.