PHA Receives Its Third "Choice Neighborhood Implementation" Grant, Establishing it As a Pacesetter in Preserving Affordable Housing & Fostering Resource-Rich Neighborhoods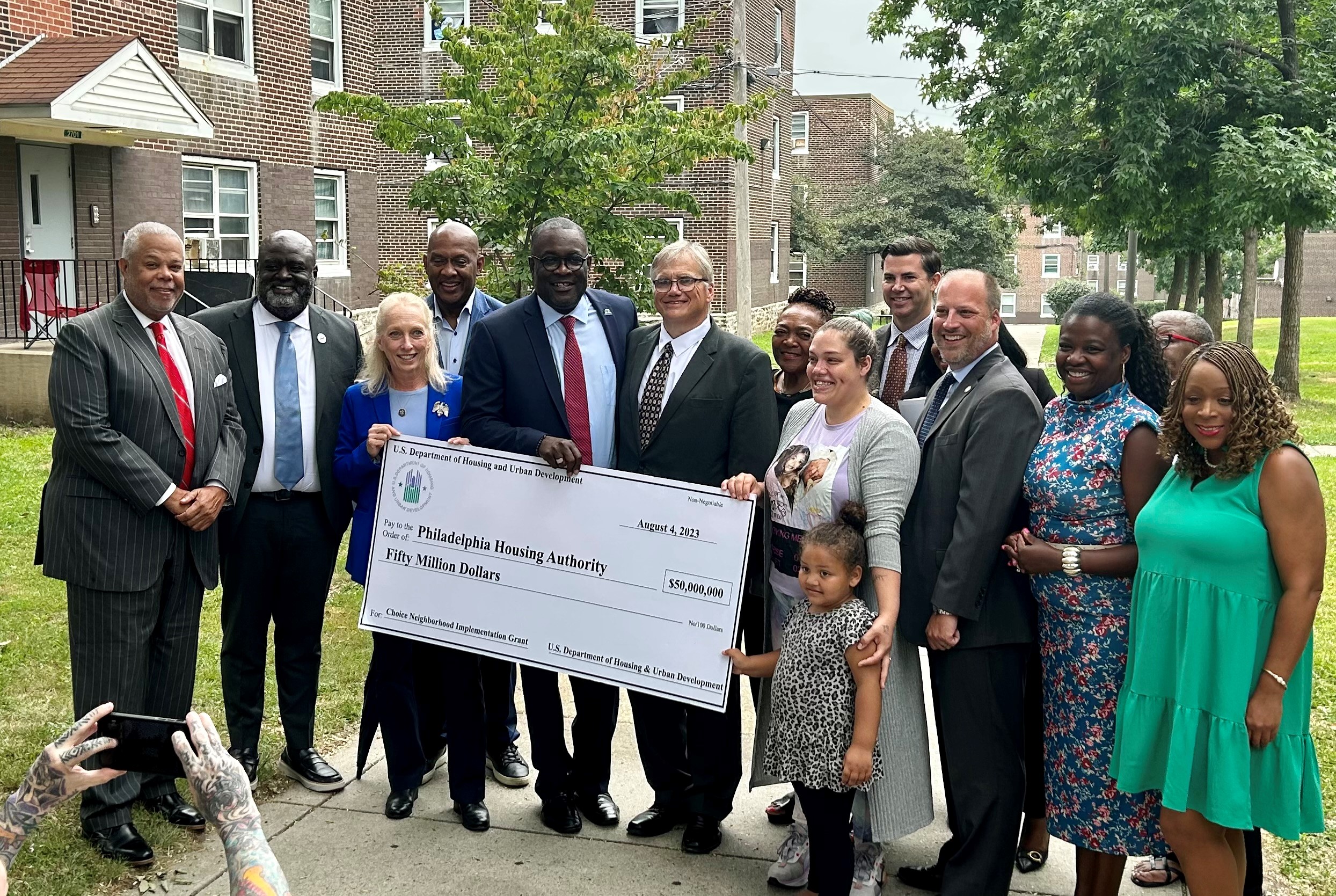 The $50 million Award for Bartram Village was made after a competitive review process by the U.S. Department of Housing and Urban Development (HUD)
For the third time, The Philadelphia Housing Authority (PHA) and the City of Philadelphia have received a coveted Choice Neighborhood Implementation (CNI) Grant, this one to transform Bartram Village in Southwest Philadelphia.  The money will be used to leverage more financing as the Authority rebuilds and invigorates the community.
"We are beyond thrilled," PHA President and CEO Kelvin A. Jeremiah said. "This will provide high-quality affordable housing, along with expanded opportunities for economic mobility for lower-income families in Southwest Philadelphia. PHA believes that housing is an inalienable right. Every Philadelphian deserves stable housing in walkable neighborhoods with good schools and transportation, nearby shopping, and green space. The CNI grant enables us to build and maintain affordable housing, and simultaneously revitalize underserved communities so they emerge as our newest neighborhoods of choice."
Jeremiah continued: "I'd like to thank HUD Secretary Fudge and her staff for this important grant that, when completed, will raise over $300 million for a once redlined and neglected neighborhood."
PHA is the first Housing Authority in the country to receive three CNI Implementation Grants from the U.S. Department of Housing and Urban Development (HUD), which are awarded after a highly competitive selection process. To date, PHA has been chosen to receive $110 million in implementation grants: In 2014, HUD awarded a $30 million Choice Neighborhoods grant to the City and its partners to implement the North Central Philadelphia Transformation Plan; PHA and the City of Philadelphia then received a $30 million CNI Grant in 2020 to implement the Sharswood-Blumberg Choice Neighborhood Transformation Plan. 
"The Choice Neighborhood Implementation Grant will have a transformative impact in southwest Philadelphia for generations to come," said Philadelphia Mayor Jim Kenney. "The $50 million in federal funding, alongside millions of dollars additionally committed by PHA and the City of Philadelphia, will be used to realize the Transformation Plan developed with Bartram Village and Kingsessing residents.  We are excited to redevelop Bartram Village to better serve current residents and attract new households by expanding quality affordable housing and investing in programs, services, and enhanced public spaces to benefit the entire community."
With the additional funds for Bartram Village, PHA can transform another strategically located neighborhood into a resource-rich area community that provides new housing, along with crucial supportive services like career training and enrichment programs that support mobility. While planning still is underway, the ultimate goal is to provide 608 new housing units including 500 affordable rent, 30 affordable homeownership and 78 market rate rentals.
This approach leverages community assets, engages neighborhood organizations and institutions, and gives lower-income residents a prominent voice in development plans. It has been referred nationally to as "The Philadelphia Model," based in part on the successes so far in North Central and Sharswood.
"I'm pleased that this federal funding is coming to PHA to transform another Philadelphia neighborhood," said Congressman Dwight Evans (D-PA-3). "I previously helped PHA to secure $30 million in federal funding, leveraging over $225 million in investment, to revitalize the Sharswood-Blumberg neighborhood. This is an important way that we can rebuild Philadelphia, block by block!"
"This $50 million investment in Bartram Village will not only add more than 200 additional housing units, but contribute to the rejuvenation of our entire community," said Speaker of the Pennsylvania House Joanna McClinton (D-PA-191). "It will bring new parks, industry and community spaces that will improve the overall quality of life for our neighbors."
"The Choice Neighborhoods Implementation grant will provide a crucial opportunity for the city of Philadelphia to revitalize our distressed housing and neighborhoods while prioritizing the well-being and potential of our residents," said State Sen. Anthony H. Williams (D-PA-8). "With a commitment to community-driven collaboration, we will redevelop our neighborhoods and foster impactful changes that uplift our communities in need."
"I am thrilled to see HUD make such a substantial investment toward the revitalization of Bartram Village," State Rep. Regina Young (D-PA-185) said. "Replacing 500 old units at Bartram Village with more than 600 new mixed-income units will not only increase housing options; it will also bolster our local economy, increase our energy efficiency and climate resilience, and highlight the jewel that is Bartram Garden. We know here in Philadelphia that direct and considered investment is what it takes to grow a community without leaving anyone behind."
"I am thrilled that a HUD Choice Neighborhoods Implementation Grant is coming to Bartram Village! This is a big win for Southwest Philadelphia," said Council Member Jamie R. Gauthier. "I know Bartram Village residents and the community have wondered how long it would take for improvements to come to this site. I'm so glad we can now definitively say that they are on the way! This grant is about equity, not just housing. This is a rapidly changing area of Southwest, with tens of millions of dollars being spent on new construction and public space improvements. Through this Choice Neighborhoods Implementation Grant, we are showing existing residents that they deserve to remain in this community and that we are willing to invest in what they need to thrive here! I look forward to working with PHA and the City to actualize our vision for Bartram Village. Thank you to HUD, and the Biden Administration for investing in Southwest Philadelphia!"
"We are honored to work with PHA on two transformative CNI developments, Sharswood and now Bartram Village," said Mark Dambly, chief executive officer with Pennrose. "We look forward to collaborating with project partners and the local community to ensure plans for the site improve resident and neighborhood quality of life for many years to come."   
The CNI grant proposal is for the Kingsessing/Bartram Village neighborhood, which was previously the focus of a $1.6 million CNI Planning and Early Implementation Grant. The CNI Planning grant resulted in a Transformation Plan, developed in consultation with the community and accepted by HUD. The Early Implementation Action Activities are currently underway and will be finished by September of 2024. Of the $50 million grant, $30.9 million will fund Housing Plan activities, $7.5 million will fund Neighborhood Critical Community Improvements (CCI) and $10 million will fund People Plan activities. Approximately $1.6 million will be for grant evaluation and administrative costs.