Pennrose Makes Strategic Leadership Promotions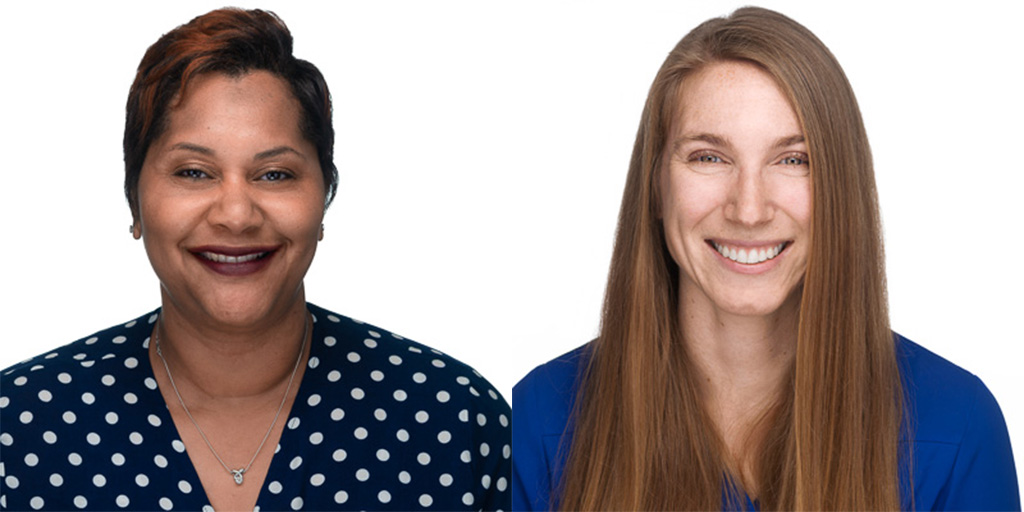 Blunt named President of Pennrose Management Company to oversee property operations, risk management, compliance, and maintenance
Elton-Ratliff to Vice President of Operations responsible for corporate operations, strategy, vision, and team development
Pennrose is pleased to announce two strategic leadership promotions that support the organization's goals and succession plans for the future. Marsha Blunt has been appointed as president of Pennrose Management Company (PMC) effective January 1, 2024, and Margot Elton-Ratliff has been promoted to vice president of operations, effective immediately.
Blunt will be responsible for the financial and operational performance of the organization, overseeing the property operations, risk management, compliance, and maintenance departments and increasing the management company capacity to support development activities. In her new role, Elton-Ratliff will serve as an integral member of the senior leadership team, responsible for enhancing company performance by providing overall direction and guidance of Pennrose operating activities.
Marsha Blunt Named President of Pennrose Management Company (PMC)
As president, Blunt will report directly to CEO Mark H. Dambly. She is also responsible for supporting the Pennrose development team in the acquisition and development of affordable and multifamily housing, including supporting new development underwriting, lease-up and transition management, succession planning, housing partner relations, and public policy.
"Marsha has been an incredibly dedicated and valued member of the Pennrose team for more than 15 years, and we are ecstatic to support her in this next role as president," said Mark H. Dambly, chief executive officer at Pennrose. "Marsha is known throughout the organization and industry as a proven collaborator and problem solver, and we are confident PMC will continue to flourish under her leadership." 
Blunt has been a valued member of the Pennrose team since joining the organization in 2006, serving as regional property manager and later regional vice president, where she oversaw 2,400 units in New Jersey and Pennsylvania. Most recently, she served on the executive team as vice president of operations, where she provided property management oversight for communities across Pennsylvania, Maryland, Washington, D.C., and the southeast.
"My career has been dedicated to providing local communities with high-quality, affordable housing where individuals and families can build fulfilling lives," said Blunt. "I'm honored to work for a mission-driven organization and look forward to continuing the Pennrose legacy in my role next role as president."
Blunt has extensive experience leasing-up and managing affordable housing programs, including LIHTC, HUD 202, Section 8, HOME, Hope VI, ACC, and Housing Choice Voucher. Prior to joining Pennrose, she held several positions in multifamily management.
"Pennrose is committed to its people and supporting employee growth, both personally and professionally," added Blunt. "I'm very excited for this opportunity and hope to serve as a mentor to others in the organization and industry."
Blunt earned her M.B.A. and her B.S. in business administration from Strayer University. She also holds her Certified Occupancy Specialist (COS) and Blended Occupancy Specialist (BOS) certifications.
Margot Elton-Ratliff Appointed Vice President of Operations
As vice president of operations, Elton-Ratliff will provide direct oversight of the Pennrose transition management team and its interactions with development, operations, and community impact teams. Together with the senior leadership team she will evaluate the effectiveness of Pennrose's internal processes and interdepartmental collaboration, develop recommendations for efficiency in reporting structures, and implement policies to improve procedures, processes, and workflow. Margot will continue to report to Pennrose President Timothy I. Henkel.
"Margot is an outstanding employee, known for her commitment to excellence, dedication to the Pennrose team, and proven track record in project management," said Timothy I. Henkel, president of Pennrose. "The vice president of operations role is designed to help support the effectiveness, efficiency, coordination, and collaboration among development, lease-up and property operations making Margot the ideal candidate for this position."
Elton-Ratliff joined Pennrose in 2016, most recently serving as director of development operations, where she championed the goals of the Pennrose Strategic Plan by supporting the structures, policies, and systems established to manage, train, and deploy development staff resources and expand Pennrose's deal pipeline. She also maintained development responsibilities for projects in New Jersey, Pennsylvania, and Delaware.
"I am very excited to support Pennrose's drive towards efficient execution in my new role as vice president of operations," said Elton-Ratliff. "I've seen firsthand how high-quality, affordable housing can transform communities, and I look forward to continuing this mission by helping to support Pennrose's strategic vision, operations, and team development."
Prior to her role as director of development operations, Elton-Ratliff served as an associate developer and developer with Pennrose. She also worked for the New York City Department of Housing Preservation and Development (HPD) as a senior project manager, where she supported the Low-Income Housing Tax Credit Preservation Program.
Elton-Ratliff earned her bachelor's degree in sociology from Haverford College and her master's in urban and environmental planning from the University of Virginia.