Pennrose Celebrates Grand Opening of Stoneridge Villas Phase II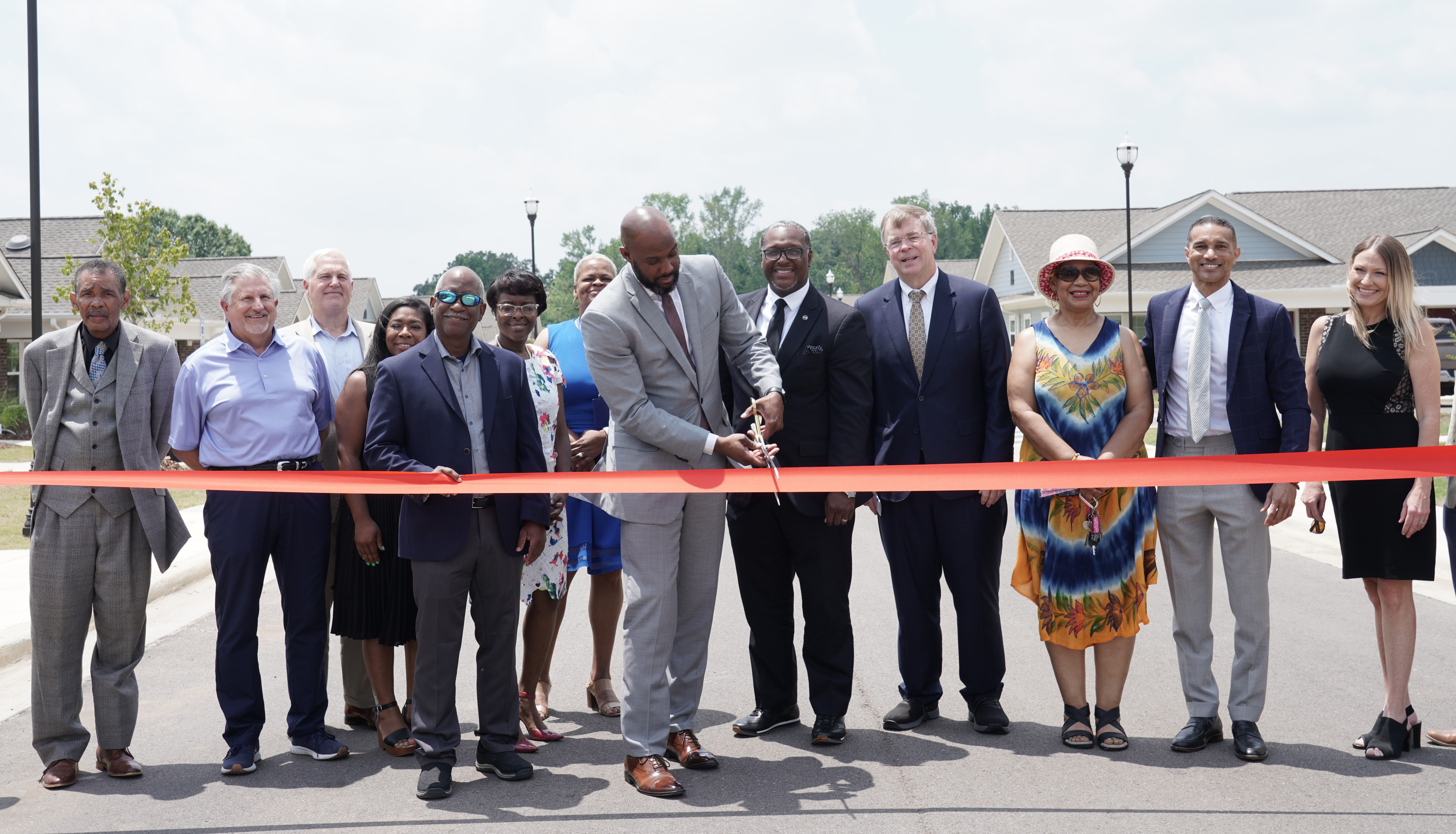 Project adds 65 high-quality affordable homes for low-income seniors in Huntsville, Alabama
Pennrose, the Huntsville Housing Authority (HHA), BLOC Global Development Group (BLOC), and project partners celebrated the grand opening of Stoneridge Villas Phase II, which adds 65 senior affordable rental units to the Stoneridge Villas development at 1700 Balch Road. With the completion of the second and final phase, Stoneridge Villas includes 145 units of high-quality, affordable apartments for seniors and robust on-site supportive services on a 21.7-acre site.
Speakers at the ribbon cutting included: Amon Martin, Regional Vice President, Pennrose, LLC; Antonio L. McGinnis, Executive Director/CEO, Huntsville Housing Authority; Tommy Battle, Mayor, City of Huntsville; John Meredith, Councilman, Huntsville City Council; Leon Fountain, Chairman, Huntsville Housing Authority Board; Hollis Wormsby, Field Office Director Liaison, U.S. Department of Housing & Urban Development; Brian E. Redmond, Vice President, PNC Real Estate; and Alvernette Fletcher, current resident of Stoneridge Villas II.
Stoneridge Villas Phase II includes a mix of one and two-bedroom units for seniors in cottage-style buildings. All 65 units will be fully adaptable, with five apartments wheelchair-accessible and two outfitted for residents with hearing or vision impairments. The project is a 100% LIHTC property, with all units available to seniors with incomes at or below 60% of the Area Median Income, roughly $41,220 for a one-person household in Huntsville.
The modern community was designed to improve comfort, accessibility, independence, and quality of life for senior residents. The brand new apartments feature open floorplans with large closets; extra storage; fully equipped kitchen with dishwasher, and microwave; in-unit washer and dryer; individually controlled heating and cooling; and more. Residents can also enjoy the community's inviting clubhouse, fitness center, BBQ picnic area, walking trail with benches, and business center with computer stations. The community is conveniently located near grocery stores, retail, shopping, and recreation.
"We are honored to celebrate the completion of Stoneridge Villas alongside Huntsville Housing Authority, delivering a contemporary, independent living community for low-income seniors to age in place comfortably," said Amon Martin, regional vice president at Pennrose. "In addition to spacious units, Stoneridge Villas will offer robust on-site supportive services to encourage physical activity, resident socialization, and healthy lifestyles."   
"The Huntsville Housing Authority is excited about the ribbon cutting today," said Antonio McGinnis, Executive Director/CEO of the Huntsville Housing Authority. "It gives us an opportunity to carry out our mission of developing and preserving a high standard of safe and affordable housing for qualifying individuals and families free from discrimination. By carrying out this mission, we continue to play a vital role in addressing the housing needs of the community, especially for those who may face financial challenges or other barriers to accessing suitable housing. It contributes to the overall well-being and stability of individuals and families by offering affordable and secure housing options."
"Today marks a momentous occasion for the Huntsville senior community and we take pride in being the investment partner in Stoneridge Villas," said Dana Mayo, executive managing director at Hunt Capital Partners. "We'd like to thank our longtime partner, Pennrose, and the Huntsville Housing Authority for their commitment and hard work in making this day possible. The development team's efforts ensures that Huntsville seniors will have access to high-quality affordable housing, thus improving their quality of life during their golden years."
Stoneridge Villas is designed to improve housing stability and affordability for seniors as the state faces an affordable housing crisis. According to the National Low Income Housing Coalition, there is a shortage of more than 86,000 affordable rental homes in Alabama and nearly a quarter of all extremely low-income renter households in the state are seniors. Seniors, with many living on a fixed income, are especially at risk as inflation and the cost of living continues to rise.
Financing for Phase II was provided by low-income housing tax credits (LIHTC) allocated by the Alabama Housing Finance Authority and tax credit equity syndicated by Hunt Capital Partners, as well as debt provided by PNC Bank (formerly BBVA USA) and the Huntsville Housing Authority.
HHA and Pennrose have an established track record of success, previously partnering on Stoneridge Villas Phase I, which opened in September 2019. In addition, Pennrose's Southeast development team also recently celebrated the grand opening of Haven at South Atlanta, which delivered an 84-unit mixed-income residential community in Southeast Atlanta, and the groundbreaking of the West Point Village Phase I, the first phase to transform West Point Housing Authority's public housing portfolio in Georgia.