Pennrose Begins Construction on Lincoln & Gilbert Redevelopment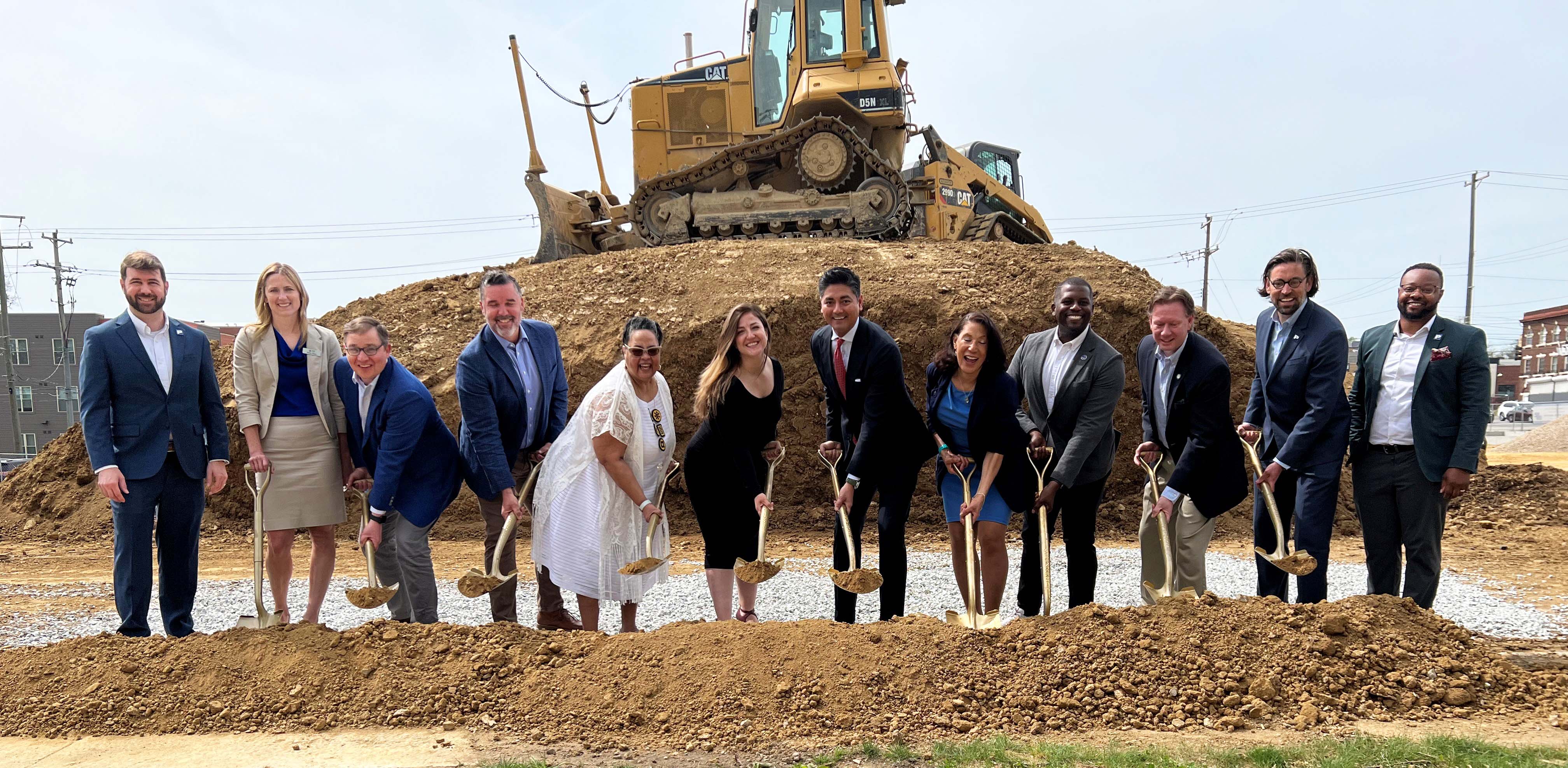 Brand new community will transform full city block in Walnut Hills with high-quality, mixed-income housing
(Cincinnati, OH) – Pennrose, Walnut Hills Redevelopment Fund (WHRF), and project partners today celebrated the groundbreaking of Lincoln & Gilbert, the $14.8 million redevelopment delivering 50 mixed-income apartments in the Walnut Hills neighborhood of Cincinnati. The redevelopment will transform 2924 Gilbert Avenue, 933 Lincoln Avenue, and the block bounded by Gilbert Avenue, Lincoln Avenue, Foraker Avenue, and Monfort Street. Construction is slated to be completed in Q1 2024.  
Speakers at the groundbreaking ceremony included: Will Basil, Developer, Pennrose, LLC; Samantha Miller, Executive Director, Walnut Hills Redevelopment Foundation; Kathryne Gardette, President, Walnut Hills Area Council; Aftab Pureval, Mayor, City of Cincinnati; Jan-Michelle Kearney, Vice Mayor, City of Cincinnati; Reggie Harris, Councilmember, City of Cincinnati; Ryan Gleason, Outreach & Engagement Manager, Ohio Housing Finance Agency; Luke Blocher, General Counsel & Chief Strategy Officer, Cincinnati Development Fund; Annie Ross, Vice President, Development, Ohio Capital Corporation for Housing; Todd Castellini, Sr. Vice President of Public Finance & Industrial Development, The Port; and Geoff Milz, Director of Development, Pennrose, LLC.
The first of two phases, the first phase will create 50 high quality affordable apartments for families across two buildings, including amenity space with management office, community room, laundry facility, modern fitness center, and more. The four-story building on the south side of Lincoln Ave will include 14 units in 21,680 square feet, including over 3,000 for the common areas. The three-story building on the north side of Lincoln Ave will include 36 units in 30,138 total square feet.
The first phase will offer a mix of one-, two-, and three-bedroom apartments available at 30% to 60% of the Area Median Income (AMI), roughly $20,070 to $40,140 for a one-person household. In addition, the project includes plans for 81 parking spaces and hopes to enhance connections to public transit. The community is also conveniently located near education and job centers in Over The Rhine, Downtown, and Uptown.
"We are excited to partner with WHRF to build on the exciting growth and momentum in Walnut Hills, while preserving housing affordability in a dynamic, rapidly changing neighborhood," said Geoff Milz, Director of Development for Ohio at Pennrose. "Lincoln & Gilbert transforms vacant, blighted land into high-quality, energy-efficient housing for families at a range of income levels."  
Samantha Miller, Executive Director for WHRF said, "Walnut Hills Redevelopment Foundation is thrilled to break ground on this much anticipated development. We've been working with the community step by step to bring the project to fruition, incorporating feedback from residents during outreach. The Walnut Hills Area Council has unanimously supported this project. Walnut Hills is ready to welcome its new neighbors."
Financing for Lincoln & Gilbert was provided by the Ohio Financing Housing Agency, Ohio Capital Corporation for Housing, Ohio Capital Finance Corporation, Cedar Rapids Bank & Trust, the City of Cincinnati, the Cincinnati Development Fund, The Port, Haile Foundation and the Ohio Department of Development.
WHRF is a non-profit community development corporation working to enhance the quality of life in Walnut Hills. Their vision is a Walnut Hills that is vibrant, safe, healthy, and inclusive for all. They believe a quality place should be accessible to everyone. Over the last ten years, WHRF's work has brought over $66M of investment into 400 housing units and 42,000 square feet of commercial space. In December, WHRF closed on $60M in construction for 148 units and 33,000 commercial square feet.
With a regional office in Cincinnati, Pennrose is committed to developing high-quality, transformative affordable housing across Ohio and the Midwest region. Most recently, Pennrose celebrated the grand opening of John Arthur Flats, Cincinnati's first LGBTQ-affirmative affordable housing community for seniors in the Northside neighborhood. Pennrose has also developed 171 apartments and more than 10,000 square feet of commercial space at HaNoBe at Linden Square with the College Hill Community Urban Redevelopment Corporation (CHCURC).