Phase II of Yates Village Revitalization Celebrates Grand Opening in Schenectady, NY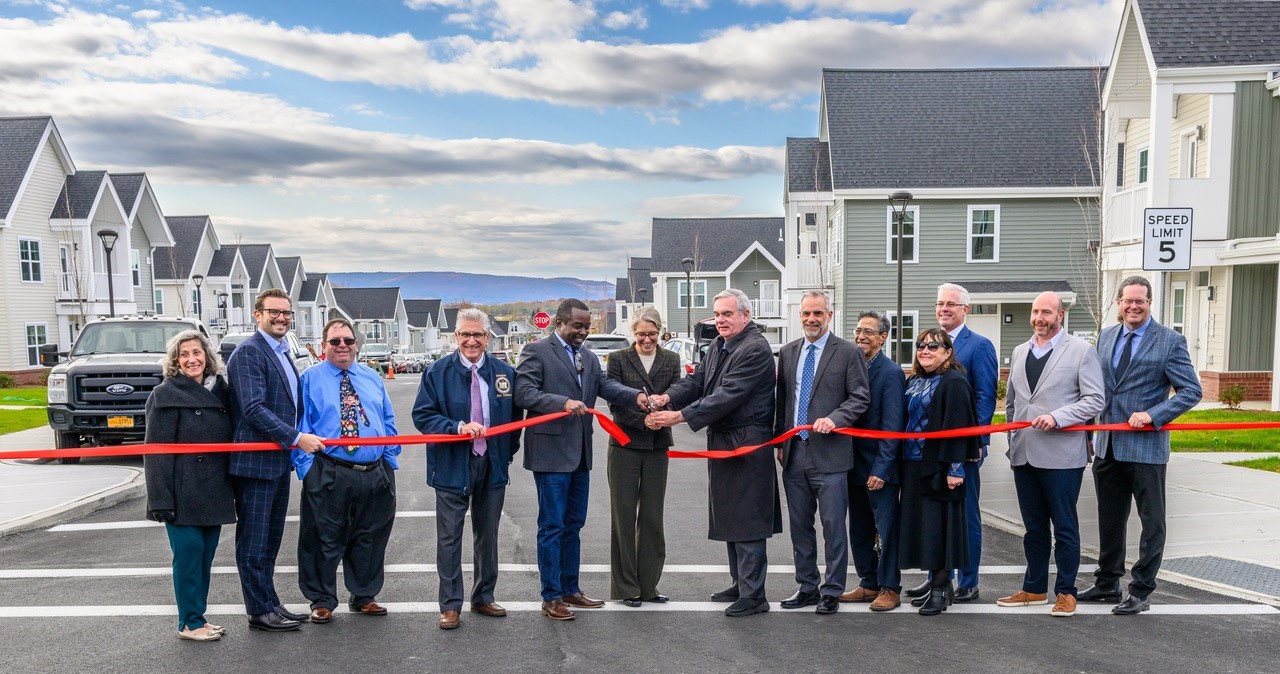 Northside Village Phase II Completes Revitalization of 75-Year-Old Public Housing Development and Creates 211 Units of Modern, Affordable, and Energy-Efficient Homes – Including 43 Supportive Units for Individuals With Physical Disabilities
First Phase, Completed in 2021, Created and Preserved 89 New Apartments – Including 18 Supportive Units for Veterans and Individuals With Physical Disabilities
Builds on Governor's Ongoing Commitment to Building and Preserving Affordable Housing Across the State
Governor Kathy Hochul today announced the completion of Northside Village, an extensive public housing revitalization in Schenectady that now offers 300 modern, affordable, and energy-efficient homes, including a total of 61 units with supportive services for veterans and individuals with physical disabilities.
"My administration is committed to expanding housing opportunities and creating stable, vibrant communities across New York," Governor Hochul said. "This means preserving existing housing stock and revitalizing public housing developments like Northside Village so that more families have access to the affordable, safe homes they need to thrive."
In the last five years, New York State Homes and Community Renewal has created or preserved nearly 450 affordable apartments in multifamily buildings in the city of Schenectady. Northside Village builds on this effort and complements Governor Hochul's $25 billion comprehensive Housing Plan that will create or preserve 100,000 affordable homes across New York, including 10,000 with support services for vulnerable populations, plus the electrification of an additional 50,000 homes.  
Northside Village Phase II completes the revitalization of the former Yates Village public housing complex originally constructed in 1948. The second phase involved the demolition of six outdated structures and the new construction of 37 two-story buildings with 211 apartments, including 43 units with supportive services for individuals with physical disabilities. In addition, phase II enhanced on-site amenities for the community, including two new playgrounds, a basketball court, a resident seating area, and landscaped greenspaces.
The project's first phase, completed in 2021, included the substantial rehabilitation of 25 existing apartments and the addition of 64 new apartments, including 18 supportive housing units reserved for people with disabilities and veterans. Phase I also included the construction of a community center. 
All 300 apartments are affordable to households earning at or below 80 percent of the Area Median Income. On-site supportive services are provided by the Schenectady Community Action Program, including case management, employment services, and emergency/intervention services.
Northside Village adheres to energy efficiency and green building standards required for certification from Enterprise Green Communities and Energy Star for Certified Homes. Energy efficient measures at Northside Village include LED interior and exterior lighting, Energy Star appliances, and electric vehicle charging stations.
The development participated in the U.S. Department of Housing and Urban Development's Section 18 Demolition/Disposition Program, which allows public housing authorities to demolish or dispose of public housing if retention is not in the best interest of residents or the project is physically obsolete.
Northside Village was co-developed by Pennrose, Duvernay + Brooks, and the Schenectady Municipal Housing Authority.
State financing for the $88 million Northside Village Phase II project included $18 million in permanent tax-exempt bonds, $35 million in federal Low-Income Housing Tax Credits, and $26 million in subsidy from New York State Homes and Community Renewal. HCR also provided over $20 million in support for the first phase.
New York State Homes and Community Renewal Commissioner RuthAnne Visnauskas said, "The extensive revitalization of Northside Village has preserved homes 300 families while breathing new life into Schenectady's Northside. When aging public housing is replaced with high quality homes, we not only protect our housing supply for the long-term, but also create more vibrant communities and enable residents to succeed. Thank you to our partners at Pennrose Duvernay + Brooks, and the Schenectady Municipal Housing Authority for helping make this project a reality."
Senate Majority Leader Charles Schumer said, "Every Schenectady family deserves access to safe, affordable housing. I am proud that the federal Low-Income Housing Tax Credit I have worked long and hard to protect has supplied the millions needed to transform this 75-year-old development into hundreds of new affordable apartments for Capital Region families with critical supportive services to help our most vulnerable residents. I applaud Governor Hochul's commitment to increasing access to affordable housing in Schenectady and across New York State, and I will never stop fighting to ensure that every single New Yorker has a roof over their head."
Representative Paul Tonko said, "Access to safe, affordable housing is essential, and makes our region a stronger, more resilient, better place for everyone. I've continued to push for federal investments that support and move our communities forward, and I'm grateful to have dedicated state and local partners working every day to complete this transformative project and ensure our Schenectady families have a modern, safe, quality place to call home."
State Senator Jim Tedisco said, "The reopening and redevelopment of Yates/Northside Village into affordable supporting housing for people with disabilities is a very welcome occasion for Schenectady residents. I want to thank the Governor and NYS Homes and Community Renewal for their support for this initiative in the 44th Senate District to give more people an opportunity to find a place to call home."
Assemblymember Angelo Santabarbara said, "As a vital part of Schenectady's urban rejuvenation, the completion of Northside Village marks a significant stride in enhancing accessible, energy-efficient housing for our community. This phase is a testament to our commitment to providing quality residences, especially for individuals with physical disabilities. The collaboration between government, housing authorities, and developers to create supportive, affordable housing stands as a pivotal model for transforming living spaces. It's a moment of pride to see the outcome of tireless efforts and dedication to fulfilling the crucial housing needs of Schenectady. The provision of supportive services, energy efficiency, and green building standards demonstrates our commitment to ensuring a better, sustainable future for all."
Schenectady County Legislature Chair Anthony Jasenski said, "Fixing Yates Village was a very high priority for our unified economic development team.  The new Northside Village is a major, positive change at a key entryway to Schenectady County and a major boost to the city's Northside. We thank Governor Hochul, NYS Homes and Community Renewal and the developer Pennrose for investing in Schenectady County."
City of Schenectady Mayor Gary McCarthy said, "Schenectady is presently undergoing a remarkable $249.6 million investment in affordable housing and the revitalization of neighborhoods throughout our city. One of the cornerstones of this historic investment is the redevelopment of Northside Village, which has been transformative for the Goose Hill neighborhood and is set to substantially augment the availability of affordable housing for our residents in Schenectady. This significant transformation could not have happened without the leadership of Governor Kathy Hochul, and I look forward to her continued partnership in improving our neighborhoods here in the City of Schenectady."
Pennrose Regional Vice President Dylan Salmons said, "We are proud to be here today celebrating the completion of the comprehensive Northside Village revitalization, the multiphase preservation of 300 affordable homes for Schenectady households at a range of incomes. Thanks to the collaboration with the city, Metroplex, SMHA, Duvernay + Brooks and all our project partners and supporters for their contributions in transforming this public housing complex into a vibrant community with quality, mixed-income housing, robust resident amenities, community resources, and supportive services that will benefit the Northside neighborhood for years to come."
Schenectady Municipal Housing Authority Executive Director Richard Homenick said, "Completing the final phase of Northside Village represents a remarkable transformation of this property that will benefit not only the people who reside here, but the entire community that surrounds it. There is a growing population needing quality affordable housing options, and thanks to our many partners, we have preserved a valuable asset that families and the community can be proud of."