Groundbreaking Celebration for Uplands Master Plan Phase II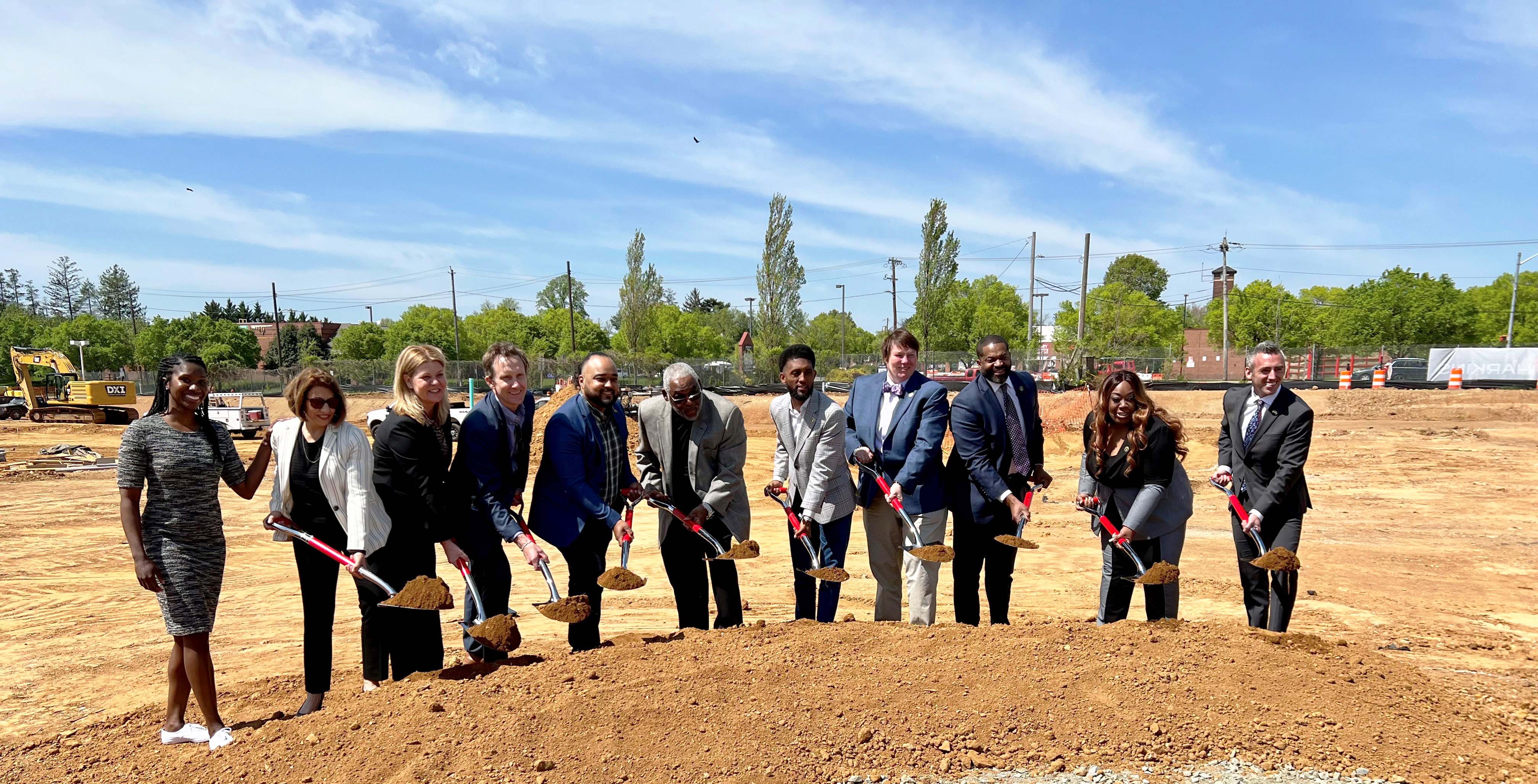 Phase II adds 150 affordable apartments to the 63-acre, mixed-use Uplands redevelopment
(Baltimore, Maryland) – Pennrose, KMJ Uplands LLC, B&W Solutions, Uplands Community Association and project partners celebrated the groundbreaking of Uplands Phase II, the second rental phase of the  Uplands  master plan to transform a 63 acre site located at a prominent gateway to Baltimore along Edmondson Ave of distressed housing in Baltimore. The $53.1 million phase II will add 150 brand new, high-quality affordable and workforce apartments and comprehensive infrastructure upgrades to support the next homeownership phase.
Speakers at the groundbreaking ceremony included:  Patrick Stewart, Regional Vice President, Pennrose, LLC; Jacob R. Day, Secretary of Housing & Community Development, Maryland Department of Housing & Community Development; Mayor Brandon Scott, Mayor, City of Baltimore; Councilmember Kristerfer Burnett, District 8, Baltimore City Council; Alice Kennedy, Housing Commissioner, Baltimore City Department of Housing & Community Development; Stephanie Staats, Director, Baltimore Field Office, HUD; Shamiah Kerney, Chief Recovery Officer, City of Baltimore; David Smallwood, President, Uplands Community Association; and Kimmel Cameron, Senior Vice President, Hudson Housing Capital.
The second phase of rental housing being constructed is a twin transaction utilizing 4% and 9% low-income housing tax credits. The 4% project includes 78 units and the 9% project includes 72 units, both on schedule to open in 2024.
Phase II rental includes a mix of one-, two-, and three-bedroom units available in an attractive blend of architectural styles. The initiative will also add two playgrounds and on-site parking, while also completing a separate $28.6 million infrastructure project to construct new utilities, sidewalks, and roads for the next homeownership phase within the project.
Residents will also have access to the community club room, fitness center, and a tot-lot developed in Phase I. In addition to on-site amenities, the community is conveniently located near the Edmondson Village Shopping Center.
"We are incredibly excited to take the next step in bringing the comprehensive Uplands redevelopment to fruition," said Patrick Stewart, regional vice president at Pennrose. "Uplands is in the unique position to shape an entire neighborhood, and we look forwarding to adding thoughtfully designed affordable housing options, amenities, and infrastructure updates to this vibrant neighborhood."
"Uplands is a prime example of how my equitable neighborhood development agenda comes together," stated Mayor Brandon M. Scott.  "This project is leveraging hundreds of millions in private investment, creating jobs, and providing housing in communities that would otherwise be out of reach for many of our city's families."
"The partnership with Pennrose over the past couple decades has been a journey of shared values, and a mentorship that has been instrumental to the growth and success of The Commercial Group" said Kevin Johnson of KMJ Uplands LLC. 
"The residents of the Uplands Community are very excited the Uplands project is moving forward. We are thankful for the continued positive vision for our community," said David Smallwood, President of Uplands Community Association.
Once complete, the comprehensive, $237 million Uplands redevelopment will deliver 719 for-sale and rental homes across 63 acres, along with over 10,000 sq. ft community and retail space. The brand new homes include a mix of for-sale and affordable, workforce, and market-rate rental units across a range of building types, including townhomes, duplexes, triplexes, and walk-up buildings. The project began with Phase I in 2013, which delivered 178 for-sale homes developed by Bozzuto Group, 104 mixed-income rental apartments, and the community building.
The comprehensive Uplands redevelopment replaces a former 979-unit distressed housing complex and is anticipated to spur continued investments in the area. As with prior phases, Uplands II was developed with significant community engagement and local input to ensure plans respect the existing neighborhoods, while offering a compact, walkable, and innovative community design.
The infrastructure project is being funded by Baltimore City.
Uplands will help alleviate the affordable housing crisis in Baltimore. According to the Baltimore City Department of Housing & Community Development, more than 3,000 persons are housing challenged and over 20% of all households are spending more than half their income on housing annually.
Pennrose is committed to developing high-quality, transformative affordable housing throughout Maryland and the Mid-Atlantic region. Pennrose recently started construction on the third phase of the Glenarden Hills redevelopment, which adds 158 affordable apartments as part of the $110 million master planned community in Glenarden, Maryland.