Groundbreaking Celebration for Garfield II in Phoenix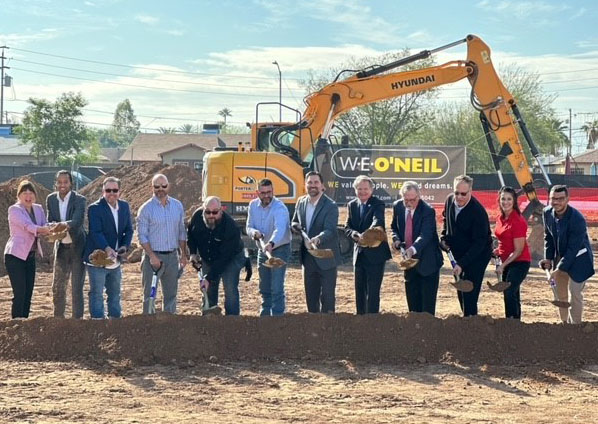 The project will add 60 brand new, affordable apartments and social services for low-income seniors.
Pennrose continues Mountain Region expansion with first development in Arizona.
Pennrose, Butler Housing Company, CBC Financial Corp, the City of Phoenix, the Arizona Department of Housing, and project partners celebrated the groundbreaking of Garfield Housing Phase II, an affordable housing community for low-income seniors in Phoenix's Garfield neighborhood. Adjacent to the Garfield Commons affordable housing community, the project will deliver 60 brand new, affordable apartments with community amenities and on-site supportive services for seniors aged 55 and older. The development is expected to be completed in winter of 2024.

Speakers at the groundbreaking included: Congressman Ruben Gallego, 3rd District of Arizona, U.S. House of Representatives; Senator Lela Alston, District 5, Arizona State Senate; Ruby Dhillon-Williams, Deputy Director, Arizona Department of Housing; Titus Mathew, Housing Director, PHXHousing; George Dean, President, Greater Phoenix Urban League; Scott Vanderpool, Market President, Bank of America Phoenix; Shannon Cox Baker, Regional Vice President, Pennrose, LLC; and Reid Butler, President, Butler Housing Company.

Located at 1510 E Portland Street, the 58,000 SF, four-story senior housing community will include a mix of studio and one-bedroom apartments available to residents at 20% to 60% of the Area Media Income (AMI), about $13,100 to $39,300 for a one-person household. The energy-efficient project will meet National Green Building Standards and include robust on-site community amenities, such as a fitness room, management suite, multi-purpose room, outdoor recreation area with seating, and parking.

"I'm honored to be here today alongside project partners, community leaders, and elected officials celebrating the start of a transformational housing development in Downtown Pheonix's historic Garfield neighborhood," said Shannon Cox Baker, regional vice president at Pennrose. "Not only are we thrilled to begin our first initiative in Arizona, but we couldn't be prouder to help create high-quality, affordable housing to ensure seniors aren't price out of their homes and can age in place comfortably."

A key component of the development will focus on providing tailored supportive services for seniors.
The Greater Phoenix Urban League, a local social service nonprofit, will be the on-site supportive service coordinator and plans to provide social, health, and educational programing to ensure seniors can age in place comfortably and live full and satisfying lives Residents will also benefit from being in close proximity to nearby services, retail, healthcare options, and employment centers.

"This affordable housing project for seniors is the result of over 20 years of planning between the development team, the City of Phoenix, the Arizona Department of Housing, and the Garfield Organization for the former Sacred Heart Home for the Aged Campus", said Reid Butler, the President and Owner of Butler Housing Company. "The initial housing project back in 2012-2014 was Garfield Commons, with 100 affordable apartments for Veterans located within the historic Sacred Heart building. We are very pleased to have Pennrose take the lead on the development of Garfield Housing Phase II—and also lead the future Garfield Housing Phase III project (60 additional units of affordable housing for seniors). These affordable housing projects will be available in 2025 and beyond to help address the shortage of affordable housing in Downtown Phoenix, and will support the City's 2020 Housing Phoenix Plan, adopted by the Mayor and City Council."

Garfield Housing Phase II will provide affordable, stable housing options in an area where affordability is a major issue due to the high influx of market-rate units. According to 2020 U.S. Census data, nearly half of all renters and more than 63% of seniors in the area are rent burdened, meaning they spend more than 30% of their income on rent.

Pennrose and Butler Housing Company are serving as developers. Property management will be provided by Dunlap & Magee, the architect is Dekker Perich Sabatini, and W.E. O'Neil is general contractor.
Financing for the $28 million development was provided by Bank of America (LIHTC equity and construction loan), Cedar Rapids Bank and Trust (permanent loan), and the City of Phoenix (HOME loan). Congressman Gallego's Office has also supported $500,000 in Congressional Program Funds to the development.

Pennrose is committed to developing high-quality, affordable housing for communities in need across the country. In March 2023, Pennrose broke ground on 2700 Wewatta, a 56-unit affordable, supportive housing development for youth ages 18-24 in Denver, Colorado. This development marked the beginning of Pennrose's strategic Mountain Region expansion, including Colorado, Arizona, and Utah, to help address the area's severe lack of affordable housing supply.