Groundbreaking Celebration for 2700 Wewatta Affordable Housing for Unhoused Youth in Denver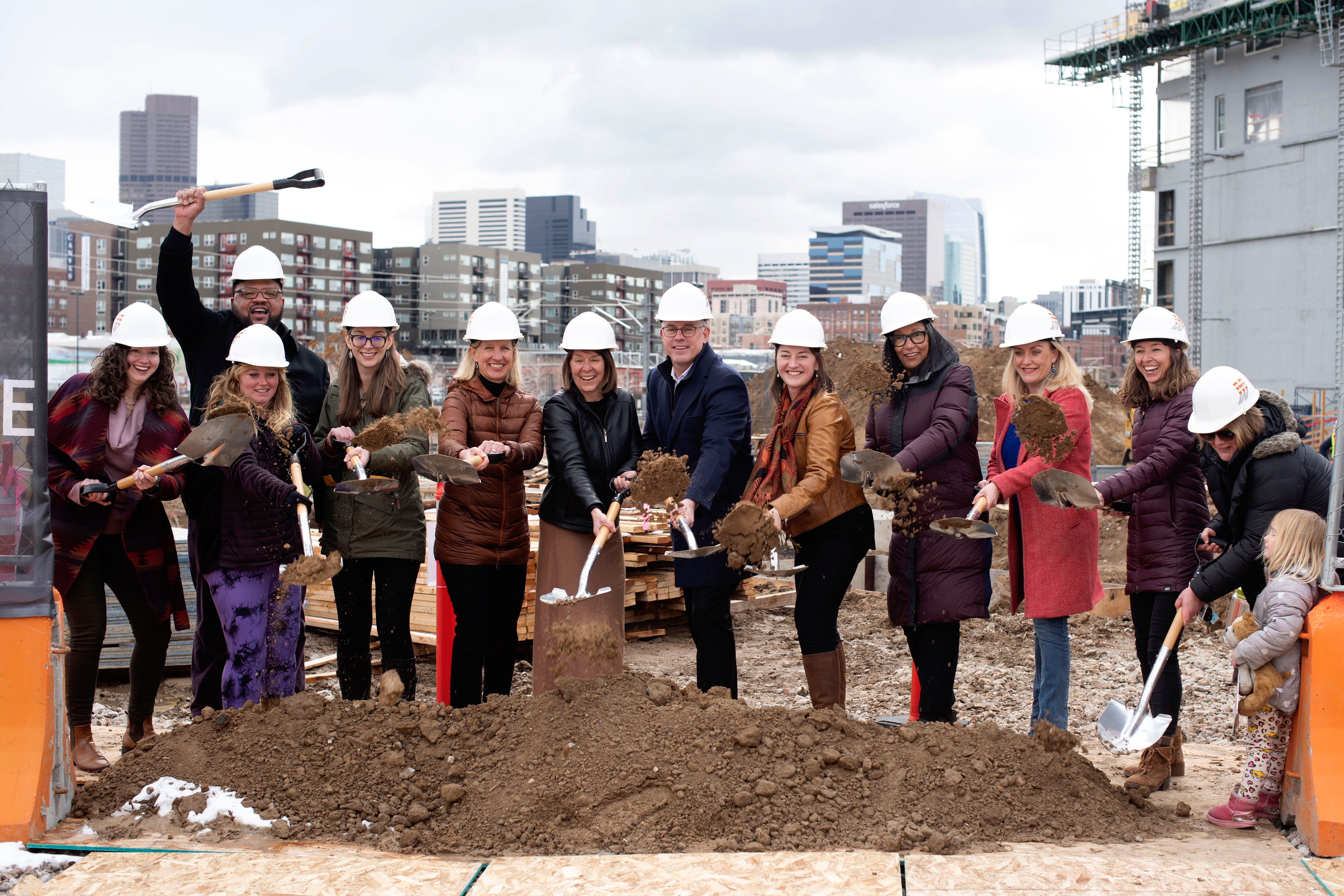 56 apartments and supportive services for youth at risk of homelessness in Denver's Five Points Neighborhood
Project marks Pennrose's first development in Colorado following Mountain Region expansion
Pennrose, Rivet Development Partners, and TGTHR celebrated the groundbreaking of 2700 Wewatta, a 56-unit affordable, supportive housing development for youth ages 18-24 who are experiencing homelessness or transitioning out of Denver's foster care system. Located at 2700 Wewatta Way in the Five Points neighborhood of Denver, the new community is expected to open in April 2024.
Speakers at the groundbreaking ceremony included Shannon Cox Baker, regional vice president at Pennrose and managing partner at Rivet Development Partners; Laura Brudzynski, chief housing officer, executive director of Department of Housing Stability, City of Denver; Kathryn Grosscup, manager, Housing Tax Credit for CHFA; Julia Zaffarano, housing portfolio manager, Dept. of Local Affairs, Division of Housing; Dominique Jackson, regional administrator with U.S. Dept. of Housing & Urban Development; Elly Johnson, chief program officer for TGTHR; Savanaha G., youth engagement peer specialist VISTA member with TGTHR; and Timothy I. Henkel, president and principal for Pennrose.
The one and two-bedroom apartments at 2700 Wewatta will be income restricted for a minimum of 60 years to households earning 0-50% of the area median income, up to $41,000 for a single-occupant household in Denver.
"I'm thrilled to be here today alongside project partners and the community's many advocates celebrating an exciting step in bringing 2700 Wewatta to fruition," said Shannon Cox Baker, regional vice president at Pennrose. "As Denver faces a youth homelessness crisis, having quality, safe housing, tailored supportive services, and access to employment opportunities is the first step in helping youth transition to a successful, independent life with economic mobility."
A key component of the development is the onsite delivery of trauma-informed, developmentally appropriate supportive services intended to promote housing stability among youth and aid in the transition to independent living. TGTHR, a Colorado-based nonprofit working to end youth homelessness, will provide life skills support, substance use counseling, family engagement services, employment and education assistance, social-emotional support, and a variety of independent and group activities to foster a positive community at 2700 Wewatta. Several community partners will also offer on-site medical, behavioral, and mental health care as well as legal assistance.
"Creating supportive housing for transition-age youth is a unique solution and one TGTHR is thrilled to be a part of. This building will allow young people to transition from homelessness into safe and stable housing and the wraparound supportive services that TGTHR provides will support youth to thrive and reach their goals," said Elly Johnson, chief program officer for TGTHR. "We are excited to partner with developers like Pennrose and Rivet Development Partners in this mission."
Located in Denargo Market, 2700 Wewatta is part of a larger mixed use master plan under development by Golub & Company and Denver-based Formativ. Rivet Development Partners was selected to develop the affordable housing component in 2021.
"Golub & Company and Formativ are thrilled to see this project come to fruition," said Laura Newman, vice president of investment and development for Golub & Company LLC. "It is an exciting step towards realizing the vision of our 17-acre Denargo Market master plan. This project serves our overall mission of bringing a community-centric development to life."
"I am committed to creating more housing options for every budget, especially near transit and employment opportunities like these 56-new affordable units will offer. 2700 Wewatta takes a unique and comprehensive approach to ensure residents not only have stable housing but additional high-quality resources to support future success," said Governor Polis. "Thank you to all the partners that have come together to make this transformative opportunity for young Coloradans possible."
"Denver's Homelessness Resolution Fund is changing the landscape, broadening our reach and ability to transition people from life on the streets and into housing and stability," Mayor Hancock said. "The unhoused youth who'll have the opportunity to call these homes theirs will find hope and promise of a brighter future here at 2700 Wewatta."
Transition-age youth who have experienced homelessness and are currently living in supportive housing provided feedback on the design of the building and the programming offered onsite. 2700 Wewatta's architecture draws on principles of trauma-informed design and incorporates ample natural light, open stairwells, clear sightlines, 24/7 staffing, and security cameras. The building is energy-efficient and designed to meet NGBS Bronze standards. The modern one- and two-bedroom apartments will be fully furnished.
Residents will also have access to a host of community amenities, including on-site property management, laundry, bicycle storage, resident lounges, private work nooks, community food pantry, and outdoor recreational amenities. The ground floor includes 1,000 SF of commercial space for a future social enterprise tenant, such as a coffee shop.
In addition to on-site amenities, the new community is conveniently located near multiple public transportation lines. Residents will also benefit from being part of Denver's RiNo Arts District and the Denargo Market redevelopment area, which is experiencing significant economic investment and rapid growth.
Denver is grappling with an uptick of unaccompanied youth who are experiencing homelessness, further exacerbated by impacts from the COVID-19 pandemic and the increased cost of living. According to the Metro Denver Homelessness Initiative, over 2,500 unaccompanied youth accessed homelessness services between July 2020 and June 2021. The 2022 Point-in-Time count identified 360 youth experiencing homelessness in just one night in the metro Denver region. TGTHR's supportive housing development in Boulder, 1440 Pine, is proof that supportive housing can effectively address youth homelessness. Ninety percent of youth living at 1440 Pine successfully maintained stable housing for at least one year.
Financing for 2700 Wewatta was provided by the Colorado Housing and Finance Authority, the Denver Department of Housing Stability, the Colorado Division of Housing, Denver Housing Authority, Red Stone Equity Partners and American Express, Bank of the West, and HUD.
Pennrose is committed to developing high-quality, affordable housing for marginalized communities across the country. In 2022, Pennrose expanded to the Mountain Region, including Colorado, Arizona, and Utah, to help address the area's severe lack of affordable housing supply. Led by industry veteran Shannon Cox Baker, 2700 Wewatta marks the company's first project in Colorado.