Grand Opening of Sharswood Crossing Phase II in North Philadelphia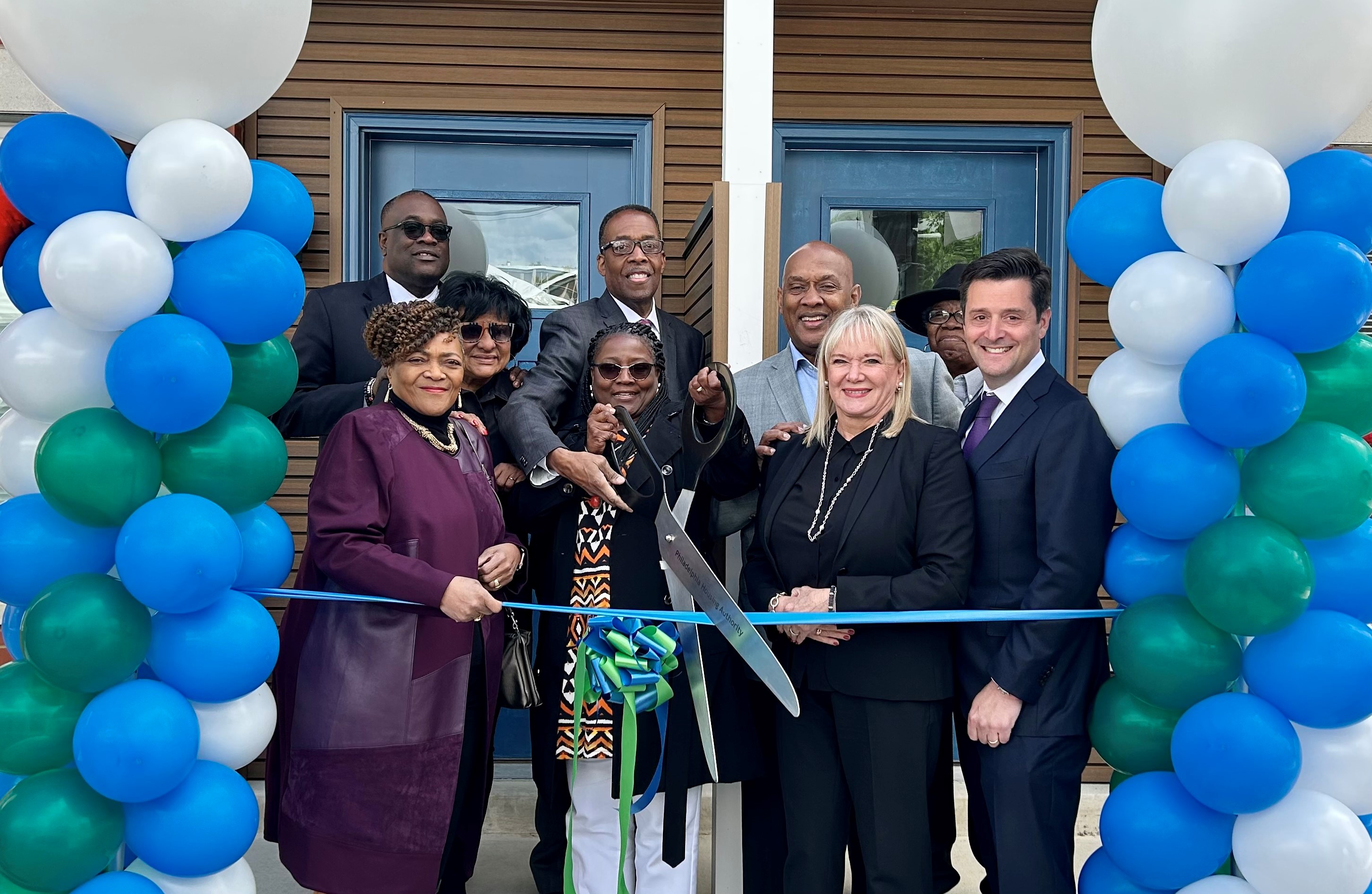 Second phase of Sharswood Transformation Plan delivers 59 affordable, family townhomes
The Philadelphia Housing Authority (PHA), Pennrose PHL, LLC, and Hunt Companies celebrated the grand opening of Sharswood Crossing II, which transforms formerly desolate blocks in Philadelphia's Sharswood neighborhood with 59, high-quality, affordable townhomes for families.
Speakers at the grand opening celebration included: Lynette Brown-Sow, Board Chair, Philadelphia Housing Authority; Kelvin A. Jeremiah, President and CEO, Philadelphia Housing Authority; Council President Darrell L. Clarke, District 5, City of Philadelphia; Congressman Dwight Evans, District 3, U.S. Congress; Senator Sharif Street, District 3, Pennsylvania State Senate; Robin Wiessmann, Executive Director and CEO, Pennsylvania Housing Finance Agency; Darnetta Arce, Executive Director, Brewerytown Sharswood Community Civic Association; and Jacob Fisher, Regional Vice President, Pennrose.
Phase II consists of one-, two, and three-bedroom townhomes along four blocks, including one one-bedroom, 28 two-bedroom, and 30 three-bedroom townhomes. Of the 59 total apartments, 10% of the units are available to residents at 20% of the Area Median Income (AMI) or below, 44% are available at 50% AMI or below, and 46% are available at 60% AMI or below.
"These homes are ideal for today's families as they offer the living space that people really need and the modern conveniences that they deserve," said Kelvin A. Jeremiah, PHA President and CEO. "These homes are within walking distance of a grocery store, a bank, and soon, an urgent care center. PHA set out to make Sharswood a neighborhood of choice. Each new affordable housing development adds to the variety of options available for families, seniors and veterans."
"We are proud to be here today celebrating the next step in the comprehensive Sharswood Transformation Plan, bringing critical affordable housing, supportive services, and community resources to an area that has long suffered from blighted, desolate blocks," said Jacob Fisher, regional vice president at Pennrose. "It is incredibly exciting to see the positive momentum and optimism in Sharswood thanks to years of hard work and collaboration from the Philadelphia Housing Authority alongside a committed team of project partners, neighborhood stakeholders, and community members."
"Today's grand opening of Sharswood Crossing Phase II is another important step forward for the people of the Sharswood community in North Philadelphia," said Council President Darrell L. Clarke, whose 5th District includes this community. "This means 59 more affordable townhomes for eligible families, and we're grateful to the Philadelphia Housing Authority, President Jeremiah, the folks at Pennrose Properties, and our partners in Harrisburg and Washington as well."
A key component of the new development is the delivery of robust, on-site supportive services designed to empower residents and improve resident quality of life. The brand new homes include a modern kitchen with Energy Star appliances, in-unit washer and dryer, central heating and air, spacious closets, and ceramic tiled baths. The community is designed to meet Enterprise Green Community Standards.
Thirty of the units will have Project-Based Vouchers provided by the Philadelphia Housing Authority. The development phase was led by Pennrose, with Hunt/Pennrose serving as co-owner and co-developer. Property management and supportive services are being provided by Pennrose Management Company.
In April 2020, PHA received a $30 million Choice Neighborhoods Implementation grant from the U.S. Department of Housing and Urban Development in support of the entire Sharswood initiative. Since work began on the Sharswood Transformation Plan in 2016, 468 housing units have been completed and an additional 745 are under construction or nearing closing. Brand-new single-family rental homes have been completed along with multifamily communities, and the renovation of Sharswood Tower and the Brigadier General Hazel Johnson Brown Veterans Center at HELP Philadelphia VI. Habitat for Humanity built 20 homeownership units at Oxford Green and Sharswood Ridge, a mixed-use development on the Ridge Avenue commercial corridor, delivered additional affordable housing, neighborhood retail, and grocery store. Once complete, the Sharswood revitalization will create more than 1,200 new mixed-income, rental housing units, 420 affordable and market-rate homeownership units, and more than 200,000 square feet of mixed-use development.
Headquartered in Philadelphia, Pennrose is committed to delivering high-quality, supportive affordable housing throughout Pennsylvania and the Northeast. Pennrose is also currently developing 800 Vine, the 100% affordable senior housing community at the corner of 9th and Vine Streets in Chinatown.