Pennrose Celebrates Groundbreaking of Hawkins Village Redevelopment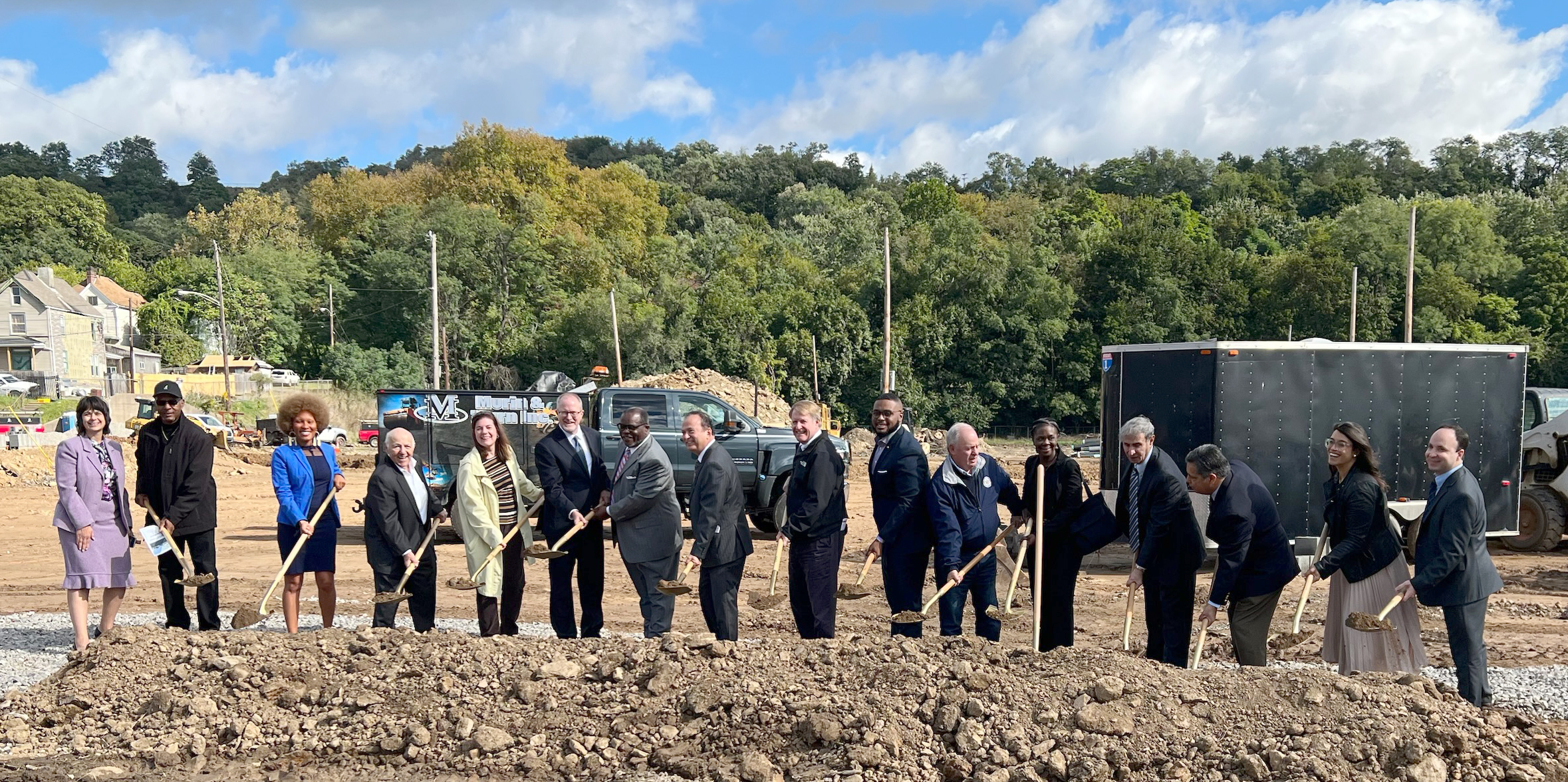 Heritage Highlands Phase I to add brand new affordable housing, green space, and supportive services in Rankin, PA 
Pennrose, Falbo Group, LLC and the Allegheny County Housing Authority (ACHA) celebrated the groundbreaking of Heritage Highlands Phase 1, the first phase in the transformation of the former pre-World War II-era, 198-unit Hawkins Village public housing community. Phase 1 will deliver 54 brand new, high-quality affordable homes and a new community building.
Speakers at the groundbreaking included:  Dr. Howard Slaughter, Jr., President & CEO, Habitat for Humanity of Greater Pittsburgh & Board Member of the Federal Home Loan Bank of Pittsburgh; U.S. Congressman Mike Doyle, 18th District of Pennsylvania; Lee Asad, Public Housing Division Director, HUD Pittsburgh; State Senator Jay Costa, 43rd District; State Representative Austin Davis, 35th District; State Representative Sara Innamorato, 21st District; Twanda Carlisle, District Office Director, 34th District; Ross J. Nese, Board Member, PHFA; Rich Fitzgerald, County Executive, Allegheny County; Frank Aggazio, Executive Director, Allegheny County Housing Authority; Mark Foerster, Chairman of the Board, Allegheny County Housing Authority; Laura Zinski, CEO, Mon Valley Initiative; Mayor Joelisa McDonald,  Borough of Rankin; Mark Dambly,  CEO, Pennrose, LLC; Council President William H. Price, III, Borough of Rankin
Phase I includes 54 total units with a mix of one-, two-, three-, and four-bedroom apartments for low-income families. The community will be 100% affordable, with all units restricted to tenants with household incomes at or below 60% of the Area Median Income (AMI), approximately $57,000 for a family of four in Allegheny County. Of the total homes, 52% will be available to households at 50% AMI and 15% will be set aside for residents at 20% AMI.
With the pandemic causing higher construction costs, this revitalization proved more challenging than past LIHTC deals," said Frank Aggazio, Executive Director of ACHA. "We received tremendous support from Allegheny County Chief Executive Rich Fitzgerald through a Community Block Grant allocation and State Senator Jay Costa through the Redevelopment Assistance Capital Program. With their support, ACHA looks forward to providing modern affordable housing to the future families of Heritage High-lands.
Hawkins Village was originally built in 1941 for veterans returning from World War II and decades later is known as Allegheny County's oldest public housing community. Once complete, the $35 million project will create 105 brand-new affordable homes, a community building with onsite management, supportive services, and community room. Residents will also enjoy ample community-friendly amenities, including green space, playgrounds, and a basketball court.
"We're excited to continue our partnership with ACHA as we transform an outdated public housing community into a vibrant, walkable, and family-friendly neighborhood with high-quality affordable housing and community amenities," said Mark H. Dambly, CEO at Pennrose. "Today's milestone brings us one step closer to completing a full-scale revitalization in a neighborhood that has been underserved for years."
Financing for the project includes a reservation of 9% Low Income Housing Tax Credits from the Pennsylvania Housing Finance Agency, $2,784,800 in PHFA Construction Cost Relief Program funds, and a $1,854,365 PHFA permanent loan. Allegheny County contributed $2,750,000 in CDBG funds with Mon Valley Initiative serving as lender for these funds. The Allegheny County Housing Authority contributed $1,464,424 in capital funds to the project and HUD will be providing ACC subsidy to the project once complete. Enterprise Community Development was the syndicator for the project and FNB Bank is providing construction financing. Prior to construction, a $6M remediation, demolition, and infrastructure phase was completed that was separately funded by the Allegheny County Housing Authority.
Pennrose is active throughout Pennsylvania and the tri-state region and has in-depth experience redeveloping communities throughout the country. Pennrose also recently completed State Street Crossing, the affordable housing redevelopment on the 4.21 acre site of the former Danskin clothing factory in northeast York, Pennsylvania.