20 Years in the Making, the Corners of Hamilton and North Bend in Cincinnati Come to Life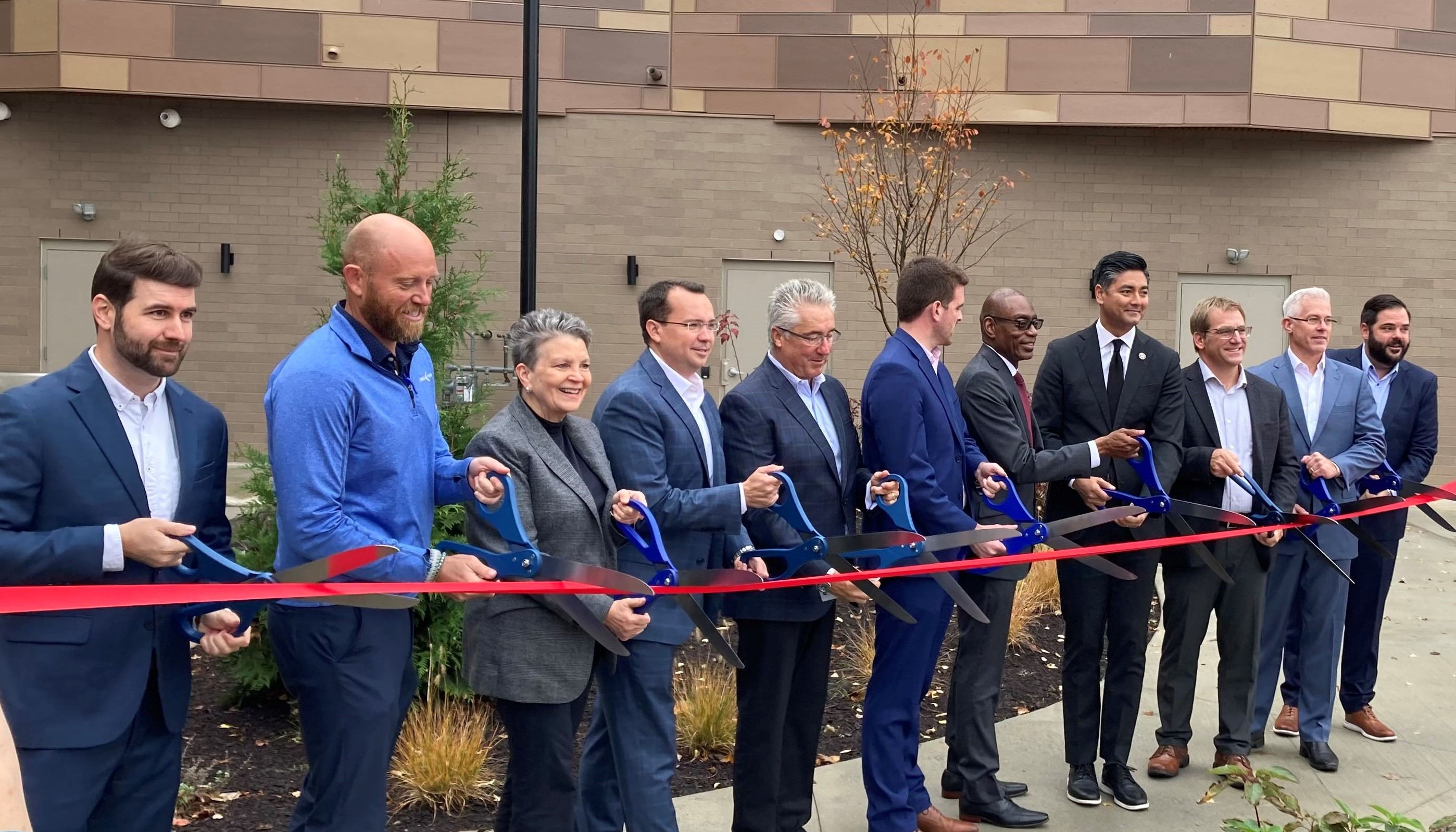 After 20 years of planning and development, College Hill CURC and Pennrose celebrated the ribbon cutting of HaNoBe at Linden Square. This long-awaited development caps off the Northern end of the business district, bringing online 171-residential units, with approximately 11,500 square feet of commercial space on the first floor. These market-rate apartments will ultimately round off the diverse housing options available to current and future community members, while also bringing much-needed new commercial tenants to the Avenue.
HaNoBe includes a mix of studio, one-, and two-bedroom market rate, pet-friendly apartments with rents beginning at $1,100. Residents have access to a variety of high-quality, on-site amenities, such as a rooftop terrace, a resident lounge, fitness center with Echelon Mirrors, bark park, indoor bike storage, inspired outdoor spaces with fire pits and grills, and full-time management and maintenance staff. All residences are smart home enabled with electronic thermostats and key fob entries. Residents enjoy ultra-modern floor plans, granite countertops, stainless steel appliances, oversized windows, and in-home washer and dryers. Select apartments have floor to ceiling windows, and either a patio or balcony.
Speakers at the grand opening included: Mayor Aftab Pureval, City of Cincinnati; Jake Samad, President, College Hill CURC; Seth Walsh, CEO, College Hill CURC; Elizabeth Sherwood, Community Leader; Mike Cappel, Former President, College Hill CURC; Jeff Mohrman, Executive Vice President, Finance Fund; Joe Huber, CEO, Cincinnati Development Fund; and Timothy Henkel, President, Pennrose, LLC.
The event was followed by an evening open house for community members to see the completed project, which has been a dream for 20 years.
"Ever since Kroger and Shullar's Wigwam closed in 2002, the College Hill community has been eagerly awaiting something special at this particular site. I'm truly overjoyed to be finalizing such a cornerstone project in my career, and to be welcoming something so special that will be the anchor of the business district," said Seth Walsh, Executive Director of College Hill CURC. "HaNoBe has already had their first tenants confirmed and a huge wave of interested parties, which just goes to show how critical this development has been for the community."
"After years in the making, we are proud to be here today celebrating the grand opening of HaNoBe and the realization of CHCURC and the City's dynamic, comprehensive vision for the business district," said Timothy I. Henkel, President at Pennrose. "With brand-new housing, luxury lifestyle amenities, and ground-floor commercial space, we can't wait for residents to move in and experience the vibrant College Hill neighborhood."
The City of Cincinnati has been assembling the College Hill Station site since 2002. It once included the old Shullar's Wigwam, an old Kroger building, and the former Eastern Star Retirement Home. Acquisition of the 7.5 acres of land was completed in 2013. Apartments in Building A are available for immediate occupancy, where 56 are currently occupied. Additional apartments will become available later this year and early next year as Building B nears construction completion.
HaNoBe was financed using a $22M loan from First Financial Bank and First Commonwealth Bank, including a $3M credit enhancement from the City of Cincinnati and Cincinnati Development Fund's Building Cincinnati Development Fund, a $3M equity contribution from the Ohio Community Development Finance Fund, a $2,200,000 equity contribution from Pennrose, and a $4,050,000 grant from the City of Cincinnati.
For more information, please visit ww.HaNoBeApts.com or email HaNoBe@pennrose.com. The community is located at 6211 Hamilton Avenue, Cincinnati, OH, 45224.