Grand Opening of Wilbourn Estates Affordable Housing Community in Annapolis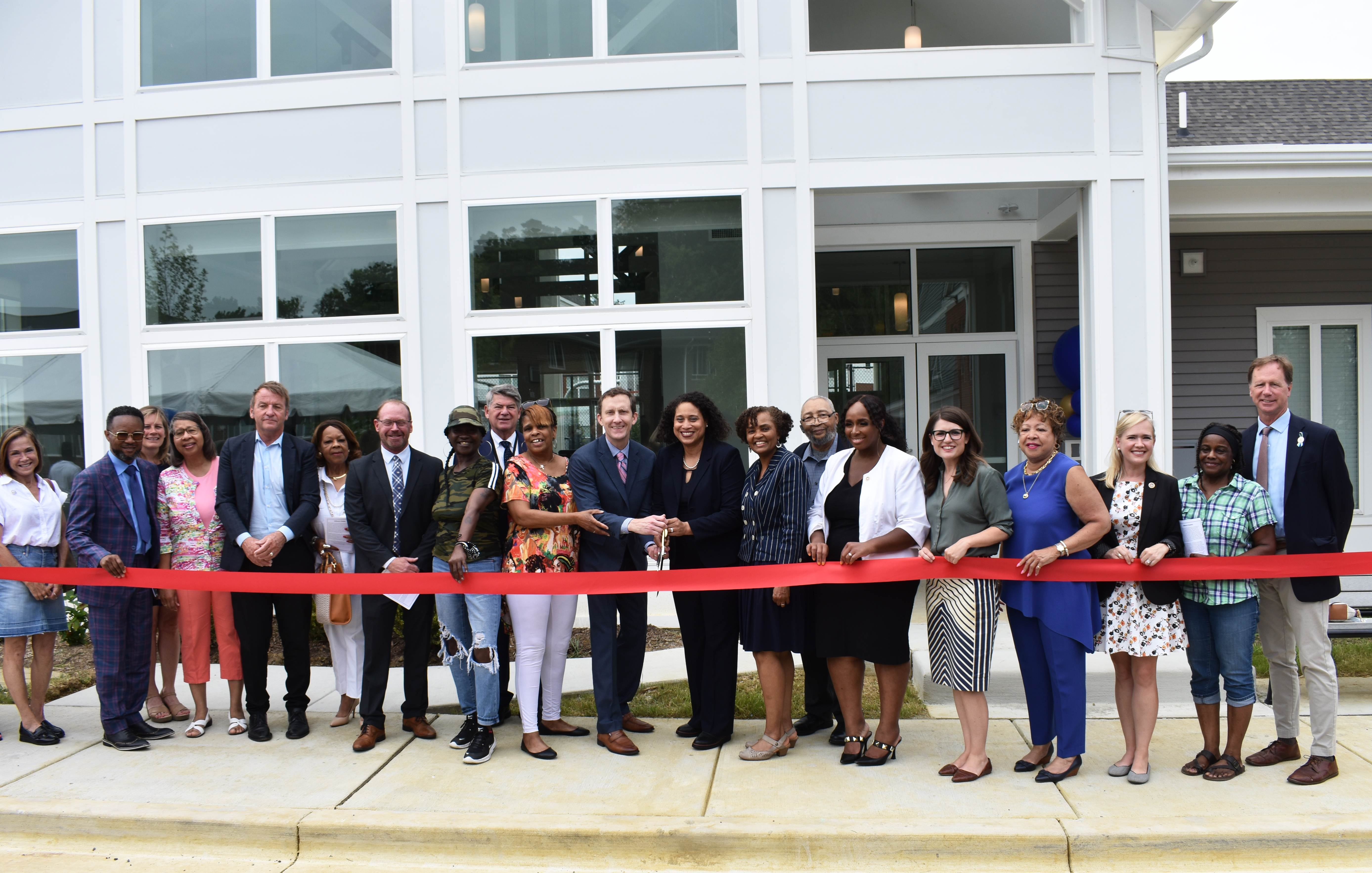 Revitalization transforms former Newtowne 20 public housing site with brand-new affordable apartments
Pennrose and the Housing Authority of the City of Annapolis (HACA) celebrated the grand opening of Wilbourn Estates, a years-long effort that culminated in the transformation of the former Newtowne 20 public housing site into brand-new affordable housing. The revitalization includes 78 high-quality apartments, a 3,500 SF community clubhouse, and passive and active recreation spaces.
Wilbourn Estates offers one-, two-, and three-bedroom apartments in a mix of both stacked and garden-style apartment buildings situated around a central green space with the new community building with its amenity spaces, basketball court, and playground, as focal points. Previous Newtowne 20 residents were given the first opportunity to come back home to the new development.
Speakers at the grand opening ceremony included: Patrick Stewart, Regional Vice President, Pennrose; Melissa Maddox-Evans, Executive Director, Housing Authority of the City of Annapolis; Jacquelyn Wells, Board Chair, Housing Authority of the City of Annapolis; Congressman John Sarbanes, 3rd District, U.S. House of Representatives; Secretary Kenneth C. Holt, Office of Secretary, Department of Housing and Community Development; Del. Shaneka T. Henson, Maryland House of Delegates, District 30A; Gavin Buckley, Mayor, City of Annapolis; Alderwoman Sheila Finlayson, Ward 4, City Council of Annapolis; Steuart Pittmann, County Executive, Anne Arundel County; Glenda Smith, former resident, Newtowne 20; Beverly Wilbourn, Former Executive Director, Housing Authority of the City of Annapolis; and Miles Cary, Senior Vice President, Bank of America.
"Providing affordable, quality housing for our families is HACA's top priority. We are glad to partner with Pennrose to achieve what many thought was impossible with the redevelopment of Wilbourn Estates formerly Newtowne 20," said Melissa Maddox-Evans, Executive Director with the Housing Authority of the City of Annapolis. "We are also grateful for our funding partners who were instrumental in achieving this accomplishment. Our residents will be proud to call Wilbourn Estates home."
"We're thrilled to once again partner with HACA to build a new home for Newtowne 20 residents in this vibrant new neighborhood," said Patrick Stewart, regional vice president at Pennrose. "With top-notch amenities and modern apartment features, Wilbourn Estates will be an asset to the City of Annapolis, and a fantastic affordable housing option for both new and returning families."
The modern, energy-efficient units include open floor plans; contemporary kitchen with electric range and dishwasher; in-unit washer and dryer; central A/C; spacious closets; carpeted bedrooms and vinyl living areas; and ceramic-tiled baths. In addition to on-site community amenities, Wilbourn Estates residents will enjoy easy access to Village Green Shopping Plaza, the Annapolis Towne Centre, and historic downtown Annapolis. The community was designed by architect WRT and constructed by Southway Builders, Inc.
The redevelopment of Newtowne 20 involves a U.S. Department of Housing and Urban Development program which enables housing authorities to convert public housing properties, supported under the traditionally underfunded public housing model, to a more stable Section 8, voucher-based model, allowing the project to leverage private funding sources. The $25 million project is funded using multiple layered sources, including tax exempt bonds, Rental Housing Works, Rental Housing Funds and Housing Trust Funds from the Maryland Department of Housing and Community Development; 4% Low Income Housing Tax Credit equity proceeds and a construction loan from Bank of America; HOME funds from Arundel Community Development Services; grant funds from the State of Maryland Department of General Services, City of Annapolis CDBG program, and Maryland DHCD Strategic Demolition Fund program; seller financing from HACA; and a permanent tax exempt loan from Freddie Mac through Lument.
With a regional office in Baltimore, Pennrose is active throughout Maryland, Virginia, and Washington, D.C. Most recently, Pennrose and project partners celebrated the grand opening of Renaissance Row Apartments in Baltimore. Pennrose also has a successful track record partnering with HACA on public housing redevelopments, including the award-winning, three-phase redevelopment of Obery Court and College Creek in downtown Annapolis.