Grand Opening of Kinder Park IV — New Senior Affordable Housing and Program of All-Inclusive Care in Delaware County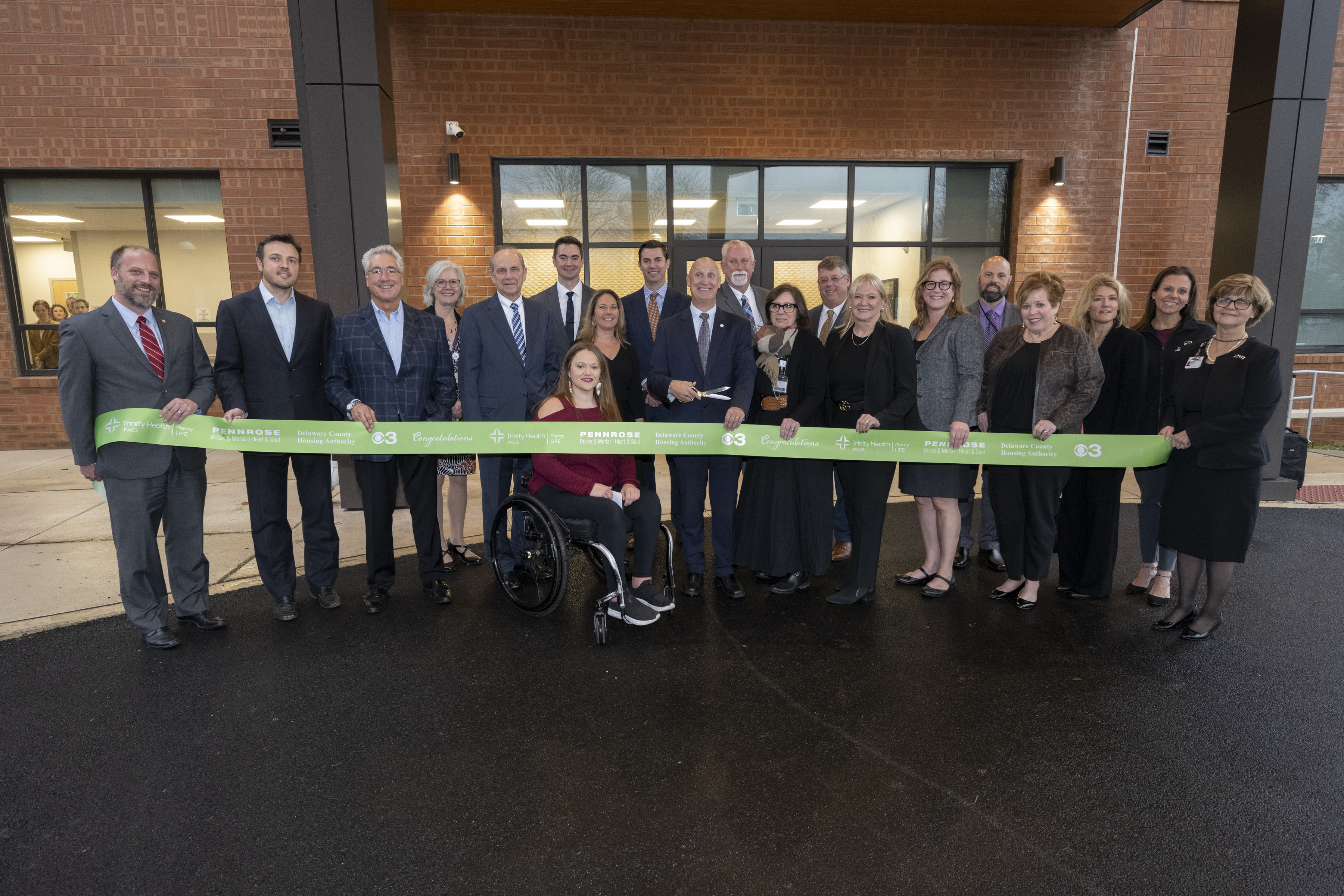 Mercy LIFE, Delaware County Housing Authority and Pennrose celebrated the grand opening of a new senior affordable housing building and Program of All-Inclusive Care (PACE) on Wednesday, November 30. Kinder Park is located within the Delaware County Housing Authority Building along Constitution Avenue in Woodlyn, Pennsylvania.
The building stands at 15,000 square feet and provides affordable housing and all-inclusive health care and social services for up to 250 qualifying senior residents of the Kinder Park building, as well as seniors of the surrounding Delaware County community. Additionally, Mercy LIFE Kinder Park will create about 50 jobs in the healthcare, transportation and social services sectors.
"Mercy LIFE's goal is to help seniors live independently and age in place within their home and community," said Dan Drake, President and CEO of Trinity Health PACE, the parent company of Mercy LIFE. "Through this partnership with Delaware County Housing Authority and Pennrose, Mercy LIFE was able to make this a reality for seniors in the community."
"Congratulations to DCHA, PHFA, Mercy LIFE, the Delaware County and all project partners on the grand opening of Kinder Park, the final phase in the transformation of deteriorated public housing into brand new, modern affordable housing with space for a new PACE center," said Mark Dambly, CEO of Pennrose, which created the building. Pennrose is a development company specializing in affordable, lifestyle-centered communities.
"What you see here today is the culmination of a dream made possible through the efforts of many. Many of those dream makers are here today and will be recognized. They are elected officials, HUD executives, Trinity and Mercy executives and Pennrose executives. They all played an important role in this dream come true and I thank you all," said Lawrence Hartley, Executive Director, Delaware County Housing Authority.
Speakers at the ceremony included Robin Wiessman, the Executive Director of Pennsylvania Housing Finance Agency, Councilman Kevin Madden, Jamie Bauchenaur, Deputy Secretary for the PA Department of Long Term Living, and Matt Heckles, Regional Administrator for the Department of Housing and Urban Development.
During the event, Mercy LIFE recognized a caregiver of generous spirit, in honor of National Caregiver's Month. Selfless caregiver Emma Santiago was presented with the Dedicated Caregiver Award. She was celebrated for her commitment to advocating for seniors by a large crowd of supporters.