Gateway Pointe II Celebrates Grand Opening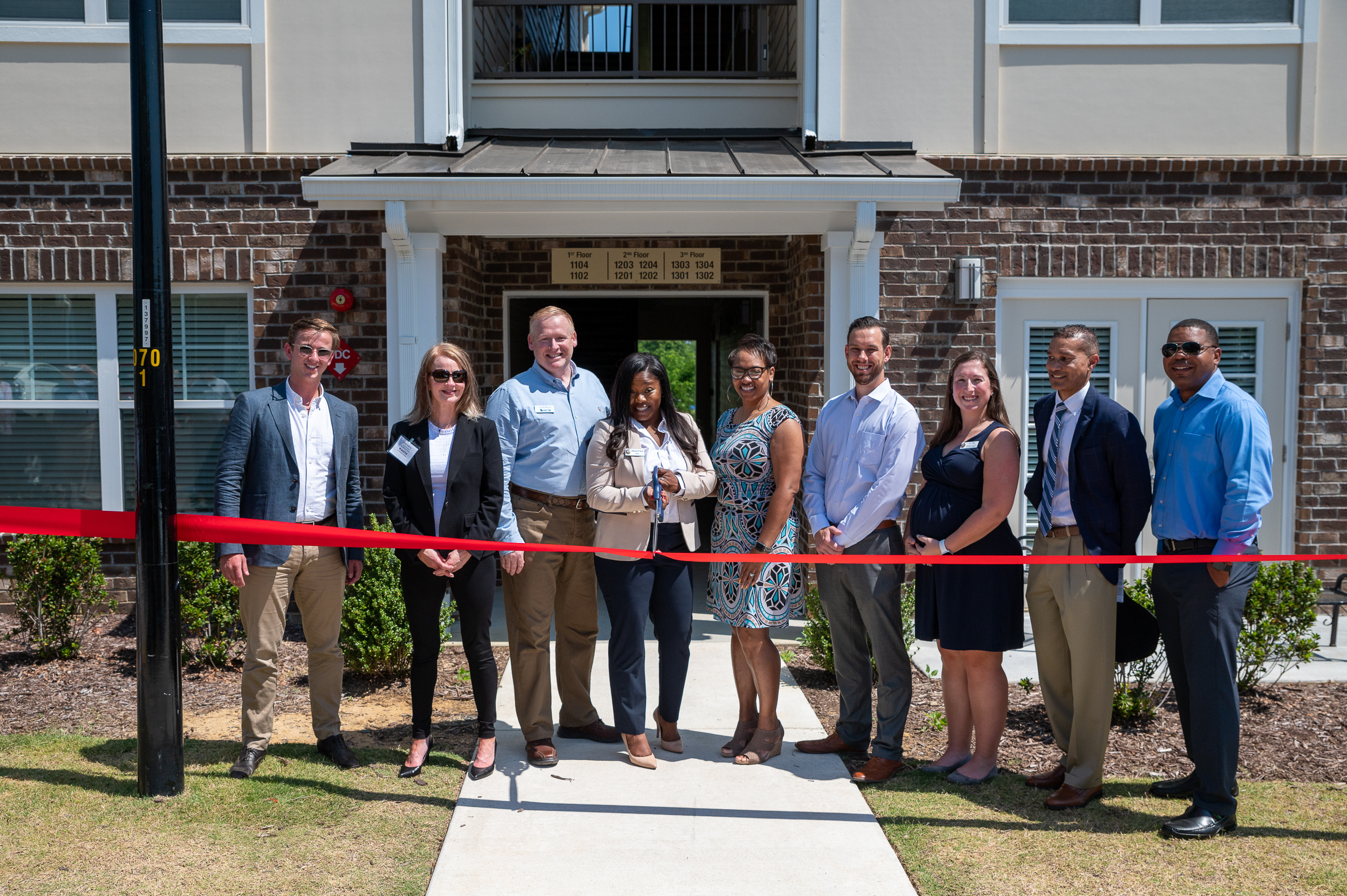 Phase two of the Warner Robins Master Plan adds 90 mixed-income apartments for families and veterans
Pennrose, the City of Warner Robins, and the Development Authority of the City of Warner Robins, Georgia today celebrated the grand opening of Gateway Pointe II, a 90-unit mixed-income rental community for families and veterans, and the adjacent Memorial Park. Gateway Pointe II is the second phase of the Warner Robins Master Plan, the comprehensive redevelopment of 15 acres of land near Robins Air Force Base.
Gateway Pointe II offers one-, two-, and three-bedroom apartments in four garden-style apartment buildings. The development will be affordable to households at 50% to 60% of the Area Median Income, beginning at $596 for a one-bedroom, with 15 units set aside as unrestricted market-rate. In partnership with the adjacent Georgia Veterans Education Career Transition Resource Center (VECTR), five units are reserved for active duty military personnel and veterans as they participate in VECTR programs, which are designed to assist with transitions from military service into college, technical education, or the civilian workforce.
"We're proud to work alongside the City and Development Authority to celebrate the next phase of the comprehensive Master Plan and create more high-quality, affordable housing options for families and our nation's heroes in Warner Robins," said Amon Martin, regional vice president at Pennrose. "With tailored on-site supportive services, robust amenities, and access to VECTR programming, Gateway Pointe II will be an asset for residents and the local neighborhood for years to come."
Speakers at the grand opening celebration included, Mayor LaRhonda W. Patrick, City of Warner Robins; Kate Hogan, Community and Economic Development Director, City of Warner Robins; Mitch Kelly, Director of Office of Finance, Georgia Department of Community Affairs; Colonel Earl Layne, Chief Operating Officer, VECTR; Cindy Follmer, Market President, Georgia & Gulf States, Aetna CVS Health; Amon Martin, Regional Vice President, Pennrose, LLC.
In addition to the close proximity to Robins Air Force Base, residents will enjoy ample on-site community amenities, including an inviting resident lounge, fitness center, business center with computer stations, beautiful outdoor courtyard and picnic area, secured access entry, professionally landscaped grounds, and more. The brand-new apartments all feature spacious floorplans with vinyl flooring and carpeted bedrooms; modern kitchen, including dishwasher, microwave, and garbage disposal; in-unit washer and dryer; ceiling fans; and central A/C. Accessible apartments with handrails and grab bars are also available.
"Housing in Warner Robins is going to be a focus of my administration especially when it comes to workforce housing," said Mayor LaRhonda W. Patrick. "There is a drastic need for our military personnel police officers, firefighters, city employees, county employees, teachers, medical professionals, etc. to ensure they are able to live, work, and play in our City limits. Housing affordability will be a priority."
The sustainable development complies with EarthCraft Communities standards and High Performance Building Design criteria. To ensure the development meets neighborhood needs as defined by local residents, Pennrose and the City engaged in a Community Transformation Plan. The plan includes the coordination of local services and resources to increase access to education, job training, housing, healthcare, and transportation. The City also funded infrastructure improvements to create public spaces, enhance curb appeal, and improve vehicle and pedestrian traffic. Gateway Pointe I, the first apartment complex, opened in 2019.
Financing for the project includes up to $5,300,000 construction loan from Bank of OZK, a $3,730,000 of permanent debt from Grandbridge Capital, a Truist Bank affiliate. $13,203,508 of private equity generated from an Allocation of LIHTCs from Georgia's Department of Community Affairs was also used as financing source, of which $7,735,854 was provided by Hunt Capital Partners, LLC through a multi-investor fund, and $5,467,654 was provided by Aetna, a CVS Health company through its investment in the Georgia State tax credits syndicated by Hunt Capital Partners, LLC.
"We are excited to once again partner with Pennrose on Gateway Pointe II and celebrate its grand opening; this follows our successful partnership on Gateway Pointe Phase I," said Hunt Capital Partners Executive Managing Director Dana Mayo. "Gateway Pointe II illustrates how entire communities can be uplifted when we work together to meet housing and health and wellness needs. Because of this development and its partners, veterans and families have access to workforce training, educational coaching, career counseling, preventative health screenings, nutrition education in the community garden, and so much more. All of these resources play a critical role in setting residents up for success as well as investing in their overall wellbeing for the future."
There is a severe shortage of affordable housing throughout the country, with veteran households disproportionately impacted. According to the Affordable Housing Tax Credit Coalition, over 600,000 low-income veterans spend more than half their income on rent and eight percent of adults experiencing homelessness are veterans.
Pennrose is committed to addressing housing instability in the veteran community through the development of high-quality, affordable housing tailored to the needs of local communities. Pennrose also recently developed Bensalem Veteran Residences in Pennsylvania, which includes 40 high-quality affordable apartment homes for seniors and senior veterans, as well as One Thompson Avenue in New Jersey, a 70-unit affordable rental community for veterans and families.
Gateway Pointe II is located at 900 South Armed Forces Blvd. For more information, visit https://www.pennrose.com/apartments/georgia/gateway-pointe/.