State Street Crossing Apartments Opens in Former Danskin Factory Site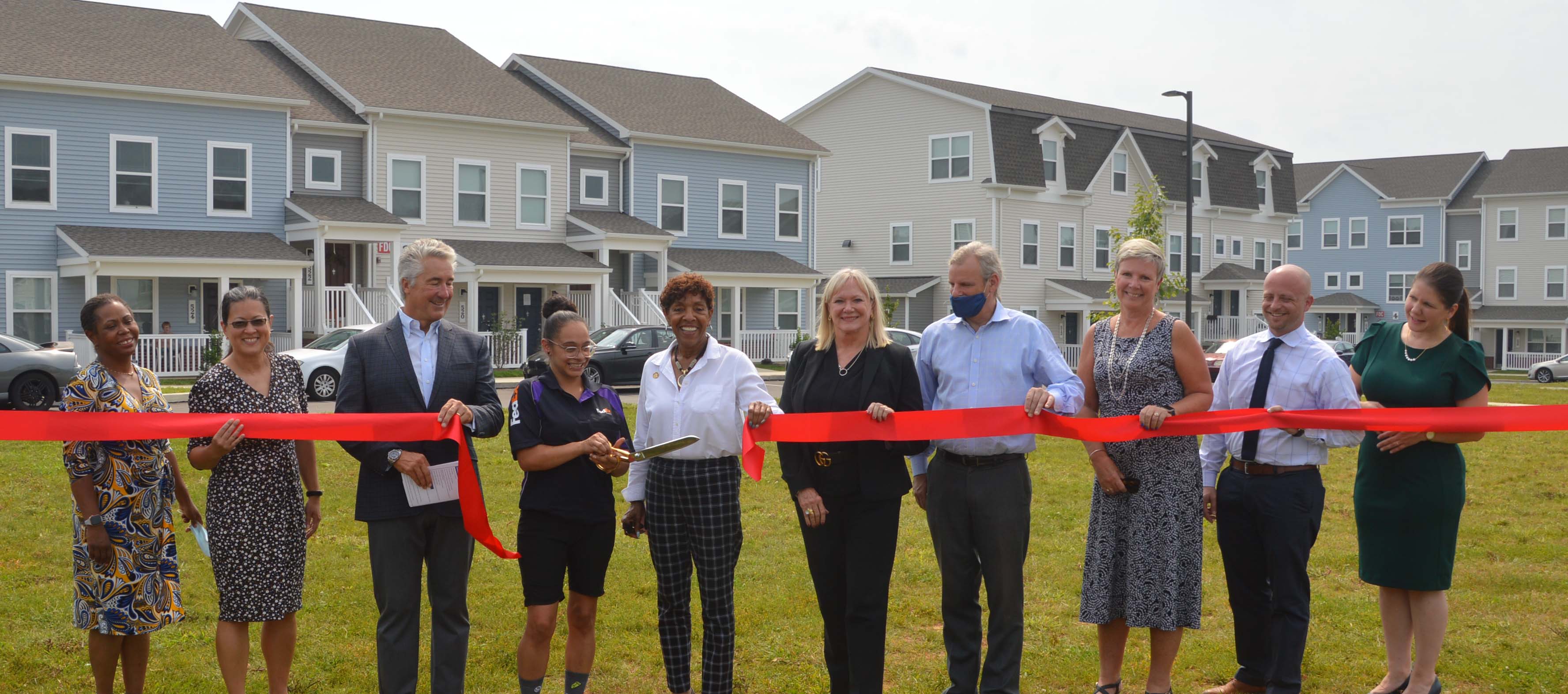 Pennrose and the Redevelopment Authority of the City of York celebrated the grand opening of State Street Crossing, the affordable housing redevelopment on the 4.21 acre site of the former Danskin clothing factory in northeast York, Pennsylvania.
Speakers at the grand opening ceremony included: Mayor Michael Helfrich, City of York; Larissa Bailey, Regional Manager - Central PA, Office of U.S. Senator Pat Toomey; Carol Hill-Evans, Representative, PA House of Representatives, District 95; Regina Mitchell, Executive Director, York Housing Authority; Robin Wiessmann, Executive Director & CEO, Pennsylvania Housing Finance Agency; Carol Kilko, Deputy Secretary for Business Financing, PA Department of Community & Economic Development; Jeanne Fields, Vice President Commercial Community Development Lending, Fulton Financial Corporation; Thomas R. Eastman, Vice President, Acquisitions, Enterprise Housing Credit Investments; and Mark H. Dambly, President, Pennrose, LLC.
Located at 380 North State Street, State Street Crossing includes 56 brand new one-, two-, three-, and four-bedroom units across seven buildings with a mix of affordable apartment homes and townhouses. Each high-quality apartment features a modern kitchen with dishwasher, in-unit washer and dryer, spacious closets, vinyl flooring, ceramic-tiled baths, and central A/C. Residents also have access to a host of on-site supportive services and amenities, including an inviting community building, playground, abundant green space, and on-site professional management and maintenance team.
"The Redevelopment Authority of the City of York has been a tremendous partner in transforming the underutilized, hazardous site into a vibrant new residential community," said Jacob Fisher, regional vice president at Pennrose. "The modern apartments, on-site offerings and services will create an excellent living experience for residents at a range of incomes."
In 2015, the Redevelopment Authority purchased the site with the goal of remedying the public safety issues associated with partial demolition and supporting future redevelopment of the land into a residential neighborhood. The Redevelopment Authority entered into an agreement with Pennrose in 2016 to remediate and redevelop the site. The development team also includes Innova Services Corp., WRT, RGS Associates, EG Stoltzfus, and DAC, LLC.
Financing for the project comes from an award of $900,000 in HOME funds from the City of York. The project received a reservation of 9% Low Income Housing Tax Credits from the Pennsylvania Housing Finance Agency, as well as $1,276,000 in PHARE – Housing Trust Funds. For the environmental remediation, the City of York Redevelopment Authority received grant funds totaling $1,771,000 from the Pennsylvania Department of Community and Economic Development. Enterprise Community Development was the syndicator for the project, BB&T/Truist Bank provided construction financing, and Fulton Bank will provide permanent financing.  The York Housing Authority is providing 25 Project Based Vouchers for the property.
Pennrose has extensive experience developing high-quality affordable housing throughout Pennsylvania and the tri-state region. Most recently, Pennrose celebrated the grand opening of Bensalem Veterans Residences, a 40-unit affordable residential community for seniors and senior veterans in Bucks County.