Officials and Residents Celebrate the Completion of Phases I & II of Village at Park River, Break Ground on Phase III and Community Building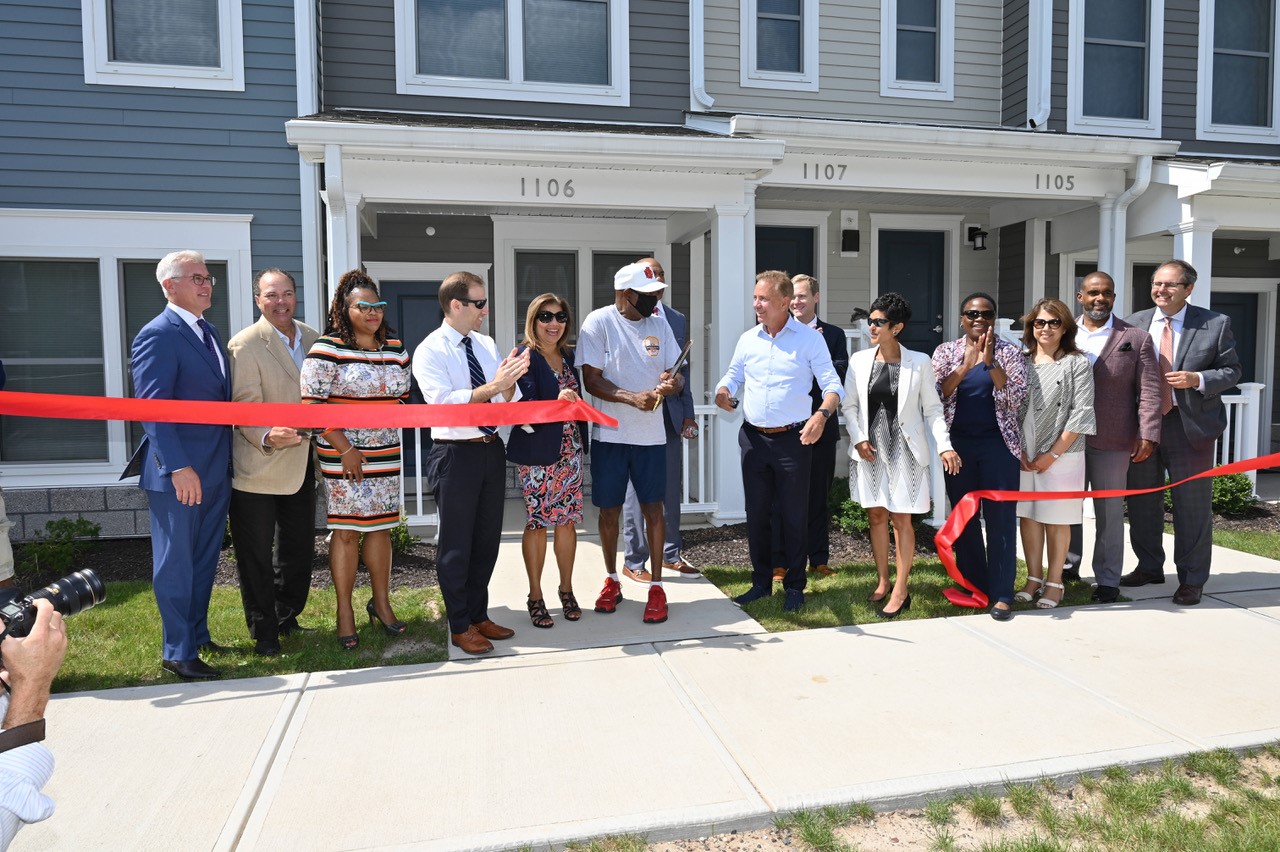 Ribbon-cutting, groundbreaking marks major milestone in redevelopment of former Westbrook Village site and Upper Albany Avenue
The Housing Authority of the City of Hartford (HACH), Pennrose, LLC, and The Cloud Company, LLC, hosted a joint ribbon-cutting/groundbreaking ceremony on Wednesday, Sept. 8, to celebrate the completion of Phases I & II of the new Village at Park River community and the start of construction on Phase III and a community building. 
Village at Park River is a transformative redevelopment of Westbrook Village, a 40-acre former public housing site, into a new mixed-use community tailored to meet the diverse needs of the Upper Albany and Blue Hills neighborhoods and restore its status as a premier gateway to the City of Hartford at the intersection of Mark Twain Drive and Albany Avenue. With the completion of all seven residential phases, Village at Park River will have over 400 units of mixed-income townhouse-style homes, approximately 100,000 square feet of new office and retail space, bike paths, community gardens and playgrounds, a community building with a fitness center, and meeting space, and a central park. 
"A little more than two years after breaking ground on this project, we are approaching the halfway point," said HACH Executive Director Annette Sanderson. "As I have said from the start, this effort is about more than replacing obsolete affordable housing; it's about revitalizing a neighborhood that has been home to Hartford families for nearly half a century. We are here today to celebrate the progress we have made toward that goal and the start of the next phase. I want to thank our city, state, and federal partners for helping us reach this milestone, our development partners at The Cloud Company and Pennrose, and our residents for their cooperation and enthusiastic support of this undertaking." 
The name of the project was inspired by the Park River, which flows on the property's western edge. Leasing began last spring on Phase I, which includes 75 attached one-, two-, and three-bedroom townhouse-style homes equipped with modern kitchens, appliances including dishwashers, washers, and dryers, and central air conditioning. Eighty percent of the units in Phase I are set aside for households with incomes up to 60% of the area median income and 20% are leased at market rate. Phase II has 60 units, 75% of which are for households with incomes up to 60% of the area median income, and the remainder leased at market rate.  The units are all highly energy-efficient built to Passive House certifications. 
"Our goal was to create a vibrant new community where residents can live, shop, and do business," said Sandy Cloud, owner and founder of The Cloud Company and a former resident of Westbrook Village. "Having lived in Westbrook growing up, I can't begin to express how exciting it is to see the community we envisioned taking shape." 
Pennrose and The Cloud Co. have partnered with JDA Development - the developer of Blue Back Square in West Hartford - to create the commercial component of the Village at Park River. They envision a range of tenants in the 10-acre space - including a pharmacy, restaurant, and retail stores– and have already attracted a destination restaurant to the site. 
"Re-establishing the community at this important gateway is key to revitalizing the neighborhood and making the transformation successful," said Charlie Adams, Regional Vice President for Pennrose. "We are excited by the progress and looking forward to the new community center which will be a resource for the entire neighborhood. Completing the buildout will create a hub of activity and attract businesses bringing energy and excitement to the area." 
Demolished in 2019, Westbrook Village was a post-war housing complex that had reached the end of its useful life and was deemed functionally obsolete by housing officials. Westbrook residents were relocated in 2018 with the help of $9 million in funding from the Connecticut Department of Housing. This funding with the addition of $752,000 in Brownfield funds from the Connecticut Department of Economic and Community Development was also used to remediate, abate, and demolish the buildings on the site. The federal Department of Housing and Urban Development (HUD) provided approximately $10 million in rental subsidies for 15 years to ensure the affordability of 24 units of housing in Phase 1, 12 units in Phase II, and 13 units in Phase III.
Mayor Luke Bronin praised the progress of the project and the larger revitalization underway on Homestead and Albany avenues.  
"Village at Park River will give hundreds of Hartford families the kind of high-quality housing they deserve and complement the broad range of development we've been pursuing in the Blue Hills and Upper Albany neighborhoods," said Mayor Luke Bronin.  "With Willow Creek apartments replacing Bowles Park, the new Martin Luther King Jr. and Weaver school campuses, and now the redevelopment of Willow Creek, we're getting major, long-needed projects done thanks to the work of so many partners. We're very grateful to the State, to Pennrose and The Cloud Company, the Housing Authority, and many others for their continued partnership to revitalize this historic property." 
"This project is a testament to what local, state, and federal entities can do when we work together to address redevelopment challenges," added Gov. Ned Lamont. "Helping all Connecticut residents afford high-quality housing in the community of their choice supports families, kickstarts the economy, and makes neighborhoods vibrant places to live and work. The Village at Park River is an excellent example of what can be accomplished when the community collaborates with developers to create a vision that will work for all." 
"Not only is this project transforming a neighborhood, but it is also transforming the very concept of affordable housing," said Suzanne Piacentini, U.S. Department of Housing and Urban Development (HUD) Field Office Director for Connecticut. "Projects like this provide a template for cities throughout New England and the country, looking for ways to convert dated, obsolete housing complexes into thriving, walkable, affordable neighborhoods and communities." 
"The Village at Park River is an important step toward giving neighborhood residents the modern, safe, affordable housing they deserve," added Seila Mosquera-Bruno, Commissioner of the Connecticut Department of Housing. "For Connecticut cities to thrive, we need housing options that meet the needs of residents at a range of income levels," she said. "The Village at River Park does that." 
"The Connecticut Housing Finance Authority understands access to affordable housing is vital for Hartford's revitalization. As the state's housing finance agency, CHFA awarded Low Income Housing Tax Credits to ensure that the Village at Park River would be here today and for years to come. We are so proud to see these new residences completed," said Nandini Natarajan, CHFA's Chief Executive Officer – Executive Director. 
State Sen. Doug McCrory, whose district includes Hartford, applauded the influx of federal, state, and local support for Hartford's North End revitalization efforts.  
"These investments make a huge impact on the quality of life in this neighborhood, while sending a message to residents that the needs of them and their family's matter," he said. "This will have a transformative effect on their lives and the local economy."
"The revitalization of Westbrook Village into the Village at Park River is a positive step in providing Hartford residents with quality affordable housing while revitalizing a cornerstone of the city," added House Speaker Matthew Ritter, a lifelong resident of Hartford. 
Rep. Brandon McGee, House Chair of the Housing Committee said, "I grew up at 30 Dillon Road in Westbrook Village and understand the opportunities and liabilities that public housing can present for residents of our state. The Village at Park River will give its' residents the stability that is critical to supporting family health, economic security and educational opportunities."
"This is a neighborhood that residents can feel proud to live in and enjoy coming home to," added T.J. Clarke, Majority Leader, Hartford City Council. 
"The Village at Park River is so much more than a revitalization project to me, it is my home," said Joridann James, returning resident of Westbrook Village. "My family and I are glad to be back in the neighborhood where my daughter grew up and are pleased with the upgrade to our home and our community."