Groundbreaking of Julia Bancroft School Rehabilitation in Auburn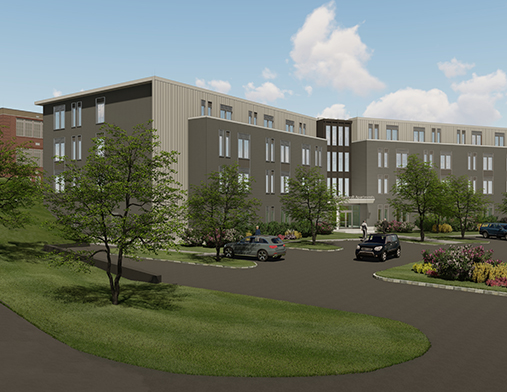 Historic renovation will deliver 60 units of affordable senior housing
Pennrose and the Town of Auburn celebrated the groundbreaking of the historic rehabilitation of the Julia Bancroft School, a 60-unit, mixed-income development for seniors 62 and older. Plans for the redevelopment include renovating the original 1920s historic school building, demolishing the later built addition and replacing it with a new, four-story building. The project is slated for completion in summer 2022.
Speakers at the virtual groundbreaking ceremony included: Karyn Polito, Lieutenant Governor, Commonwealth of Massachusetts; Jennifer Maddox, Undersecretary, Dept. of Housing and Community Development (DHCD); Jim McGovern, Congressman, 2nd Congressional District of Massachusetts; Michael O. Moore, State Senator; Paul Frost, State Representative; Doreen Goodrich, Chairwoman, Auburn Board of Selectman; Julie Jacobson, Town Manager, Town of Auburn; Timothy Henkel, Principal & SVP, Pennrose; and Charlie Adams, Regional Vice President, Pennrose.
Designed to meet LEED Silver sustainability standards, the community will include studio, one-, and two-bedroom apartments. Of the 60 units, 45 will be designated for residents at or below 60% of the Area Median Income (AMI) and 15 will be market rate. Four of the affordable apartments have been set aside for Community Based Housing (CBH) and seven are designated as accessible units. Residents will have access to multiple elevators, a resident lounge, fitness center, two outdoor patios, on-site laundry facilities and supportive services.
"We are excited to begin construction on another transformative redevelopment with the Town of Auburn to expand the region's affordable housing supply," said Charlie Adams, Regional Vice President at Pennrose. "Our shared vision for the site preserves the rich history of the building while creating safe, welcoming homes where seniors can continue to be active members of the community."
The community is conveniently located near multiple transportation options, including regular seven-day bus service connecting residents to the Auburn Mall and Worcester Union Station. In addition, the development will be served by Worcester Regional Transit Authority (WRTA)'s paratransit service, which will provide door-to-door service when requested. To the rear of the building is a playground and ballfield that will continue to be owned by the Town and available for public and resident use.
The development team worked closely with the Town of Auburn to ensure the community is designed to meet the needs of local residents. In September 2017, a successful Aging-in-Place Charrette was held to invite community input, brainstorm and prioritize important elements of quality senior housing.
"We are thrilled that this critical redevelopment project is underway which will provide much needed affordable senior housing units through the adaptive re-use of a vacant school property while paying tribute to the historical aspects of the building", said Town Manager Julie Jacobson. "This project, a model of local, state and federal government working in tandem with the developer to secure resources, is a shining example of the significant impact an effective public-private collaboration can have on the community and, in particular, on the quality of life for seniors." 
Financing for the project includes: Massachusetts Department of Housing and Community Development (DHCD) in the form of 9% Federal Low Income Housing Tax Credits, State Low Income Housing Tax Credits, Housing Stabilization Funds, and HOME funds, $1M from MassHousing in Affordable Housing Trust Funds, $750,000 in Community Based Housing funds from CEDAC, $9.5M in Federal LIHTC Equity and $7.72M in State LIHTC and Historic Tax Credit Equity from Redstone, $3.4M in Permanent Financing from Freddie Mac via Lument, $14.2M in Construction Financing from TD Bank, and BlueHub Loan Fund Inc served as a state tax credit intermediary.
Pennrose is active throughout the New England region and has a successful track record partnering with the Town of Auburn to transform outdated school buildings into high-quality, affordable housing. Pennrose and the Town of Auburn are also currently developing Mary D. Stone Apartments, which will convert a 1920s school building into 55 units of affordable housing for seniors and expect to begin welcoming residents in fall 2021. Pennrose is also planning to transform the former Rogers School in Boston's Hyde Park neighborhood into the region's first LGBTQ-friendly senior housing.