Groundbreaking of Haven at South Atlanta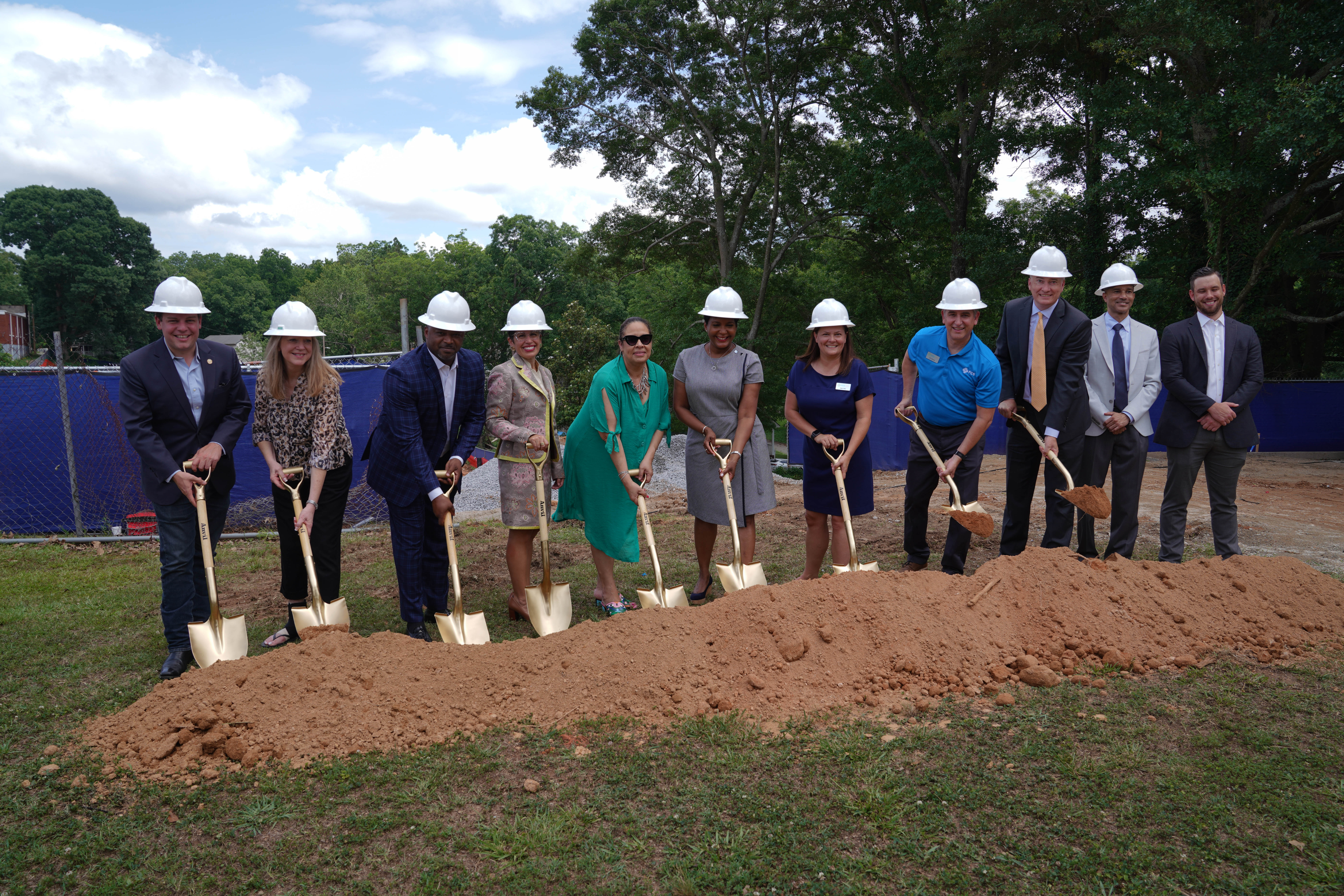 Mixed-income community will add much-needed affordable housing in Southeast Atlanta
Pennrose and Focused Community Strategies celebrated the groundbreaking of Haven at South Atlanta, an 84-unit mixed-income residential community in Southeast Atlanta. Construction is slated for completion in 3rd Quarter 2022.
Speakers at the groundbreaking ceremony included: Keisha Lance Bottoms, Mayor, Atlanta, Georgia; Jim Wehner, President, Focused Community Strategies; Carla Smith, Atlanta City Council Member, District 1; Dr. Eloisa Klementich, CEcD, President & CEO, Invest Atlanta; Christopher Nunn, Commissioner, Georgia Department of Community Affairs; and Amon Martin, Regional Vice President, Pennrose.
Located at 57 Hardwick St, Haven at South Atlanta will feature garden-style apartments, with one-, two-, and three-bedroom options available. Of the 84 units, 71 will be available at 50% to 60% of the Area Median Income (AMI) and the remaining 13 at market rate rents. The brand-new apartments will feature modern energy star appliances, in-unit washer and dryer, and is seeking EarthCraft Certification.
"Focused Community Strategies has been invested in revitalizing the Historic South Atlanta neighborhood for nearly two decades and we're thrilled to serve as a partner on their next transformative project," said Amon Martin, Regional Vice President at Pennrose. "With high-quality apartments, on-site amenities and supportive services, and the building's convenient location near downtown, Haven at South Atlanta will be a fantastic affordable housing option for local residents."  
Residents will enjoy access to top-notch amenities, including a separate community clubhouse with a business center, club room, fitness space, on-site management suite, and parking and bicycle spaces. In addition to the on-site amenities, Haven at South Atlanta is ten minutes from downtown Atlanta with easy access to job opportunities, restaurants, shopping, and cultural activities. Residents will also benefit from on-site supportive and social services offered through Focused Community Strategies and Pennrose.
"Focused Community Strategies is thrilled to partner with Pennrose to provide this needed housing in South Atlanta," said Jim Wehner, President with Focused Community Strategies.  "The location in South Atlanta and good access to amenities and downtown Atlanta make Haven at South Atlanta a great place to call home."
Focused Community Strategies is a 501(c)(3) that empowers neighborhoods to thrive. The organization has been partnering with under-resourced Atlanta neighborhoods for 40 years and for the past 16 years, has invested in the Historic South Atlanta neighborhood to create a flourishing community through mixed-income housing, economic development, neighborhood engagement, training, and consulting. In 2001, Focused Community Strategies began a partnership with residents of the Historic South Atlanta neighborhood and together transformed abandoned houses into beautiful homes and opened Carver Market, a neighborhood grocery store, in a former food desert.
Our financing partners include GA's Department of Community Affairs (DCA), Invest Atlanta, Bank of OZK, Grandbridge Real Estate Capital LLC, Enterprise Housing Credit Investments, LLC, and Advantage Capital.
With a regional office in Atlanta, Pennrose develops high-quality residential communities paired with tailored supportive services throughout Georgia and the Southeast region of the country. Most recently, Pennrose has partnered with Mercy Care to deliver 170 affordable apartments located adjacent to Mercy Care headquarters/clinic expansion and King Memorial MARTA Station.