Grand Opening of Eastern Woods Senior in Findlay, Ohio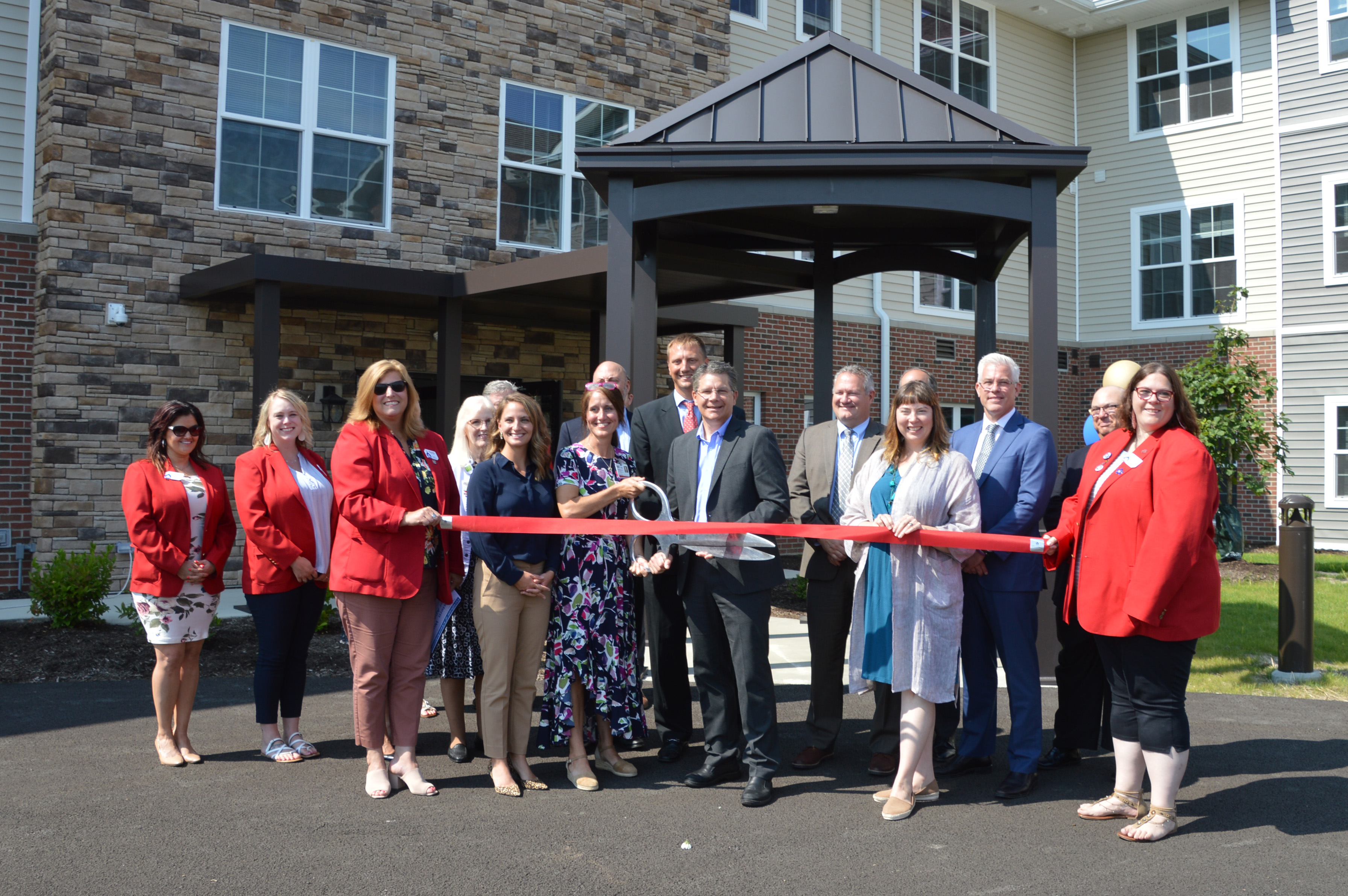 Includes 50 affordable, senior units to the multi-faceted Eastern Woods campus
Pennrose and Blanchard Valley Health System (BVHS) celebrated the grand opening of Eastern Woods Senior, expanding the offerings in the 120-acre mixed-use Eastern Woods campus in Findlay, Ohio.
Speakers at the grand opening ceremony included: Christina Muryn, Mayor, Findlay, OH; Myron Lewis, CEO, Blanchard Valley Health System; Guy Ford, Director of Legislative Affairs, Ohio Finance Agency; Tim Mayle, Administrator, Blanchard Valley Port Authority; Doug Klingensmith, Affordable Housing Development Officer, RiverHills Bank; Mike Avotins, Market President, OH/KY, Aetna, a CVS Company; Judy Rose, AVP Member Relations, Federal Home Loan Bank of Cincinnati; Linda Davison, Chaplin, Birchaven Village; Timothy I. Henkel, Principal & Senior Vice President, Pennrose.
Eastern Woods Senior features 44 one- and six two-bedroom apartments available to senior households earning up to 60% of the Area Median Income (AMI). Of the total units, five are set aside for residents participating in the 811 Program, which connects individuals with disabilities to affordable housing. The rental apartments are located within a three-story elevator building with a host of on-site amenities, including laundry facilities, resident storage, fitness center, community gathering space, outdoor patio, ample parking, and leasing and management office. The building has been designed to meet "Aging in Place" design requirements and achieves LEED Silver standards to ensure energy efficiency.
In addition to on-site amenities, Eastern Woods Senior sits adjacent to Birchaven Village, BVHS' world class Continuum of Care Retirement Community. The convenient location provides residents with easy access to Birchaven Village's extensive senior-focused services, resources, and amenities as well the other healthcare services on the campus. Pennrose will also provide tailored, on-site programming
This is an exciting opportunity to provide affordable, senior housing to Hancock County and the surrounding region," shared Myron Lewis, President and CEO of Blanchard Valley Health System. "BVHS is pleased to be a part of this affordable senior living project with Pennrose and we hope it will benefit the community for years to come."
"We're proud to partner with Blanchard Valley Health System to execute their strategic vision of creating high-quality, affordable housing for seniors in an amenity-rich environment," said Timothy I. Henkel, Principal and Senior Vice President at Pennrose. "The integration of healthcare and housing has proven to be impactful for overall health and wellbeing, and we are excited to welcome residents into their brand-new homes in a walkable, mixed-use environment."
The Eastern Woods campus also currently includes market-rate units at the Apartments at Eastern Woods, single-family homes at the Birchaven Estates at Eastern Woods, and an array of healthcare services, including Spectrum Eye Care, DeClerck Family Dental, Eastern Woods Family Practice, Blanchard Valley Obstetrics & Gynecology, Women Wise Mammography, Hematology & Oncology Associates, and The Ames Family Cancer Care Center.
This $9.4M development is financed by an award of Low Income Housing Tax Credits from the Ohio Housing Finance Agency, equity investment from CVS/Aetna and syndicated by Hunt, as well as an award of Affordable Housing Program funds through the Federal Home Loan Bank of Cincinnati and debt provided by RiverHills bank.
Pennrose is increasingly partnering with local healthcare systems across the country to provide safe, accessible affordable housing that improves residents' overall quality of life. Pennrose has a regional office in Cincinnati.