Village at Park River Team Closes on Third Phase of Financing of Hartford Redevelopment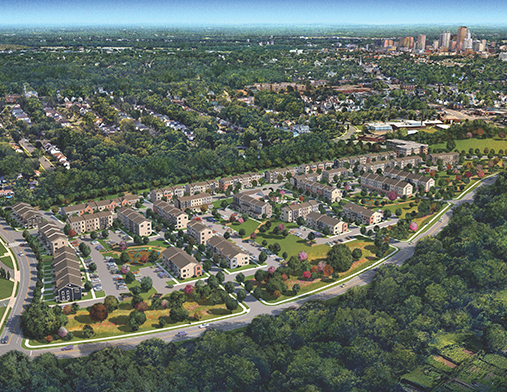 Pennrose, together with the Housing Authority of the City of Hartford and The Cloud Company, is pleased to announce the closing and the start of construction of the 3rd phase of Village at Park River in Hartford, CT. This phase of the Westbrook Village Revitalization will add 65 units of mixed-income housing to the progress already underway on site which will further enrich the Blue Hills neighborhood. 
Coming soon is the 4,000 SF Community Building and central park and gardens which will provide additional amenities for the residents and community at large.  We are extremely appreciative of the support provided by CT Department of Housing Commissioner Seila Mosquera-Bruno, Deputy Commissioner Miguel Rivera and Project Manager Sarah Simonelli and CT Housing Finance Authority CEO Nandini Natarajan, Managing Director Masouda Omar, Director Joe Voccio, and Project Manager Colette Slover in working to achieve this milestone within weeks of receiving State Bond Commission's approval. 
We also appreciate the assistance from the City of Hartford's Planning Director Aimee Chambers, Housing Director Brian Mathews, and Building Commissioner John Collins.  The development of this site from formerly dilapidated public housing into a new mixed-income residential community represents yet another achievement in the overall transformation of Hartford under the vision of Mayor Luke Bronin.  Our sincere gratitude for his leadership. Additional financing for this new community is being provided by Bank of America, Boston Private, and the Federal Home Loan Bank of Boston.