Delaware County Housing Authority and Pennrose Partner on Kinder Park Phase Four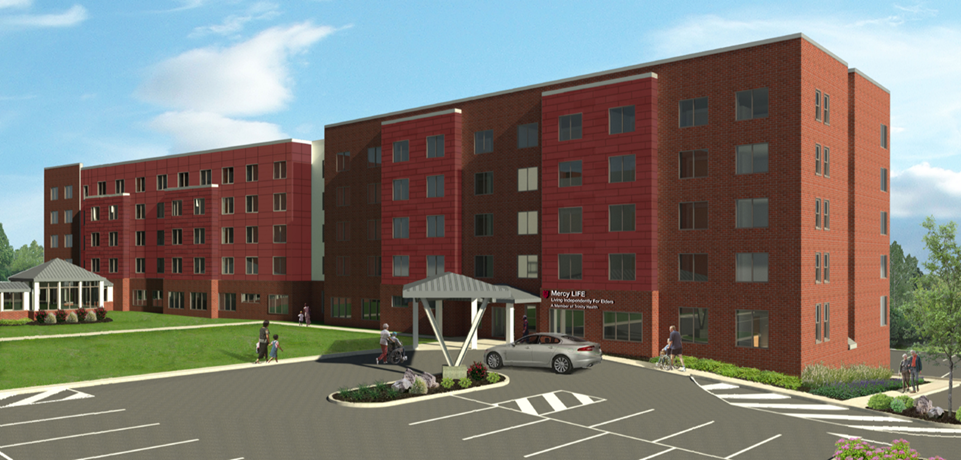 Final phase will add 96 units of affordable senior housing and a senior PACE Center serving low income seniors
Pennrose, the Delaware County Housing Authority (DCHA), The County of Delaware, and the Pennsylvania Housing Finance Agency (PHFA) have closed on financing for the final phase of the Kinder Park redevelopment in Ridley Township, Pennsylvania. Phase IV will add 96 units of affordable senior housing to the Kinder Park site, which includes 160 existing affordable apartments for seniors and individuals with disabilities, 154 new family townhomes, a new community building and several new community parks. The final phase is slated to be completed in the spring of 2022. 
The six-story, 96-unit senior building includes a mix of one- and two-bedroom apartments available under 60% of the Area Median Income (AMI). Of the total units, 51 will be subsidized by DCHA's Annual Contribution Contracts (ACC) and 45 will be supported by Project Based Vouchers (PBV).
Residents will benefit from living in an amenity-rich setting designed to support independent living. The building will include an on-site PACE senior care center as well as a full menu of supportive services funded by DCHA through more than 20 service partners. Residents will also enjoy access to a community room/lounge, congregate dining facility, outdoor patio, library, game lounge, fitness room, onsite laundry, community garden, and conditioned walkway to DCHA's other senior buildings.
"After decades of successful collaboration and partnership with the Delaware County Housing Authority, we're proud to kick off the final phase of the transformative Kinder Park redevelopment," said Jacob Fisher, Regional Vice President at Pennrose. "Plans for the site achieve our shared vision of creating high-quality, affordable housing for seniors paired with tailored, on-site professional health services."
The new apartments feature modern fixtures and finishes, including internet wiring, and age-in-place design elements. The building is also sustainably designed to meet Enterprise Green Communities standards and will have a large solar photovoltaic array on the roof to offset electricity costs.
DCHA selected Pennrose as developer of the four-phase Kinder Park revitalization in 2012. The original development consisted of 160 independent living apartments for seniors and individuals with disabilities,156 semi-detached family rental homes, DCHA offices, and community and maintenance buildings. Through the first three phases, the townhouses and community buildings were replaced, and the maintenance buildings were demolished or refurbished. The history of collaboration between Pennrose and DCHA goes back nearly two decades and has resulted in more than 500 new units of quality affordable for the county's constituents.
The project could not be possible without the generous funding contributions from the Delaware County Housing Authority, the Pennsylvania Housing Finance Agency, The County of Delaware, the Commonwealth of Pennsylvania, Hudson Housing Capital, and Citizens Bank. Project partners include WRT as the master planner and architect, Kelly and Close Engineers as the civil engineer, and McDonald Building Co. as general contractor.
Pennrose has a successful track record developing high-quality residential communities throughout the state. Most recently, Pennrose began leasing at Bensalem Veterans Residences, a rental community for seniors and veterans 62 and older in Bensalem, Pennsylvania. Headquartered in Philadelphia, Pennrose is active throughout Pennsylvania and New Jersey with regional offices also in Atlanta, Baltimore, Boston, Cincinnati, and New York.