Dramatic Entrance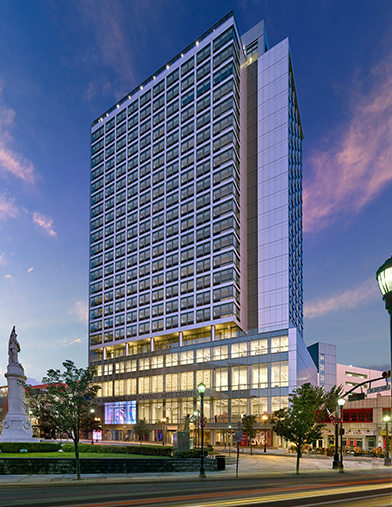 The recent opening of the New Brunswick Performing Arts Center has transformed the city's downtown cultural arts district. And with people who work in the arts likely to join professionals from the city's health care industry and commuters who want to be within walking distance to the train station, New Brunswick is a place many would like to call home.
Pennrose, one of the nation's largest producers of mixed-use and mixed-income multifamily housing, in a joint venture with DEVCO and other nonprofits, co-developed the $172 million, state-of-the-art performing arts center. Since its opening in September, the complex has brought new life to the already social city.
In addition to two proscenium-style theaters and five rehearsal studios, the 450,000-square-foot, 23-story project features Premiere Residences — 207 residential rental apartment units on 19 floors above offices and theater space. The building includes both market rate and affordable luxury apartment units with conveniences immediately outside the front door and direct access to New Brunswick's Amtrak/New Jersey Transit train station. Tenants will also benefit from New Brunswick's central location, the presence of Rutgers University and proximity to Robert Wood Johnson and Saint Peter's University Hospital. Pennrose will manage the building that it hopes will further its mission to create "exceptional experiences."
To read the full article on NJBIZ, click here.