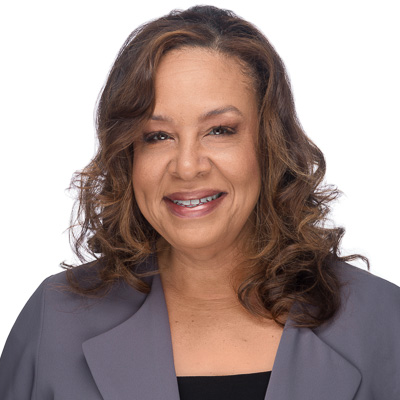 Ivy Dench-Carter
Senior Vice President of Development
As Senior Vice President of Development, Ivy Dench-Carter oversees the execution and growth of Pennrose's development pipeline within multiple designated regions, provides oversight of performance goals for the regions as identified in Pennrose's Strategic Plan, and monitors regional performance and efficiency. Ivy also provides executive representation of Pennrose among industry organizations and associations, financial partners, design and construction partners, Housing Authorities, and State Agencies.
Ivy has more than 30 years of management and real estate development experience. She began with Pennrose Management Company in 1990 as a Property Manager for two properties before earning a promotion to Regional Property Manager, which gave her oversight of 21 affordable housing properties. In 1995, Ivy joined the development arm of Pennrose, expanding her career from property management to real estate development in the affordable housing arena.
Ivy previously led the Pennrose Baltimore Regional office (Maryland, District of Columbia, Virginia and U.S. Virgin Islands) where she oversaw all phases of development process, from sourcing deals to securing financing to overseeing the transition from construction to management. Under her supervision, she was proud to lead an exceptional staff who are responsible for the day-to-day project management and development activities. One of her many strengths is the ability to support her staff to successfully manage large teams to maintain the project the schedule and keep costs within budget. However, she continues to enjoy meeting with public housing residents and community stakeholders to alleviate their fears of redevelopment and providing them the opportunities for Section 3 and MBE/WBE participation during a transparent development process.
Ivy began her career in property management giving her a unique perspective during the development process. Her experience ranges from stand-alone affordable housing development deals to complex mixed-income, mixed finance, and multi-phase redevelopment projects including, HOPE VI, RAD, Upfront Grant and CHOICE programs. As a result, these programs require the complicated, multi-layered financing structures and the ability to secure soft resources required for 9% and 4% Low Income Housing Tax Credit transactions. While most of her career has been redevelopment of public housing, her office is also focused on mixed-income, mixed-use and market rate developments.
Throughout her career, Ivy has developed over thirty-five projects totaling approximately 2,400 units. Many of these projects involved public housing authorities and government agency owned land requiring the negotiation of complex Land Disposition Agreements and Master Development Agreements.
Ivy serves as President Emeritus of the Maryland Affordable Housing Coalition and is on the Board of Directors of Anne Arundel County Affordable Housing Coalition, Baltimore City Inclusionary Housing Board and The Reinvestment Fund Board of Directors. She is an active member of the community and a graduate of Leadership Maryland, an independent statewide program designed to expand the capacity of Maryland's leaders. She is a frequent affordable housing panelist and recently recognized by the Baltimore Business Journal as a one of ten business executives for the 2019 Leaders in Diversity, which honors influential executives and business owners who promote diversity and inclusion in the Greater Baltimore business community. Ivy attended Spelman College in Atlanta, GA.